The Dragons' Den episode on the 18 November featured a new versatile decorating tool where brushes and other devices could be exchanged with the handle, to increase versatility.
Matthew Page and Louise Craven of Synagi Intelligence Limited, based in Nottinghamshire, were asking for £95,000 for 25% of the company. They said on the programme that it was patent pending but it has since been granted UK rights in GB2482945B. There is no foreign patent protection. Here is the main drawing.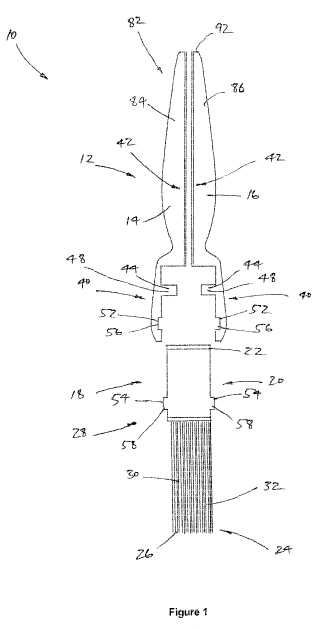 The idea is that you can switch sizes or types of tools while using the same handle. It took I estimate about 15 seconds the tools to be switched over, and I wondered if a simpler method such as button push types to release the tools wouldn'Äôt be a better idea. Louise admitted that it was a 'Äúprototype'ÄĚ and the transfer would be faster in the later models. It was pointed out that this was a weakness 'Äď razor blades are not constantly being switched over, and people are fundamentally lazy -- and that although the ecological principle was laudable there would be problems in sales.
One advantage, though, would be that if people bought the handles they would be useless without the compatible 'Äúheads'ÄĚ that would be sold by the same company. The voice over by Evan Davis said that the UK DIY market was worth ¬£7 billion but obviously only some of that is relevant, and above all 'Äď what inventors often forget 'Äď is that it is rare for a new, disruptive product to take more than a small portion of a market. Despite what people say to me: 'Äúeveryone will love my product'ÄĚ (yes, I often get told that).
There is no website for the company, whose name is unusual for a tool company. Nor as far as I could tell did the product have a name.
None of the dragons decided to invest.