There have been newspaper reports, such as an article in the Evening Standard, that Nudo, a small olive oil producer, is stating that Marks & Spencer are using a very similar olive tree logo to theirs on their olive oil range. Here are the contrasting logos.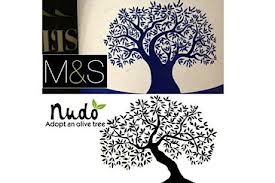 Nudo was founded as a company by Jason Gibb and his partner Cathy Rogers in 2005. Her sister designed the logo. It is a premium Italian olive oil.
In 2011 Marks & Spencer launched their range, and it seems strange that the dispute has only just occurred. Mr Gibb is quoted as saying "I just want these big players to stop ripping off the small guy."
M&S deny copying the logo and say that the olive tree theme is common in the sector "as customers instantly associate them with the product".
While I am not a patent attorney or lawyer, I wonder if Nudo would be on stronger ground if they alleged not copyright infringement, which is what seems to be happening, and where copying must be proven, but rather trade mark infringement. The problem is that the olive tree logo has not been registered by Nudo. In fact they have not registered Nudo as a trade mark either. I checked all three systems that cover the UK: the national, European and Madrid Agreement Protocol.
It would have cost just £170 to register a UK trade mark via the Web at the UK IPO for activities in Class 29, which includes olive oil. It is possible that they would have been asked to add the word Nudo to the logo to make it more distinctive, which in turn would admittedly weaken any claim to trade mark infringement. There are several registered trade marks that include the word Nudo, and one covers Class 29:

Trade marks can co-exist in the same class if no conflict arises: few would associate sushi with olive oil, I suggest.
As so often, one for the lawyers to sort out.