The No!No! ® hair removal invention
There has been a lot of TV advertising for an electrical hair removal device with the unusual name of no!no!®.
It uses heated wires to sever body hair, and the claim is that it is virtually painless -- unlike, so I hear, waxing. One thing that puzzled me was that in my hit list on Google's UK search engine I got at the top of the list for the query "no no"...
NO NO Hair® Official Site
This suggests that the trade mark is No No Hair. Not true – No!No! was registered as a European trade mark in 2008 by Radiancy, Inc., an American company, for Class 3, including "hair lotions; dentifrices; creams and lotions" and also, separately, for Class 8 including "depilatory appliances". There are 45 Nice Classes, and any applications will be for specified products or services within one or more class.
There are similar registrations in the US such as for "Thermodynamic heat conduction based electric hair shavers for aesthetic purposes".
In fact the ® icon is not used on the No!No! website I found, something that is highly advisable as it might be thought to imply that they are using an unregistered trade mark (TM), a much weaker right.
Radiancy, Inc. is based in Orangeburg, S.C. The Orbis database, which our Business & IP Centre subscribes to, tells me that the "global ultimate owner" is PhotoMedex, Inc. which is in Pennsylvania and which describes itself as a "Global Skin Health Solutions company".
In 2011 Radiancy, Inc. had $1.2 million in revenue (no profit figures were given) and 10 employees. A quick check on Google Product Search UK, a free price comparison site for products available on the Internet, suggests a price of £164 or more for it.
According to a press release from November 2012 on the BusinessWire website, the product has been on sale since 2007 and has sold 3.5 million units to date. As in the UK, home shopping TV channels seem to be the main format used to sell the product, cutting out retailers and hence enhancing profits.
So, what about patents ? There seem to be quite a few, starting with publications in 1999 and with other improvements or changes following (I think those from 2003 relate to the device). The inventors are two Israelis, Pinchas Shalev and Zion Azar.
This is a list of "World" patent applications by them inventors in the same field. These include Improved electric shaver, with the drawing shown below.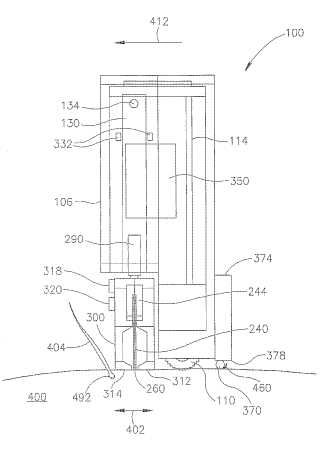 While it seems to be a very successful (if expensive) product, the Internet does have a number of critical comments on it by unhappy customers.