I've been watching the BBC TV series Britain's next big thing. It's about inventors and designers trying to get their ideas accepted as products by retailers.
The retailers are Liberty, the arts and crafts department store in London; Boots, the chemist retailer with thousands of outlets; and Habitat, a smallish home furnishings chain.
I enjoy programmes which show the real business world, and how tough it is. Naivety has no place -- making a realistic business plan, which should include analysing your strengths and weaknesses, is vital. Lots of good things came out of the interviews where pitches were made for potential products, including the "price point" problem -- a store might say that a product will only sell at a certain price, which might be below the actual cost to the designer.
Theo Paphitis, who is well known from Dragons' Den, is the presenter, and is himself heavily involved in retail. I liked his ordering boxes to be taken away in a warehouse to show how much of the money paid for a product has to be paid out in rent, business rates, to staff, etc. Little, typically, is left at the end as profit.
I also liked his saying that many people who are hoping that their ideas will be accepted don't know the product, don't know the market, and won't listen to feedback.
As usual I looked for published patent documents among the many people profiled.
There was for example Una Tucker of Brockley, London with her handheld massage device, the Massage device set, illustrated here.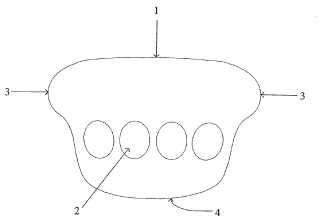 There was Shamus Husheer's DuoFertility, his method of recording tiny differences in a woman's body temperature so that she is alerted to the right time to try to get pregnant. He and his product impressed the Boots buyers greatly. His company is Cambridge Temperature Concepts, founded by Cambridge academics like himself. His Temperature sensor structure patent application looks relevant.
And then there's Russ Leith of Bedfordshire with his "gravitational geometrical incline clamping" device, if I heard it right, which is a one-legged "ledge" that sits in a corner. His A shelf or stand device was applied for as a patent in 2001 (it now has UK and US patents), but not one has, he says, been sold. Here is the main drawing showing the concept.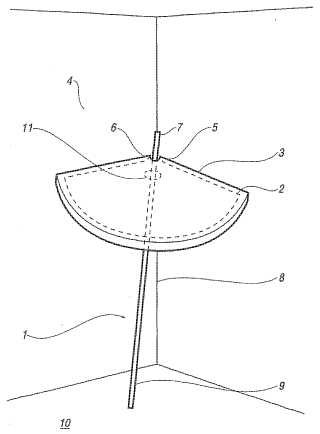 There's one final episode next Tuesday. At present UK residents can watch the first six episodes on iplayer (until the 31 May). They should be watched in sequence as people keep turning up in later episodes with news of their progressing in getting their product accepted (or not).