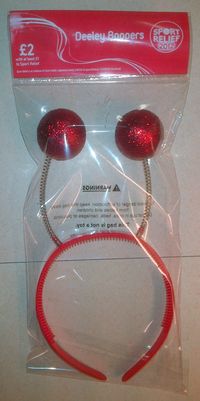 This evening I stumbled across a Deeley Bopper in a Sainsbury's supermarket on my way home from work. In its current incarnation it is being used to raise money for Sport Relief 2012.
The Deeley Bopper or Deeley Bobber is one of my all time favourite 'inventions'. I've used quotes because this multi-million selling innovation from the creative mind of Stephen Askin in 1981, is not actually registered as either a patent or even a trade mark.
Although I am definitely not a fan of the object itself, and you are unlikely to catch me wearing one out in the street (or in the house come to that), I use it as a great example in my business innovation work.
One of the strict rules we apply when we meet clients for our confidential Information Advice Clinics, is never to give an opinion on their business idea or invention. And the main reason for this, is however many years one might have in business, it is impossible to tell what will be successful – and vice versa.
The Deeley Bopper provides the perfect illustration. I just ask my colleagues to imagine how they would have reacted if Stephen Askin had come in for an advice session, and asked for their opinion on his latest business wheeze. I can imagine my response would have been something along the lines of; "You have to be joking. No one will buy those".
And yet they sold in their millions in the 1980′s and appear almost as popular in their revised 'Red Nose' guise today. So, however stupid an idea might appear, it can still make a fortune for its creator.