Intrapace, a Californian company, has been working for years on a "gastric pacemaker", Abiliti®, to help obese people to eat smaller meals.
An implant in the stomach sends messages to the vagus nerve which controls feelings of hunger. When eating occurs the stomach distends and produces hormones and enzymes. The vagus nerve sends a message to the brain to say that these things have occurred. A signal back makes the stomach feel full and the person stops eating. In many obese people this message doesn't get through, and eating continues. 
The device uses a sensor to detect when food enters the stomach. This fact is relayed to a stimulator embedded in the stomach wall close to the vagus nerve. The nerve is excited and feelings of fullness are created.
The clever bit is that there is a timer so that the stimulator is switched off at set mealtimes. There is 20 minutes for breakfast, for example. It does mean a disciplined approach to mealtimes.
Following formal approval for use in Europe, a woman is set to be the first patient to undergo the operation this Wednesday, at Spire Southampton Hospital, a private hospital. Trials in Spain and Germany with 200 people resulted in an average loss of 30% of weight in a year. It is not available at present in the USA. There is more information on the Intrapace company website.
Below is a drawing from the company's Detection of food and drink comsumption in order to control therapy or provide diagnostics World patent application.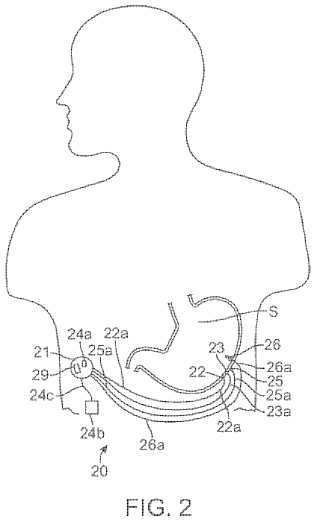 And here is a list of World patent applications by the company in the subject.
Usefully, the implant includes the ability to send information about the patient's diet and exercise habits to a smartphone or a PC for patients or medical staff to use. Perhaps this treatment will replace gastric bands in the future.