Martin Fleischmann, co-inventor of the notorious cold fusion patent application, has died, and his obituary is in the Daily Telegraph.
The claim to have achieved cold fusion in a glass jar, rather than by spending a stupendous amount of money, was extraordinary enough, but what also ruffled a lot of feathers was that he and Stan Pons announced their apparent discovery at a press conference. The customary route is publishing an academic paper in a journal.
Four inventors contributed to the invention published as World patent application Method and apparatus for power generation in 1990, with 110 pages of text and drawings. The University of Utah was the applicant. The main drawing is given below.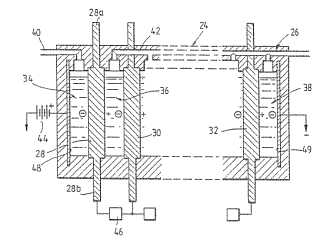 The search report at the end of the application lists three items of prior art – forerunners – with only the first marked as an X, highly relevant.
The first two pages of the description list four properties for an "ideal energy source" such as utilizing deuterium and ensuring it could be produced in a small, even portable scale. The claim was that the invention produced more energy than was consumed – which is of course what any power plant is meant to do – but others were unable to reproduce the results.
A European patent, EP463089, was granted in 1996 but was revoked in 1998 after opposition by Clean Energy Technologies, a Florida company. I have not looked into their arguments – patents are supposed to be new, and of a patentable nature, but do not have to work in order to be granted. A patent was not granted in the United States. In 1998 the University of Utah stopped trying to defend patent rights (according to New Scientist, 21 March 1998, page 23).
It seems that Clean Energy Technologies was working on rival lines, as they, according to an article in New Energy Times, demonstrated a 1300 watt cold fusion reactor in 1995 at a trade show.
This is the sort of topic that can be researched endlessly, especially as many on the Web still believe that cold fusion is possible. For example there is Harold Aspden's complaint about how his cold fusion invention has been treated by the US patent office.
This inventor, from Southampton, England had a British patent granted, for which Thermal power generation by electrically controlled fusion is the published application.