The athletics events start today at the Olympics, my favourite sport at the games. Something that has helped athletes run faster times is the ability to use rubbery synthetic all-weather tracks rather than grass, or the dreaded cinders which I remember from my schooldays in the 1960s. It really hurt if you fell down.
The 1968 Olympics was the first to use synthetic tracks. To avoid damaging the surface too much running spikes have to conform to rules, with a common one being that the spikes cannot be longer than 6 mm.
3M, the Minnesota-based company, originated such tracks with its Paving material and paving surfacing patent, filed in 1962. The technique involves urethane elastomers being poured in situ and hardening. The drawing page is shown below.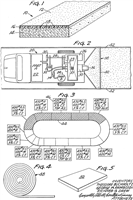 The story goes that the head of 3M was a keen horseman, and wanted a rubbery surface so that horses would be less likely to get injured. The patent stresses its possible use on racecourses. The cost turned out to be too high for racecourses with their long circuits, while athletic tracks at 400 metres were shorter. Hence it is mainly used for running tracks.
The trade mark 3M used for the product was Tartan®, presumably in homage to Richard Drew's Scotch Tape®, who also worked for 3M. The original patent for that product was filed as long ago as 1928 as Adhesive tape. Drew himself was named as one of the three inventors on the 1962 patent -- some 34 years later.