WIPO has added seven million American trade marks to their Global Brand database.
The idea behind the database is to make brands – registered trade marks, though branding as a concept is somewhat broader -- more accessible to anyone interested in using them for information by bringing together data from different sites.
An earlier related attempt is TMView, run by OHIM, which administers an EU-wide trade mark system. Its own data is searched plus that of numerous EU countries to provide a single list of results.
 The Global Data database has broader ambitions – it really aims to be global – but besides that it has some very interesting search features. This makes it the obvious site to use when checking for international coverage. Presumably more offices will later join the database.
With the new US data, it now contains over 10 million trade marks. The other main offices in it are the Madrid Agreement data, which provides coverage in many countries with one registration, and Canada and Australia. 10 offices in all are so far included, plus Lisbon appellations of origin and 6ter emblems, which are wording or images which cannot be registered as trade marks (such as national flags, official heraldry etc.). Clearly, the more countries join the better.
The database is easy and intuitive to use. As you type in a word or holder name it suggests possible wording. Fuzzy logic or phonetic searches to find closely related marks are possible by clicking on symbols to the left of the search box (but not it seems more detailed search variants such as in the UK trade mark database). The results appear very rapidly in order of the most recent registrations in a seamless list, with numerous details displayed including the logo.
Below is an image of what the search page looks like with a couple of the results showing at the bottom.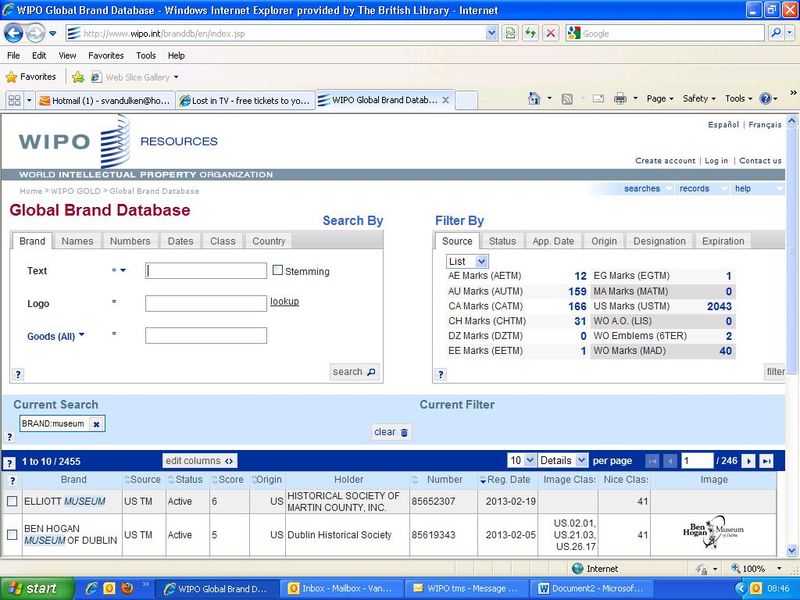 The logo search area is very intriguing. Suppose you are looking for images of mountains as a trade mark. Click on "lookup" and then type mountain in the new search box. Eight possibilities are offered, which are either VC (Vienna Classification, which is internationally used) or the US variant of VC. Click on the one you want, say 06.01.02, mountain landscapes, and the search is transferred to the main search box. This makes what can often be very laborious much simpler.
 There is also a filter function to the right of the search boxes so that groups of data can be selected. A display automatically appears for any result list broken down by the numbers found in each office. There is also status – the numbers "active", pending or deleted. "Expiration" tells you how many will expire within set time periods, which is potentially useful for formalities officers needing to check for future renewals.
Other details are explained in the Help function at top right of the screen. All in all I found the database easy and helpful to use (it does help that I am an experienced searcher). I would encourage everyone doing similar work to try it out and add it to their search tools.