27 November 2014
From Magna Carta to West Africa – cultural highlights for 2015
Today we raise the curtain on our cultural programme for 2015.
It's shaping up to be a landmark year, and follows 12 fantastic months for cultural activity at the Library. Thanks largely to our Comics Unmasked show earlier in the summer and our current exhibition, Terror and Wonder: the Gothic Imagination, visits to our events and exhibitions are up 40% on last year – with more than one million visits this year already.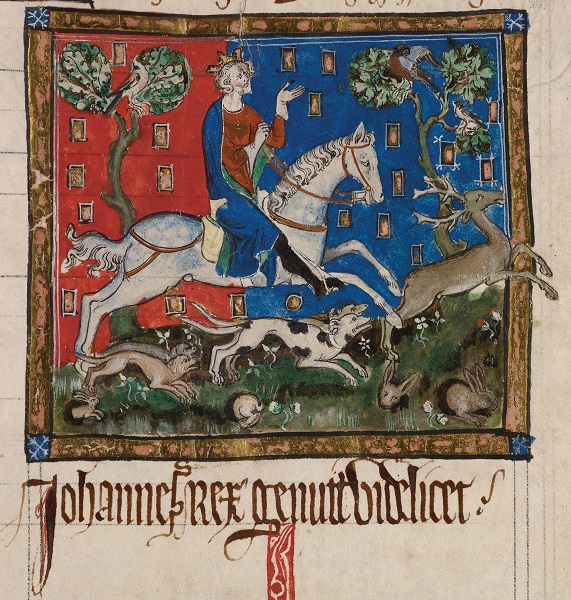 Image of King John, featuring in Magna Carta: Law, Liberty, Legacy - the world's biggest exhibition to celebrate the 800th anniversary of Magna Carta. 
The total number of visits to our building at St Pancras – to a public event or exhibition, to use a Reading Room, or to use our wifi-enabled public areas to work, think or meet – is also rising. Nearly 3,500 people come into the building every day, while online we've seen almost three million people exploring our learning websites, including our magnificent literary site Discovering Literature.
We're keen to build on this success and cement our position as a destination for unique and compelling cultural experiences in the year ahead.
This is the third consecutive cultural preview I've hosted since joining the Library and it's always a moment of great excitement and anticipation. As in previous years, we're unveiling the new season with a press event at St Pancras, offering several dozen journalists a flavour of what we have planned for 2015.
It's always a challenge to tempt busy journalists out of the office and over to the Library, so we make sure we have a good range of news stories and collection items on view, and our curators are available to answer questions and provide the sort of vivid details that really bring a story to life. Crucially, there's a rare thrill – even for the most hard-nosed media professional – in seeing these items out of their case and in front of one's very eyes, and this year is no exception.
In 2015, we're staging two major exhibitions which reflect the staggering diversity of the British Library collections.
Magna Carta: Law, Liberty, Legacy, (13 March – 1 September) sponsored by the global law firm Linklaters, will be the world's largest exhibition to mark the 800th anniversary of the sealing of the Magna Carta.  It will explore the transformation of this iconic document from medieval peace treaty to globally-recognised symbol of liberty, and indicate how its power has been used, and abused over eight centuries of history.
Tickets are on sale now. For more details visit www.bl.uk/magna-carta and you can follow the @BLMedieval team on Twitter, and via their award-winning blog as they prepare for this once-in-a-lifetime exhibition.  

Manuscript culture in Timbuktu in 2007 by Alexandra Huddleston, striking images, sounds and orginal items from West Africa will feature in our major exhibition in Autumn 2015. (Photo copyright © Alexandra Huddlestone)
Our other major exhibition, running in Autumn 2015, will celebrate the rich cultural and literary heritage of West Africa.
Through sound recordings, original manuscripts and objects ranging from dazzling fabric creations to religious sculpture and jewellery, our West Africa exhibition will explore literature, faith, politics and music from Nigeria, Ghana, Mali and the many of the other countries in the region. It will showcase West Africa's long literary heritage, and centuries-old oral histories, communicated through story-telling, music and sound.
You can find full details of everything featured in our 2015 cultural preview in the accompanying press release. Other highlights include our newly announced acquisition of more than 100 letters written by Harold Pinter as a young and budding playwright, our plans to celebrate the 150th anniversary of the publication of Lewis Carroll's Alice's Adventures in Wonderland, and the expansion of our Discovering Literature website to encompass writers from the 20th century, to feature alongside the Romantics and Victorians that are already represented.
To finish on a personal highlight, it was a huge pleasure to welcome the artist Cornelia Parker to our preview event to talk about a project that will form one of the most memorable legacies of our year-long celebration of Magna Carta. At almost 13 metres long and 1.5 metres wide, Magna Carta (An Embroidery) will replicate the Magna Carta's Wikipedia article as it appeared in its entirety on the 799th anniversary in 2014.
It's a unique response to the legacy of Magna Carta in the digital era, and is a huge collaborative project, with contributions by over 200 people, from prisoners, lawyers and civil rights campaigners to barons and MPs. 
Magna Carta (An Embroidery) will be on view to all visitors to our Entrance Hall exhibition space from 15 May to 24 July next year. It's a very apt symbol of how the Library enables encounters between centuries of history and the digital age, medieval sensibilities and modern creativity – we hope for many more such encounters over the coming months.
Roly Keating
Chief Executive