19 December 2014
Self-service photography in our Reading Rooms
For a number of years we've received feedback from Readers asking whether they could take pictures of collection items for research purposes, rather than having to laboriously transcribe extended passages of text. So we're delighted to announce that, as of 5 January 2015, our current self-service copying arrangements are to be extended to include photography using Readers' own compact cameras, tablets and mobile phones.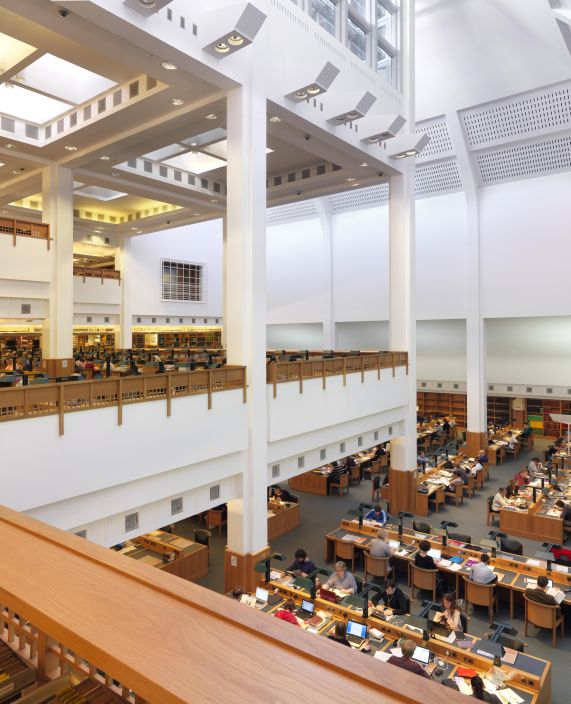 Smartphones and similar devices are already used by researchers for this purpose at institutions including the Bodleian Library, Cambridge University Library and the National Library of Wales. Reader feedback has been consistently in favour of updating our conditions of use to make such photography possible.
At the same time, we've been mindful of the need to minimise the potential for disruption and annoyance to other Readers, and to ensure that Readers are fully aware of the copyright, privacy and data protection laws that apply to so much of the Library's collections.
For the past year I've been working with many teams across the Library to introduce this facility. As well as involving colleagues in the Reader Services and Reference teams, we've also consulted with our Collection Care department to make guidance available on how to photograph items without subjecting them to unnecessary wear and tear.
The new arrangements are being introduced in two stages – the first will apply to the following Reading Rooms from 5 January:
Boston Spa Reading Room
Humanities – Floor 1 & 2
Newsroom
Science – Floor 2 & 3
Social Sciences
We'll be reviewing the feedback we get from Readers and staff, before introducing self-service photography in the second tranche of Reading Rooms in March 2015:
Asian & African Studies
Business & IP Centre
Maps
Manuscripts
Philatelic
Rare Books & Music
Please note that we're continuing to work on guidelines as to which items included in the second stage can be photographed and which cannot – full guidance on this point will be provided in March.
Before using your device to take photographs, you should read our guidelines on self-service photography – you can also watch these videos on photography and collection handling.
Given that this is a substantial change to existing practice in the Reading Rooms, please bear with us as we get to grips with the practicalities of the new arrangements and please also show consideration for your fellow Readers – in particular, make sure your device is switched to silent mode before you start snapping!
If you have any queries about the new service or, from the New Year, comments about how it is being rolled out you can tweet @BL_Ref_Services or speak to our Reading Room staff.
Rachel Austin
Service Improvement Manager