23 April 2015
Celebrating World Book Night in London and Yorkshire
Both the British Library's main sites are taking part in this year's World Book Night celebrations today (23 April), with book giveaways planned for both London and Yorkshire.

Since World Book Night began in 2011, more than 250,000 books have been given out across the UK to encourage reading for pleasure. The event is now run by the Reading Agency and the British Library this year decided to take part, with giveaways including a range of World Book Night titles, as well as the two most recent titles from the Library's bestselling Crime Classics series.
Staff volunteers from the Boston Spa site will be giving away books at the Crossgates Centre in Leeds, 12.00-14.00 on Thursday 23 April, while staff from St Panrcas will have a stall at Chalton Street Market, Somers Town, 12.00-14.00 on Thursday 23 April and at the same time on Friday 24 April (or until all the books are given away!)
Reading is central to almost everything we do at the British Library and World Book Night is the ideal opportunity for us to reach out to people in the communities that surround our two main sites.
Chalton Street Market takes us right into the hustle and bustle of the Somers Town area, while the Crossgates Centre in Leeds is the ideal location for people to drop by, not just to pick up a book but also to hear all about everything going on at the Library.
Based in the heart of London's busy Knowledge Quarter, the St Pancras site already has a packed public programme of exhibitions and events, but we're keen to introduce people from all communities to our public spaces and Reading Rooms. Similarly, although the British Library at Boston Spa is one of the biggest employers in its area, there are still many who are unaware of the Reading Room and the fact that they can use it to explore large parts of the Library's collections, whether for research, inspiration or enjoyment.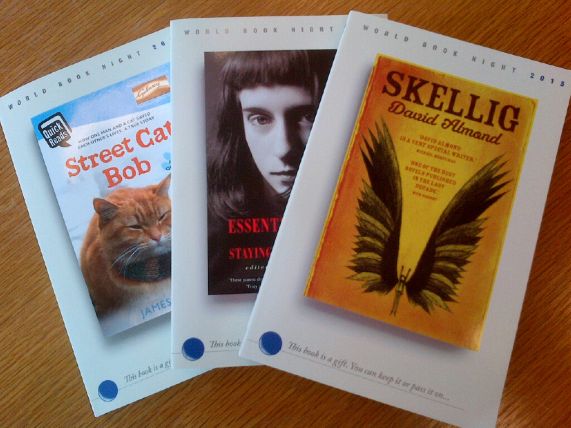 If you're nearby either location, do please say hello! The titles we're giving away include, from the World Book Night list, Skellig by David Almond, Essential Poems from the Staying Alive Trilogy, edited by Neil Astley, and Street Cat Bob by James Bowen; the British Library Crime Classics titles we're giving away are A Scream in Soho by John G. Brandon and Antidote to Venom by Freeman Wills Crofts.
You can also take part in World Book Night via social media: follow the Reading Agency Twitter feed and use the hashtag #WorldBookNight
Liz White
Head of Strategy Development