22 April 2015
New Moleskine range inspired by our Alice in Wonderland manuscript
If you haven't come across it before, Moleskine is a global brand that produces a range of tools for creativity and productivity: notebooks, diaries, device covers, journals, bags and so on.  If you're a regular visitor to the Library, you might have spotted that we sell their notebooks in our British Library Shop.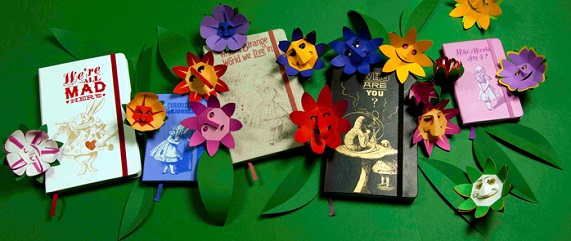 This week we're really excited to announce a new partnership with Moleskine. They're launching their latest collection of notebooks, inspired by our Alice's Adventures in Wonderland manuscript.
The collection pays homage to Lewis Carroll's much-loved masterpiece. Moleskine has reproduced original illustrations by John Tenniel on the notebook covers, while a page of Carroll's original handwritten manuscript has been reproduced on the flyleaves. It's a really beautiful product range which will be sold around the world.
To run alongside the campaign, Dutch film director Rogier Wieland has created a dreamlike short film using optical illusions, 2D and stop motion animation and, er, a live rabbit.
The Library has a well-established brand licensing programme, working with companies looking to use our archive to give their products a new twist. You can spot our collection items on anything from carpets and cushions to umbrellas and cards.  To give you some more examples, Our Olga Hirsch range of decorated papers led to a collaboration with fashion brand Maggie Semple. We have also worked with Surface View who produce murals and wallpaper.
At the Library, we are fascinated by how people respond creatively to our collections, whether it's an individual writing their thesis or a design company creating a new product range.  It also demonstrates that manuscripts like Alice's Adventures Under Ground inspire just as much wonder and creativity as they did 150 years ago.
Many of the products go on to be sold in our British Library Shop, including of course the new Moleskine Alice range.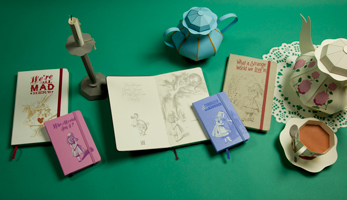 Crucially, this kind of project also generates funds that will support some of the other work we want to do, from digitisation to purchasing rare and important items for our collection.
Martin Oestreicher
Publishing and Brand Licensing Sales Manager