05 May 2015
Reference Services: assisting with your enquiries
Rachel Brett of the Reference Services team – and a specialist on the Library's extensive art and design collections – explains how she and her colleagues handle the thousands of enquiries they receive from Readers every month.
As a reference specialist for Humanities I respond to enquiries both directly in the Reading Rooms, and remotely via our Ask the Reference Team service.  This service allows anyone anywhere in the world to submit a question to our teams. Queries come into a software program called 'Question Point', which staff use to respond to research questions.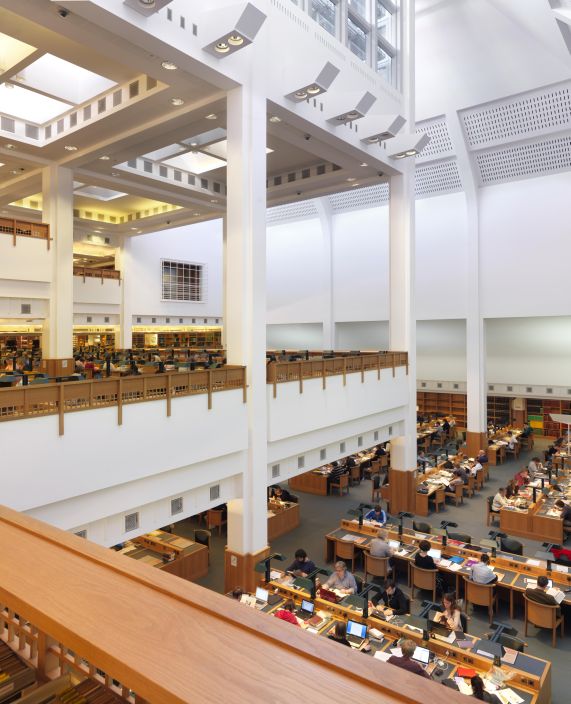 By their nature, the enquires we receive are unpredictable, ranging from rudimentary procedural questions to more comprehensive subject specific enquiries. On occasion we assist some of our more renowned readers with their current projects.  However, we are far too professional to discuss such enquires… though a 'Thank you' for our support often appears in Forewords!
I am also responsible for selecting open access reference resources for art and design, so I am always keen to answer research enquiries related to my specialist area. Personal favourites often relate to fashion, not least because this allows me to indulge in my own passions - all in the line of duty. For example, an enquirer recently contacted the service seeking images of her late mother who had been a model during the swinging sixties, and who regularly appeared in Vogue.  And so I found myself sitting in our Newsroom, poring over 1960s copies of Vogue. 
Another enquiry involved determining when Lady Duff Gordon wrote her last contribution on fashion for Hearth and Home magazine in 1914.  Lady Duff Gordon wrote a wickedly funny fashion column, and was an intriguing figure in the history of fashion.  Born Lucy Sutherland, 'Lucile' (as she was known) became a celebrated couturière and head of the fashion label of the same name.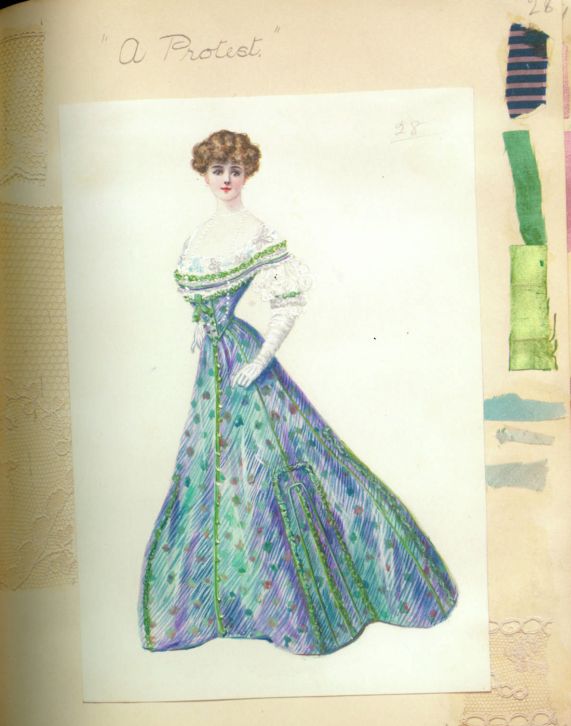 This beautiful sketch by Lucile (Lady Duff Gordon) is reproduced from Lucile Ltd : London, Paris, New York and Chicago 1890s - 1930s.  Valerie D. Mendes and Amy De La Haye.
The Lucile label specialised in luxury undergarments at a time when underwear was usually made of heavy crinoline and cotton: a proto Agent Provocateur! She dressed debutantes for the season, as well as producing more affordable designs. An innovative business woman who, amongst other things survived the sinking of the Titanic, Lucile went on to design for film and theatre, and although sometimes overlooked today, she might be considered Britain's first international female fashion designer. 
These are just two of the fashion-related reference queries I've researched recently. I've also traced 1980's fashion spreads featuring British beach wear, looked into the history of purple clothing, searched for bygone Harvey Nichols Christmas adverts for their own archive,  given resources for feather dressers from the Edwardian era, and much more… 
Reference Services still receives telephone enquiries and even some letters, demonstrating that access to information really is open to everyone. We answer on average 25,000 face-to-face enquiries and 5,000 remote enquiries a month (sadly not all related to fashion).Whatever your subject of research, our specialists will be able to help, or know someone who can. So next time you have a question that you think a librarian could help with, 'Ask the Reference Team'.
You can also follow the Reference Services team on Twitter.
Rachel Brett
Reference Services
References:
The 'It' girls : Lucy, Lady Duff Gordon, the couturière 'Lucile', and Elinor Glyn, romantic novelist / Meredith Etherington-Smith and Jeremy Pilcher. Shelfmark(s): General Reference Collection YC.1988.a.11607
Lucile Ltd : London, Paris, New York and Chicago 1890s - 1930s / by Valerie D. Mendes and Amy De La Haye. Shelfmark(s): General Reference Collection LC.31.b.7486 Document Supply fm09/.1572
Vogue. Shelfmark(s): Document Supply V 9251.413000 General Reference Collection ZC.9.d.565
Hearth and home. Related Titles: Later Title: Vanity fair (London, England : 1868); Vanity fair & hearth & home. General Reference Collection LOU.LON 43 [1891]