27 July 2015
Comprehensive, open and clear: explaining our Annual Report and Accounts
The last year has been a momentous one for the British Library in all sorts of ways. From the 800th anniversary of Magna Carta to our 20 millionth reading room delivery, readers of this blog will know that we've passed a lot of landmarks over the last 12 months.
We've now published our 2014/15 Annual Report, reporting back on the Library's recent accomplishments, and measuring how we're performing as an organisation.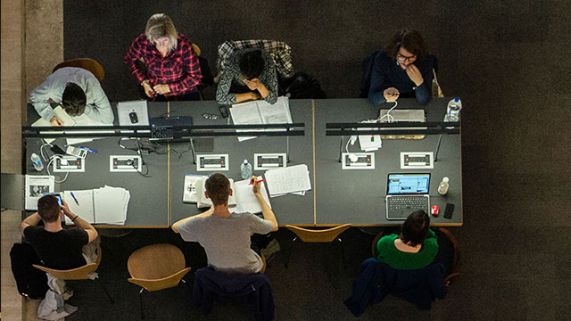 We do this as part of our obligations to Parliament and the public, because of the funding we receive from the UK government. The Library was set up by an Act of Parliament in the 1970s, and as part of the Act it's our responsibility to publish information on what we're doing and how we spend our budget. The accounts we publish in the Annual Report are used to calculate the accounts of the Department for Culture, Media and Sport (DCMS), and in turn, the Whole of Government Accounts. At 91 pages, the full report is pretty substantial, so that we can be as transparent as possible on spending, income, pay and performance.
The report's summary of our achievements over the last year is a fairly long read in itself. The launch of our Living Knowledge vision in January encapsulated a whole series of projects that demonstrate the Library's central role in preserving our heritage and sharing knowledge around the world. We opened the National Newspaper Building, one of the most advanced storage facilities ever built; we brought city libraries across England together to support businesses and entrepreneurs; we launched the Qatar Digital Library to transform the study of Gulf history; we set up Discovering Literature to help students experience our greatest writers in a new way; we welcomed the Alan Turing Institute for data science; and of course we're celebrating one of our greatest exports, Magna Carta, to name a few.
But the Annual Report tells another story, too. Because at a very challenging time for all publicly-funded organisations, the Library has managed to balance its books over the last year, while making sure all those achievements were still possible. That's due to careful management, and to our innovative partnerships to deliver projects with other organisations who share our goals. But it also was helped by a strong commercial performance; our commercial income increased by £1.4m this year, thanks to great work by our publishing team and our online and on-site shops.
Financial good health goes hand-in-hand with good performance, and the Report also includes our Key Performance Indicators (KPIs) for the year. These figures show that the Library is serving a bigger audience than ever; in the last two years, combined visits to our on-site facilities and our website has risen by 28%. There has been particularly rapid growth in the number of people using our Learning website (up 75% on last year) and taking part in learning sessions at our St Pancras building (up 50% in two years). Satisfaction levels are also very high, with 94% of Reading Room users and 96% of exhibition visitors feeling happy with their experience. Satisfaction ratings for our website are also growing, as its redevelopment continues to improve people's experience of the Library online.
Of course, the British Library never stands still. Our collections are growing rapidly, in both print and digital form, with a massive 827,895 items added – a 10% increase on the previous year. And with some profound changes happening at the Library, and happening all around us, we will keep reporting back on what we do, for our users and for the whole of the UK.
Mick Wilkin
Chief Accountant