20 July 2015
The British Library in Yorkshire – a treasure trove for researchers
The British Library at Boston Spa – two miles outside Wetherby in West Yorkshire – is a landmark perhaps more driven past than actually visited. However, for researchers in the north of England it offers a gateway to vast research collections that include journals of the sciences, arts and humanities, millions of monograph titles and the UK national newspaper collection.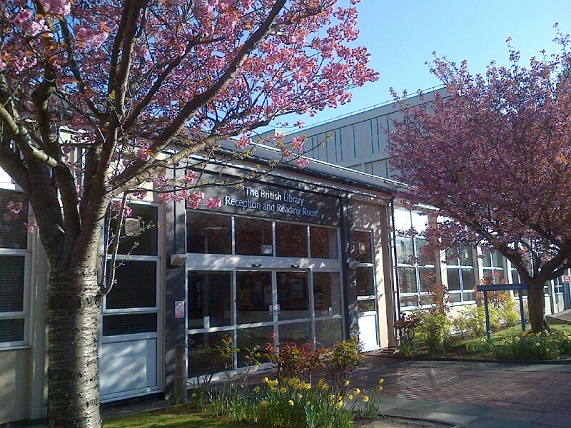 For many years, Boston Spa has offered access to our Document Supply collection – a wide range of material that is the equivalent to a first rate university library: 3 million research level books, 210,000 journal titles, 400,000 conference proceedings and 130,000 music scores. We also offer access to 3 million sound recordings via our Sound and Moving Image service.
Last year, the Reading Room underwent major refurbishment and we introduced full Reader registration for the first time at Boston Spa. This meant that we were able to extend much further the range of material that could be accessed by Readers in Yorkshire.
From September 2014 we made print newspapers available to view at Boston Spa, and in May this year we extended access to include microfilmed newspapers. Both formats can be requested to Boston Spa for viewing within 48 hours. In addition 11 million pages of digitised, fully searchable newspapers are available via the British Newspaper Archive, which can be used for free in any of our Reading Rooms.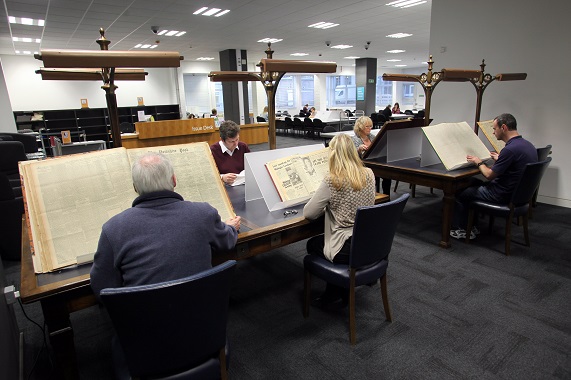 Photo © Kippa Matthews.
The availability of these different formats of newspapers means that the vast majority of the national newspaper collection is now accessible to Readers in Yorkshire, as well as those in the Newsroom at St Pancras. This is a massive benefit to our users in Yorkshire, and across the north of England – one of the world's greatest newspaper archives available to use at a facility in the heart of the region.
This month, we increased the extent of collections available to Readers in the north further still. You can now request legal deposit books and serials held at the Boston Spa site – including some seven million items held in the Additional Storage Building. As with print newspapers and microfilm, these items should be ordered 48 hours in advance; you can track the progress of your order via My Reading Room Requests and you'll be able to see when your items are available for viewing.
This is the latest phase of an ongoing project to pilot extended access to collection items at Boston Spa, and we are closely monitoring both demand and our ability to meet that demand, with a view to extending access to other collections in future.
For now, please pass on the message about the breadth and richness of the collections that can now be accessed in Yorkshire. If you've never used us before, please pre-register online. Once you've registered, you can begin to request items and, within 48 hours, make your first visit to Boston Spa to obtain your Reader pass (which is also valid for our St Pancras Reading Rooms) and start exploring our collections.
The Reading Room has free wifi and the site offers parking (also free) and a canteen available to Readers as well as staff. If you'd like to find out more, please don't hesitate to contact our team via email [email protected] or phone 01937 546060.
To whet your appetite, this recent TV news report includes a look behind the scenes at both the Boston Spa Reading Room and the National Newspaper Building. If you live in the north, it's an amazing resource to have on our doorstep – and available to use for free. If you know anyone else who might find it useful, please let them know!
Jerry Shillito
Head of Reader and Reference Services