29 March 2021
In our monthly blog series we go behind the scenes at the Library to introduce you to our people and the many ways they work to bring our collection to everyone. Today we meet Amber Perrier, Community Engagement Officer.
"I work with our local St Pancras community, especially often overlooked groups. It's grass roots engagement connecting us with our neighbours."
Tell us about your role?
Amber is our Community Engagement Officer, tasked with engaging our hyper-local community with the British Library in St Pancras, London. Her 'patch' includes Somers Town, King's Cross, Bloomsbury, the Regents Park Estate and other parts of the London Borough of Camden.
She organises 'show and tell' displays and tours with curators and represents us at local festivals as such as the Somers Town Festival, Camden Bangladesh Mela and Hillview Festival.
Amber setting up the community stall at the Hillview festival with dolly pegs created by local organisations from Somers Town.
She works closely with our Welcome Team and Events and Learning Teams to encourage local families to use the British Library, helping adults register for reader passes and connecting local entrepreneurs with our Business and IP Centre.
An Ethiopian collection show and tell with members of the local St Pancras community, organised by Amber. 
Her outreach activity also involves popping into Somali and Bangladeshi community centres to chat to people about our services and local projects such as St Pancras Transformed which may have an impact on residents.
"One of my favourite projects is The Story Garden, it's a community garden and is open to everyone. As well as growing crops, we've run therapeutic arts and crafts events in the polytunnels, and provided a make space for St Martin's students."

The Story Garden (2019)
How did you get into this field?
Amber joined us four years ago on a placement under the Culture& traineeship programme, which aims to increase workforce diversity in the heritage sector. During her one-year traineeship she shadowed Library colleagues in Conservation, Basements and the Asian and African Collections and paid reciprocal visits to her cohort at the British Museum and the Brighton Museum & Art Gallery.
At the end of the programme, she had gained a QCF Level 3 qualification in Cultural Heritage and secured a permanent role as a Community Engagement Assistant at the Library – and since been promoted to an Officer position.
"I'd already established relationships with the local community and it was good to continue building these bridges."
Prior to joining the Library, Amber studied Fine Art at the University of East London and volunteered with community arts organisation Rosetta Arts in Newham.
How has Covid-19 changed the way you work?
With all in-person community engagement activities suspended in 2020-21, Amber has worked hard to keep in touch virtually with local groups.
"I've supported webinar presentations and online consultations and have shared job opportunities and events via social media. I've also been involved with signposting community organisations' support services such as food banks as the pandemic hit some local community groups hard."
What do you love about the Library?
Amber's job involves meeting lots of people, both staff and local residents. She has been impressed by the hidden skills and interests of the people she meets and has enjoyed chatting to people about her art.
"As an artist I love spending my lunchbreak sketching in the Piazza and chilling out in the Poet's Circle."
She was commissioned to design the Somers Town Big Local tote bag off the back of winning a Notting Hill Carnival T-shirt design competition.
Commission for Somers Town tote, illustration by Amber Perrier.  
Amber's Notting Hill Carnival T-shirt competition-winning design 
What's your favourite object in the collection?
Amber's first 'show and tell' featured items from our Ethiopian Collections and she became infatuated with the colours and gold in the manuscripts. A particular favourite is Nagara Māryām / History of Mary featured in this blog.
Nagara Māryām / History of Mary, Ethiopia, 18th century. Or 607, f 17r
"I also love looking at the old mags from Newham where I grew up in the East End."
Any insider tips about the St Pancras area?
Amber normally spends a lot of time out and about in St Pancras meeting local groups. She recommends visiting The Story Garden, a temporary garden shaped by and for the local community and developed in response to feedback on our transformation plans for the Library.
"It's very therapeutic and you can take the time out to enjoy the botanical atmosphere."
Any book recommendations for our readers?
Amber recommends All on the Board written by two TFL underground employees. They started creating their famous quote boards anonymously as a side hustle to their day job as station support staff.
"I've been dipping in and out of it during lockdown and it's been a great pick-me-up. It really lifts my spirits!"

Follow our Community Engagement team on Twitter
Follow Amber on Twitter
Follow Amber on Instagram
30 April 2020
They may not be in the building, but the Library's team of Reference Librarians continue to be on hand to answer your questions and solve your queries. You don't need to be a Reader to ask the team a question. So whether it's how to get started with our digital resources or help finding a specific item, the team are here to help between 09.30 – 17.00 Monday to Friday.
X marks the spot
A recent mission: to track down one particular image of the Hereford Mappa Mundi – the largest Medieval map known to exist.
First, we check our freely available, digitised version of the book (access this right here) but it's missing the image. Hmm. Without access to Library buildings we can't check the physical item until we reopen.
Next. We try the academic library search engine, JISC Lib Hub. This hub gives you details about materials held in many UK national, academic and specialist libraries. And success! Cambridge University and Edinburgh University Libraries hold copies of the same book.But an even better discovery: the Hereford Mappa Mundi has been digitised and is freely available. And it's pretty spectacular: https://sims2.digitalmappa.org/36.
Do you need us to hunt down an item for you? Contact the team >
Top tip
Using our Explore catalogue to research? To get the widest set of results, try entering related keywords or search terms. Explore now >
John Boneham
Rare Books Reference Specialist
Aurelio Patierno
Science Reference Specialist
22 April 2015
If you haven't come across it before, Moleskine is a global brand that produces a range of tools for creativity and productivity: notebooks, diaries, device covers, journals, bags and so on.  If you're a regular visitor to the Library, you might have spotted that we sell their notebooks in our British Library Shop.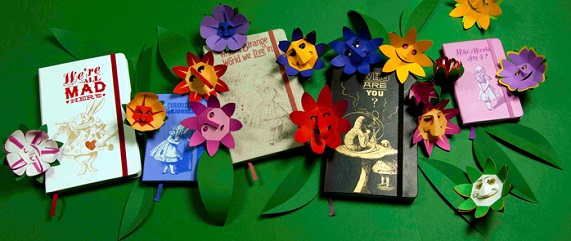 This week we're really excited to announce a new partnership with Moleskine. They're launching their latest collection of notebooks, inspired by our Alice's Adventures in Wonderland manuscript.
The collection pays homage to Lewis Carroll's much-loved masterpiece. Moleskine has reproduced original illustrations by John Tenniel on the notebook covers, while a page of Carroll's original handwritten manuscript has been reproduced on the flyleaves. It's a really beautiful product range which will be sold around the world.
To run alongside the campaign, Dutch film director Rogier Wieland has created a dreamlike short film using optical illusions, 2D and stop motion animation and, er, a live rabbit.
The Library has a well-established brand licensing programme, working with companies looking to use our archive to give their products a new twist. You can spot our collection items on anything from carpets and cushions to umbrellas and cards.  To give you some more examples, Our Olga Hirsch range of decorated papers led to a collaboration with fashion brand Maggie Semple. We have also worked with Surface View who produce murals and wallpaper.
At the Library, we are fascinated by how people respond creatively to our collections, whether it's an individual writing their thesis or a design company creating a new product range.  It also demonstrates that manuscripts like Alice's Adventures Under Ground inspire just as much wonder and creativity as they did 150 years ago.
Many of the products go on to be sold in our British Library Shop, including of course the new Moleskine Alice range.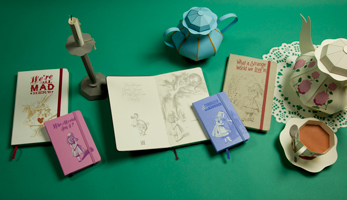 Crucially, this kind of project also generates funds that will support some of the other work we want to do, from digitisation to purchasing rare and important items for our collection.
Martin Oestreicher
Publishing and Brand Licensing Sales Manager
Knowledge Matters blog recent posts
Tweets by BL Press Office
Other British Library blogs