09 June 2015
Although its history is shorter then Magna Carta's magnificent 800 years and its scope considerably smaller, Public Lending Right (PLR) has made its own significant contribution since it was established by the Public Lending Right Act in 1979. And it is continuing to do so as the technology connecting books and readers changes and develops. 

The PLR Act was passed after a long campaign by British authors for recognition of their right to receive payment for the lending of their books by public libraries. Now firmly enshrined in law,  payment is made from government funds to authors, illustrators and other contributors whose books are borrowed from public libraries.  Distributed annually, these payments are made on the basis of loans data collected from a sample of public libraries in the UK.  All that authors need to do to qualify for payment is to register their book when it is first published and to register all subsequent editions of it as they appear.
This simple but effective system, which has become a highly valued part of any author or illustrator's life, has brought additional funding that helps to encourage creativity. In particular, at a time when new books attract the most attention, PLR payments can reflect the value of older titles which may still be popular despite being less visible in bookshops. And it is not just the extra money that authors and illustrators appreciate; it is also that, implicit in the government funding, is recognition for the contribution that authors and illustrators make to the UKs creative success and prestige abroad.
This year, in addition to the work that has been dedicated to print books and related matter since 1979, PLR has opened up for new business. The Digital Economy Act, passed in March 2010, cleared the way for the legislation to be extended to include public library loans of audio-books and ebooks downloaded to library premises for taking away as loans. While the latter is still restricted by legislation about how ebooks may be borrowed, the former is now up and running. The new arrangements to reflect and reward this new business officially began on 1 July 2014, at the start of the first year in which loans data for audio-book borrowing could be collected in readiness for the PLR payment distribution in February 2016.
Long hoped for, the inclusion of audio-books has been meticulously planned so as to make the division between all the many contributors  as fair as  possible. The author, narrator and producer of an audio-book will all qualify for PLR on the basis of fixed PLR shares as follows: 60% for the author, 20% for the narrator and 20% for the producer. In cases where there is a translator and/or abridger, they will qualify for fixed 30% and 20% shares respectively of the author's 60% share. This would mean that in the case of an audio-book with an abridger and a translator the shares would be as follows: author (30%), abridger (12%), translator (18%), producer (20%) and narrator (20%).
It is fiddly business but the great advantage of the fixed share is that every contributor can do their own registrations without needing to find all their fellow collaborators.  And they are busy doing so. Narrators and producers are new to PLR and they – and the team at the PLR office - are working hard to get all the details of each title correct and to apportion the PLR fixed shares. This is big business: over 7,000 audio books have already been registered and there are many more being processed.  
Actress Lorelei King, who has already registered 244 titles which she has narrated including Little Women by Louisa May Alcott, The Pelican Brief by John Grisham and Sepulchre by Kate Mosse expressed her delight, "I'm so pleased that PLR has been extended to audiobooks. As well as benefitting authors, it also acknowledges the contribution of narrators and audio producers to this growing medium." 
Commenting on her registrations she added that 244 titles was not the end of it: "I'm afraid there are more to come. It's carving out the time to input them!"
Narrator Jeff Harding, who has already registered over 658 titles including The Bone Collector by Jeffery Deaver and Kane and Abel by Jeffrey Archer, was equally delighted, "We narrators are always glad to get any kind of recognition, critical or financial, and to be included with authors is an even greater privilege. Many thanks to the PLR!"
The registration deadline for this year is fast approaching – authors, illustrators and others who are eligible for PLR should register online before midnight on Tuesday 30 June to be included in the 2016 round of payments.
Julia Eccleshare
Head of PLR Policy and Advocacy
23 April 2015
Both the British Library's main sites are taking part in this year's World Book Night celebrations today (23 April), with book giveaways planned for both London and Yorkshire.

Since World Book Night began in 2011, more than 250,000 books have been given out across the UK to encourage reading for pleasure. The event is now run by the Reading Agency and the British Library this year decided to take part, with giveaways including a range of World Book Night titles, as well as the two most recent titles from the Library's bestselling Crime Classics series.
Staff volunteers from the Boston Spa site will be giving away books at the Crossgates Centre in Leeds, 12.00-14.00 on Thursday 23 April, while staff from St Panrcas will have a stall at Chalton Street Market, Somers Town, 12.00-14.00 on Thursday 23 April and at the same time on Friday 24 April (or until all the books are given away!)
Reading is central to almost everything we do at the British Library and World Book Night is the ideal opportunity for us to reach out to people in the communities that surround our two main sites.
Chalton Street Market takes us right into the hustle and bustle of the Somers Town area, while the Crossgates Centre in Leeds is the ideal location for people to drop by, not just to pick up a book but also to hear all about everything going on at the Library.
Based in the heart of London's busy Knowledge Quarter, the St Pancras site already has a packed public programme of exhibitions and events, but we're keen to introduce people from all communities to our public spaces and Reading Rooms. Similarly, although the British Library at Boston Spa is one of the biggest employers in its area, there are still many who are unaware of the Reading Room and the fact that they can use it to explore large parts of the Library's collections, whether for research, inspiration or enjoyment.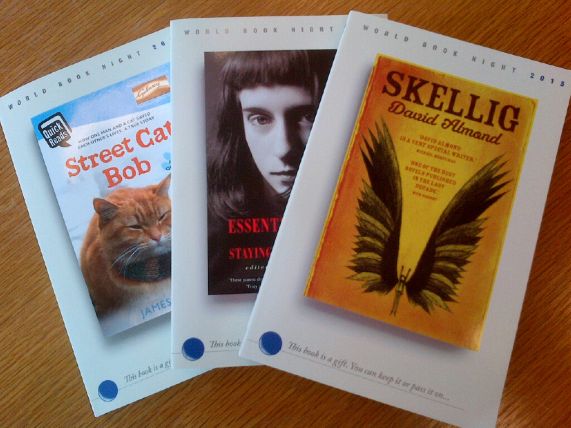 If you're nearby either location, do please say hello! The titles we're giving away include, from the World Book Night list, Skellig by David Almond, Essential Poems from the Staying Alive Trilogy, edited by Neil Astley, and Street Cat Bob by James Bowen; the British Library Crime Classics titles we're giving away are A Scream in Soho by John G. Brandon and Antidote to Venom by Freeman Wills Crofts.
You can also take part in World Book Night via social media: follow the Reading Agency Twitter feed and use the hashtag #WorldBookNight
Liz White
Head of Strategy Development
12 January 2015
When I became Chief Executive of the British Library just over two years ago, I was proud to join one of the world's greatest knowledge institutions.
At times of great disruption in technology and access to information I believe that organisations like ours have an historic remit to think and act with a view far into the future, and should play a full part in shaping the changes that lie ahead. Knowledge, innovation and creativity will support long-term economic growth in a post-industrial age, but can only do so with sustained investment and continued acknowledgement of their importance to society.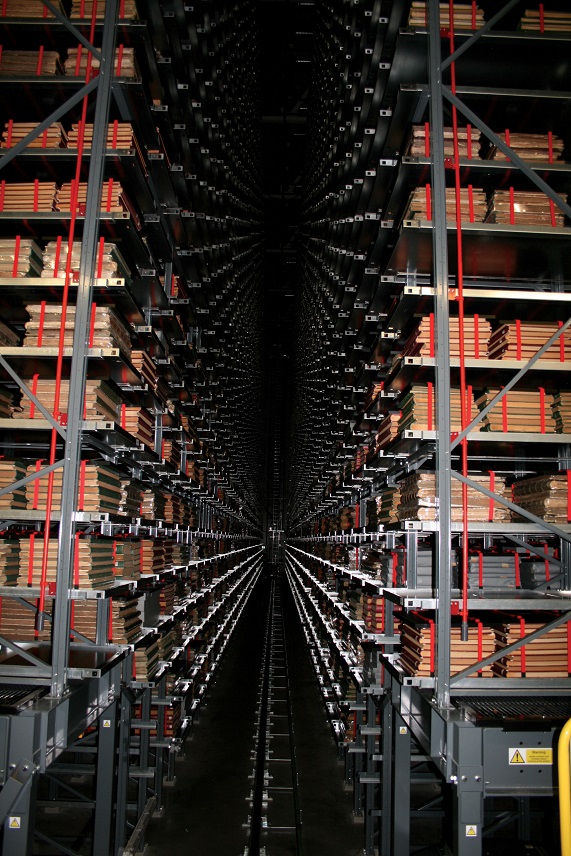 The National Newspaper Building at Boston Spa. Photo by Katie Betts.
Today, at the start of our exciting and historic Magna Carta year, the British Library publishes its new statement of vision and purpose, Living Knowledge. This document provides the overarching vision for where the Library wants to be by the time it reaches its 50th anniversary in 2023.
Living Knowledge defines the British Library's enduring public purposes – in custodianship, research, business, culture, learning and international relations – and makes the case for the vital and growing importance not just of this institution but the UK's whole national infrastructure of knowledge and innovation, including libraries of all kinds.
We are living through profound changes in the whole global system of information and publication. The genius of the British Library's founders was to combine an Enlightenment heritage with a determination to keep pace with research and science in all its forms. Now we, and others, have to adapt to enable people to use technology and data to create new things with our collections and drive knowledge and growth creation in the 21st century.
Guided by the vision and values of Living Knowledge the British Library will embark on a number of ambitious projects that will support its mission to make our intellectual heritage accessible to everyone, for research, inspiration and enjoyment. These include digitally preserving the nation's 6.5 million sound recordings, extending the successful Business & IP Centres to 20 UK city libraries, supporting the public library network and growing the diversity of the Library's cultural and learning programmes onsite and online. These programmes will both enable greater access to our collections for more people and will also diversify access across the UK. 
I hope you enjoy Living Knowledge. We have kept it as short and as clear as we can. It does not pretend to have all the answers – the world changes all the time – but it does set a tone for the kind of organisation all of us who work here want to be part of: creative, innovative, resourceful and open to partnerships of all kinds. We look forward to developing these ideas over the months and years ahead.
Roly Keating
Chief Executive
Roly Keating will be giving a speech to launch Living Knowledge at 19.00 on Monday 12 January. You can follow the livestream of this here: http://webcasts.umcdn.com/tbl028 and join the debate using the hashtag #livingknowledge.
Knowledge Matters blog recent posts
Tweets by BL Press Office
Other British Library blogs