Exhibition build update
The British Library's PACCAR Gallery has been a hive of activity these past three weeks, as Magnificent Maps takes shape. In an atmosphere of calm chaos (or chaotic calm, not sure which), contractors, conservators, technicians and the quite brilliant exhibitions team have brought to life something that has hitherto existed only on paper.
And as for me, I've been mostly getting in people's way, wandering aimlessly through the gallery with a big grin on my face. It is looking good. A few images will show you what I mean. Below: the 'Gallery' section of the exhibition at the start of the week, our own Renaissance Palace taking shape. It must be one of the few times that the entire height of the exhibition space has been used. Wait 'til you see the finished room.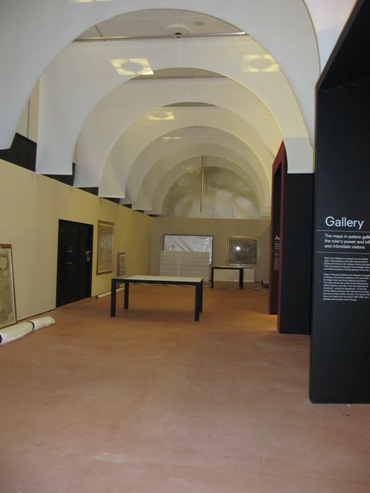 Below: Conservator-artist-genius Eneko Fraile has been piecing together the 25 sheets of the massive Bohemia map of 1722. Such was the size and complexity of the job (each sheet was trimmed at some point 250 years ago, and perhaps unsurprisingly, not all of them match up) that the job had to be carried out in situ.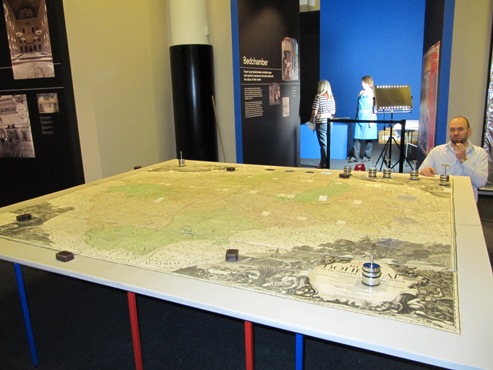 Below: Colin contemplates the installation of the earliest surviving Chinese Globe (1623), a rather large, old and important ball of solid wood (the globe, not Colin).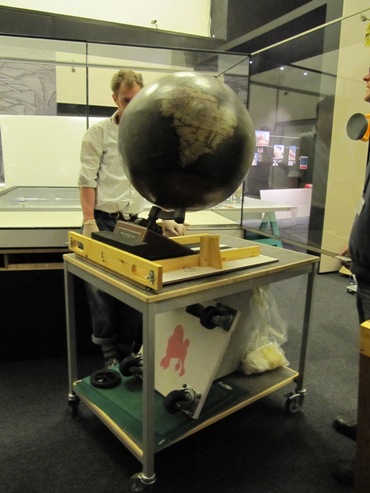 Most excitingly of all, the loan items have been arriving in the gallery. Of which more later.