13 May 2010
Elbow room and map fashion
Taking my thrice daily stroll around Magnificent Maps I've needed to be nimble on my toes! Such has been the extraordinary level of interest in the show that groups of visitors gather around pretty much every map, or stand admiring the overall effect of the spaces we have recreated.
An early frontrunner for the most popular map, apart from Stephen Walter's The Island, is the hand-painted world map of 1582 by the Greek sailor Antonio Millo. It looks positively sublime when looked upon from the opposite side of the gallery, but reveals itself to be rather odd upon closer inspection. See if you can spot the sea-monster/King Charles Spaniel swimming in the Atlantic Ocean.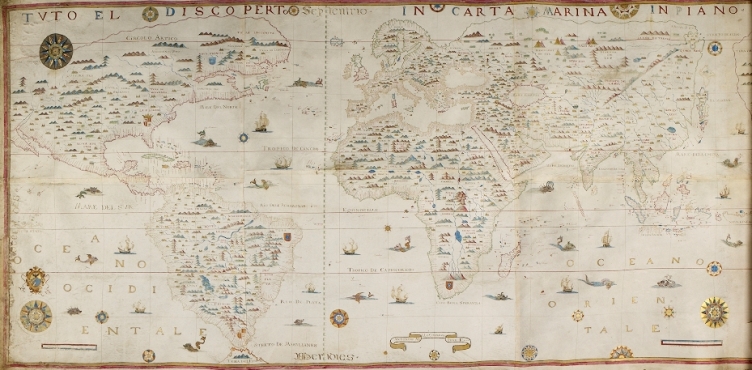 There have also been some very interesting and well-attended guided tours, which I am enjoying very much. I noticed Peter's tour yesterday - or at least, I noticed a throng of around 40 people with Peter's voice emanating from somewhere in the middle.
But most pleasingly there's been a great mix of visitors, and as I read somewhere in a recent article, some very articulate visitors with perceptive comments: comments I reserve the right to borrow for further guided tours should I happen to overhear them.
Alas, I'm afraid I haven't seen a visitor as appropriately dressed as I would have liked. No map-themed ties or T-shirts, and certainly no threads as special as those illustrated in Christa Weil's Fashion Preserve blog. Marvellous stuff, and don't listen to Christa: matching dress IS compulsory.
Perhaps we should have created a catwalk space in the exhibiiton. Verily I say, maps are everywhere.