Facebook
Apparently one-in-thirteen people now use Facebook, which means that one-in-thirteen of us will see the world map every time we log-in (not counting those who stay permanently logged-in of course). Is this then the most familiar map in the world?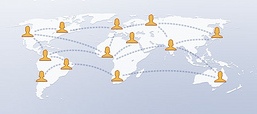 This map employs the same symbolic language as the great display maps of the past, even though it is on a computer screen. It is, on the face of it, remarkably simplified. So should we trouble ourselves as to the exact placement of the people on the map? Would it perhaps be more illuminating to focus upon the parts of the world where they are not? Is it possible to read too much into maps, even cuddly innocent looking maps like this one? 
What is clear that maps are constantly relating to, acting upon, conditioning, reflecting our everyday lives, so much so that we barely notice. What we get from them, however, is always in some way made up of what we put in.