17 November 2011
The British Library's latest exhibition, Royal Manuscripts: The genius of illumination is now open and well worth a visit. The show features a great number of medieval illuminated miniatures, and manages somehow to meld the solemn with the spectacular, with a lion's skull thrown in for good measure. Follow the blog. 

I was especially pleased to see a group of mid-thirteenth century maps by the Benedictine monk Matthew Paris, which were included in the exhibition due to their being manuscripts formally owned by royalty. We don't get these maps out for anyone you know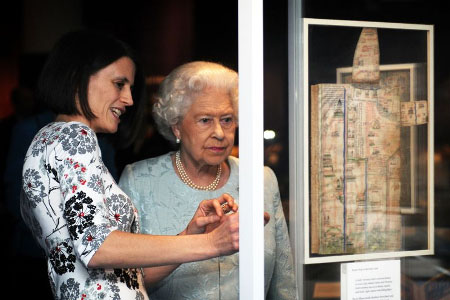 and the inventive way in which they've been displayed means that you will never get a better chance to see them, front, back, and sides.
I'd like to dwell on one of these maps, which shows a journey from London to somewhere in France on the way to Rome, because it illustrates some oft repeated but still interesting points.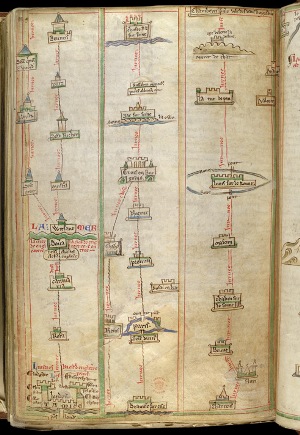 Firstly, it is as much a diagram as a map: words and lines placed in their correct location to each other. Maps are just that, diagrams. Even this one below, one of the best known M. Paris maps. Its essentially a word diagram with a wiggly coastline drawn around it.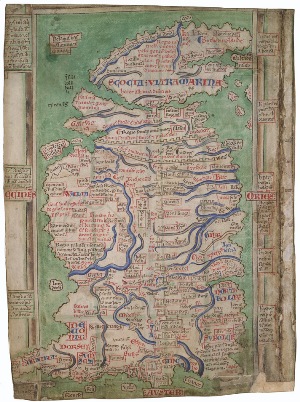 Secondly, the tiny illustrations for places are some of the earliest surviving pictures of these towns. Maps are just that, pictures.
Thirdly, just because this map shows a route doesn't mean to say it was taken on that journey. Travel can be imaginative as well as physical, and anyway, Benedictines don't generally stray far from home.
Finally, doesn't it look just like what you see on a sat nav? Same language, different means, very relevant.