13 December 2011
There's nothing like a cup of tea to get the day off to a good start. Tea could almost be marketed as the elixir of life.
During this morning's cuppa I could well have been reminded of a fine map of 1940 by the British artist MacDonald Gill, entitled 'Tea Revives the World.'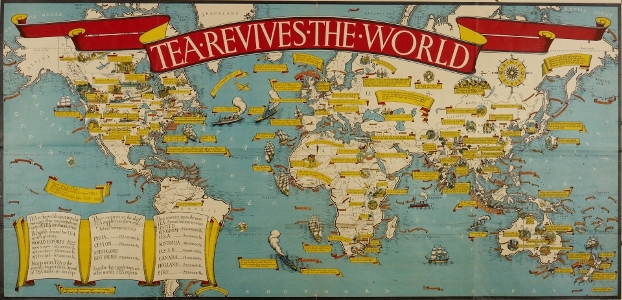 The map was commissioned by the International Tea Market Expansion Board, its aim to promote wartime strength, Allied resolve and international trade during World War II through a celebration of Britain's adopted national beverage.
Imperialistic connotations aside, this is an enormously enjoyable pictorial history of tea, packed with observations and bizarre facts to support tea's mythology. 
The serene and U-boat-less North Atlantic in 1940 conveniently ignores the submerged reality. Equally unsurprising, given its date, the map is especially amenable to those notorious tea-disposers the U.S.A.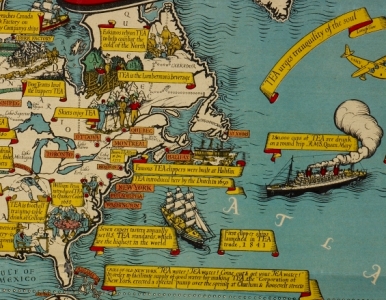 The map was included in our Magnificent Maps exhibition of 2010 At the time I recall great enthusiasm for copies of the map to be made available to buy. Unfortunately, we just weren't able to do so. Until very recently, you still just couldn't get what you wanted.
However, I'm pleased to say that copies of the map are now available to purchase from the British Library shop and online, in this month of December with stockings still to fill.  So let's hear it for tea, and the tea-map, and its redoubtable resolve!