21 December 2012
I've been struggling all week to find something Christmassy in a map to write about. The Ortelius map of Russia has some people riding on a sleigh, but it doesn't quite fit the bill. Then I found a map with a Nativity scene in it and there was, as they say, much rejoicing.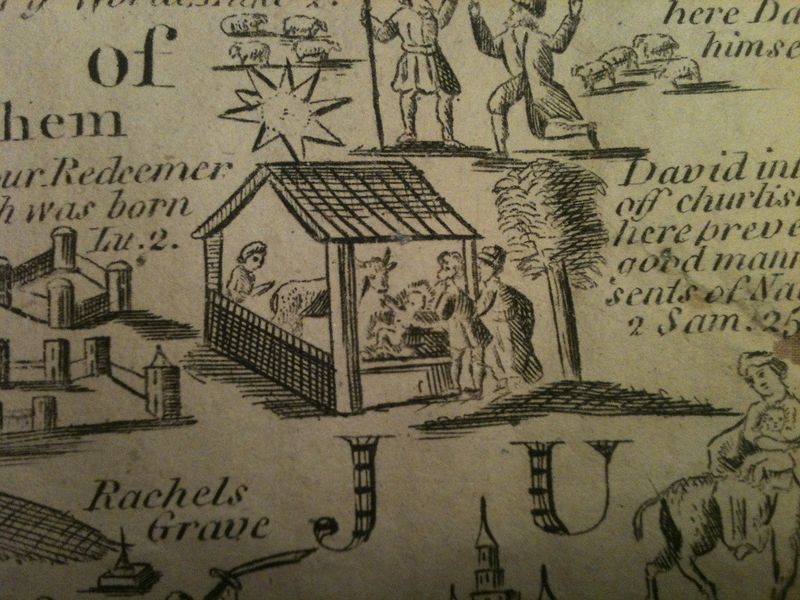 The scene is, rather unsurprisingly, in a map of Palestine/ the Holy Land, of which many were produced over the years. The earliest pre-1500 printed local maps, in fact, are pretty much all of Palestine. These aren't simply maps, but map pictures containing the Biblical narrative in the form of text and small vignettes placed in their scripturally correct locations.
The map was a framework in which the narratives could take place. Great for children, the illiterate, those wishing to conduct a virtual pilgrimage as a form of penance. It is a bit strange the Nativity doesn't feature more. Partly, I think, the Old Testament tended to take precedence, being far more of a geographical narrative than the New, but the fact is that the Nativity was subordinate in importance to a number of of other narratives, especially the Passion.
But also, the problem is that if you want to show this level of illustration, you need to make the map pretty big. Big maps are often more expensive, and more likely to get damaged, like this damaged thing.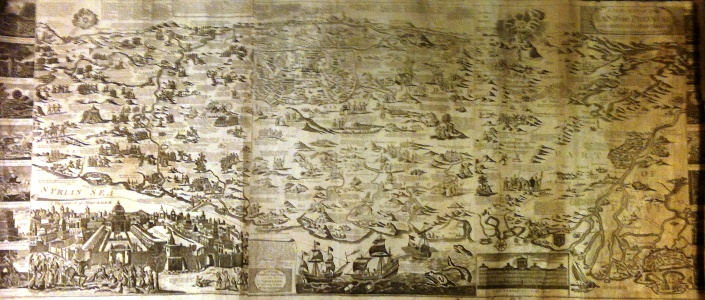 It is by a publisher called Thompson, produced in around 1795 for what at that time was an increasingly lucrative educational market. Originally it would have been intended for a Sunday School wall, which is probably why it is so beaten up, by which we may assume it to have been well used, and successful. This is emphatically NOT the same sort of map product as Breydenbach's gorgeous Holy Land view of 1486, though it shares many similar features.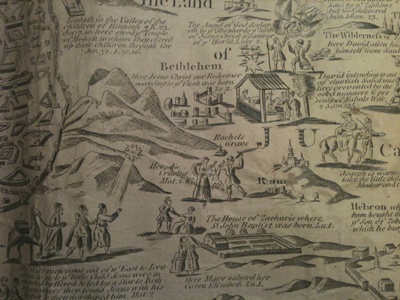 This close up shows the group of nativity scenes, Wise Men entering stage left, the Flight into Egypt stage right,  A stable and the Massacre of the Innocents, one of Herod's soldiers dangling a baby. No great work of art – a crude woodcut – but everything is there, the sheep, the star, conjured up with primitive beauty.
There are far more vivid nativity scenes, of course, in galleries and churches, but where the map format triumphed was in its ability to show as many things as possible in one frame. Often the vignette scenes were copied – albeit often clumsily – from reproductions of famous works. Such maps also had a social purpose and an effect which we are able to understand through looking at them as objects, not just for the images they contain.