30 April 2013
A few months after the launch of 'Off the Map,' a higher education competition in which university design students use videogame technology to create immersive 3d versions of historic maps, the first work has started appearing on various blogs by the competitors. See them here and here.

As you'll recall, a number of British Library maps and views were supplied as digital images for competitors to meld, merge and adapt using Crytek's 'Cryengine 3' software.

But of the three choices – the Pyramids, the Tower of London, Stonehenge – London has definitely proven the most popular. As I may well have something to do with the final decision I can't really express a preference. But for one group, the activity and bustle of people present in the foreground of some of the London prints - particularly Visscher's 1616 panorama below, is of particular relevance to their creation of an authentic environment. To them, it is as much about the atmosphere, the noise, the activity, as it is the buildings and the layout.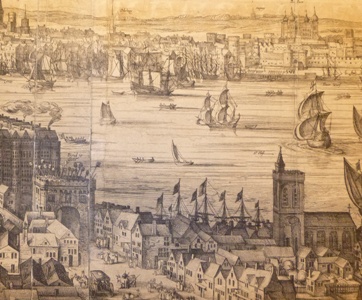 C.J. Visscher, Londinum florentissima Britanniae urbs...Amsterdam, 1616 (detail)
Maps C.5.a.6.
Because a city is more than simply the dimensions of its spaces.

They are not alone. For the makers of town plans and views of the 16th and 17th centuries, these features were also of crucial importance in conveying something of the power, wealth and humanity of a city.

As anyone living in a city knows, the layout is only part of the story. This is one of the main reasons why 'Off the Map' makes such appropriate use of historical maps and views. It is the rounded picture, the combination of plan, perspective, viewpoint, but also movement, sound, which together creates a convincing surrogate of place and through it, the means to understand it better.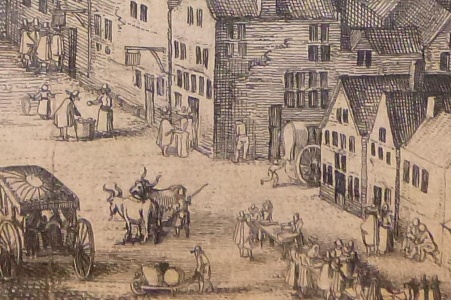 Visscher (detail) Maps C.5.a.6.