20 November 2013
Those with an interest in the history of industrial Britain and the urban landscape will be pleased to hear: Goad fire insurance plans are now online and available for georeferencing. These maps are a mine of information about the towns and cities of late 19th-century and early 20th-century Britian and Ireland, capturing practical elements such as individual addresses and building footprints, as well as the overall character of a place in terms of class, space and the built environment.

These Goad plans were selected for scanning and inclusion in the latest release of BL Georeferencer because of the huge demand for them at the Library. We're asking the public to help "place" them, ie identify their locations by assigning points using modern mapping. It can be a challenge, but it is an opportunity to discover familiar areas as they existed around 100 years ago.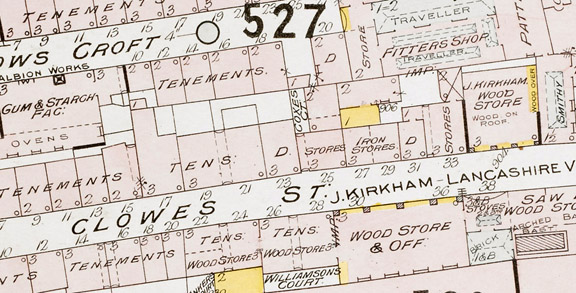 This detail of Sheet 42 of the City of Manchester illustrates the richness of information on the maps. These densely partitioned street is home to warehousing and a variety of industrial activity, cheek-by-jowl with small tenement housing units. Detail about the individual buildings: their materials, the number of floors, windows, and building use, is outstanding. See the map legend, online exhibition and curator's notes, and guide on the Library's holdings for further information about this collection. 
The first edition Goad maps of all British and Irish towns, 1886-1930, are now online. Georeferencing opens today; you can be assigned a Goad map at random, or start by selecting a place.