1971: A Football Heritage Map
This weekend in the 1971 football season Leeds Utd won a thriller against Everton 3-2 at Elland Road. Brian Clough's Derby County, who would go on to be league champions that year, beat Arsenal 2-1. Of those clubs only two are in today's top league, and of today's Premier League line-up, all but 7 of the clubs were there in 1971.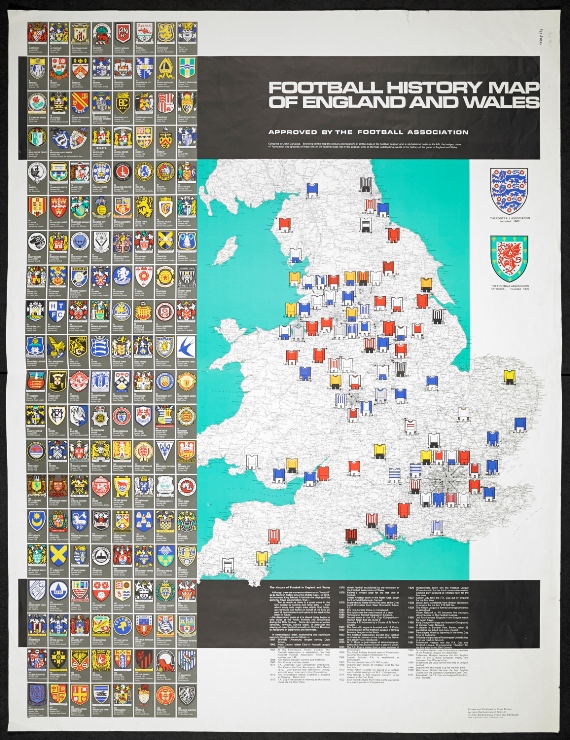 John Carvosso, Football History Map of England and Wales. Edinburgh: Bartholomew, 1971. British Library Maps 1190.(177.).
The 1971 football history map, published by Bartholomew and endorsed by the FA, is one of the maps included in a new book entitled 'A History of the 20th Century in 100 Maps.' The map is a fabulous celebration of football heritage, showing every English and Welsh Football League club ever to have existed, with their location, colours, crest and dates of foundation included. The vast majority of them are recognisable, though many have changed their badges and grounds. Sunderland, for example, would remove the ship from its crest after the closure of the last shipyard on the River Wear in the 1990s. Chelsea's and QPR's badges are just two of many to have been given fashionable makeovers since.
A number of other clubs featured on the map have since left the Football League, and some have sunk completely. John Carvosso, the map's author, must have had a difficult job to trace, for example, Clapham Rovers and Bridlington Trinity.
In 1971 England could still look back to its world cup win 5 years earlier. Colour tv enlivened broadcasted games and publications like Shoot! fed the insatiable appetite for football. But the modern game was just around the corner. Crowd violence and hooliganism of the later 1970s was set against a backdrop of economic malaise and widespread unemployment. Football's traditional supporting heartlands were working class, urban areas which were losing their industries (see Sunderland, above). These were the same areas on whose football terraces had stood the volunteers of the Pals battallions, decimated on the Western Front a half century earlier. 
In the wealthy modern game, heritage is celebrated and preserved provided it does not hinder profit. Famous football grounds such as Maine Road, Highbury, even Ayresome Park, centrally located sites, some even with listed status, have been demolished in favour of larger grounds capable of providing greater match day revenue to their clubs. Historical spaces of virtually sacred memories have disappeared under modern housing developments. You can just about make out the former locations of some of them on Google Earth, rectangular areas of housing with slightly newer looking roofs than those around them. 
A History of the 20th Century in 100 Maps is published by the British Library