19 November 2014
These maps were made for walking
One of the most important modern purposes of maps is apparently helping people to walk from one place to another. It is probably the Ordnance Survey's fault, putting pictures of ramblers on the front covers of their 1930s tourist maps, almost like a serving suggestion on the front of a cook book. 'Here's what you can use these maps for'.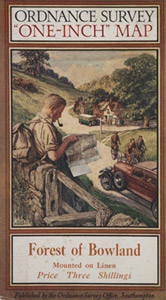 Ellis Martin, cover illustration for Ordnance Survey "One Inch" Map, c.1930
It seems incredible to us now, but it was only at this time that maps really started to assume this particular use. In the 1920s and 1930s more people had more leisure time (and paid holidays), of course there wasn't a big war to be fighting, and there were more leisure aids such as maps to assist them. The Rambler's Association was formed in 1935.
50 years later, the whole experience of walking with a map was commemorated by the artist Richard Long in a piece of post-modern art called 'Hundred Mile Walk'. He tried to capture his experience of a walk by using photographs, words, and the map.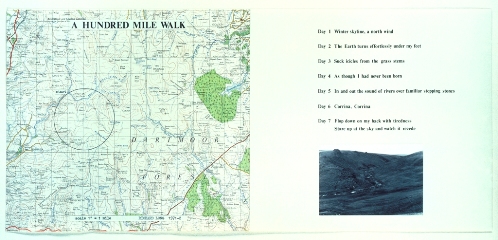 Richard Long, 'Hundred Mile Walk', 1970-1. Mixed media (Tate).
It is an incredibly perceptive piece because it reflects upon the limitations of using words and images to adequately convey our experiences. It also makes us think about the reasons why we should wish to capture such experiences in the first place.
In the 1970s more people were watching television than walking around. Peoples' experience of nature was increasingly via other media. The Ordnance Surveyor Landranger map had become as appropriate on the gallery wall in the 1970s as in the rambler's hand in the 1920s.
A History of the 20th Century in 100 Maps is published by the British Library