01 December 2014
The Draw of the Arctic
Two centuries ago Britain became re-interested in the search for the Northwest Passage, the so-called 'mariners' philosopher's stone'. By 1815 it had, or at least should have, become abundantly clear (from the centuries of failure) that an Arctic route to the Indies was not a viable trade route, and besides, Britain no longer really needed it, having broken the Iberian monopoly over world sea routes. 

But there were other motivations. Britain did not like to be beaten. Indeed it had just beaten Napoleon at Waterloo. It was top dog, pumped and full of confidence, and with an inordinate number of spare men, ships and equipment after the end of war with France.

The draw of the Arctic is visible in the newspapers, the literature, and the art of the time. The Arctic vision coloured – or rather - chilled Europe. John Ross and Edward Parry's expedition of 1818 was the first such large venture of this new age. Preparations on the Thames at Deptford became a public spectacle. The expedition came to nought (though had Ross continued in the direction he'd been going history might have judged him rather better). The account of the voyage would nevertheless become a bestseller, lavishly produced often with gilt edged pages and crisp colour lithographs.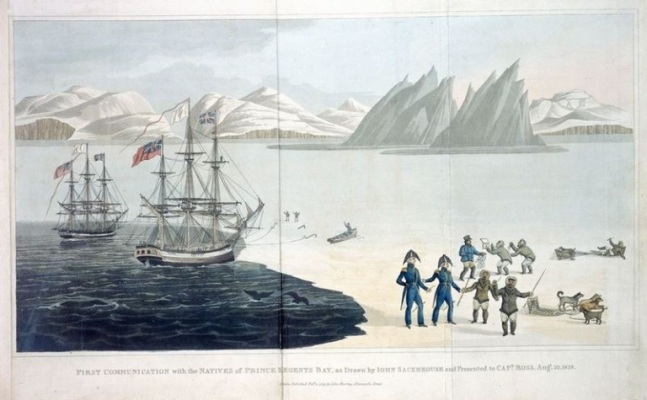 'First communication with the natives of Prince Regent's Bay...' from John Ross , A Voyage of Discovery …enquiring into the possibility of a North-West Passage. London, 1819.

Other literary works cast the Arctic infatuation in a different light. Mary Shelley's 'Frankenstein', published the year of Ross's expedition, tapped into the fears of unease of the frozen wastes in a similar way medieval maps had placed the unspeakable monsters of legend at the world's edges. In the story, the monster disappears into the darkness.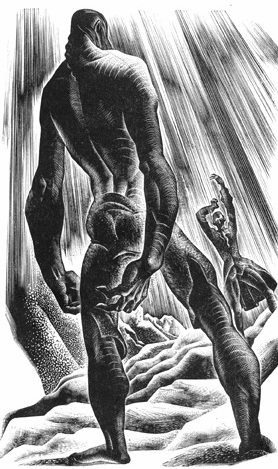 Lynd Ward, wood engraved illustration for Frankenstein (New York: Smith & Haas, 1934).
This horror and awe was expressed differently by the Romantic painter Caspar David Friedrich's arresting 1823-4 canvas showing the crushing of HMS Griper, one of the ships of Parry's 1819 expedition. This drastic and uncomfortable painting summed up the power of nature expressed through the ice. The image was perhaps a bit too much for British society who had hitherto positioned themselves far more centrally in the story of the Arctic than the pathetic little ship, right of centre, about to be destroyed by the ice.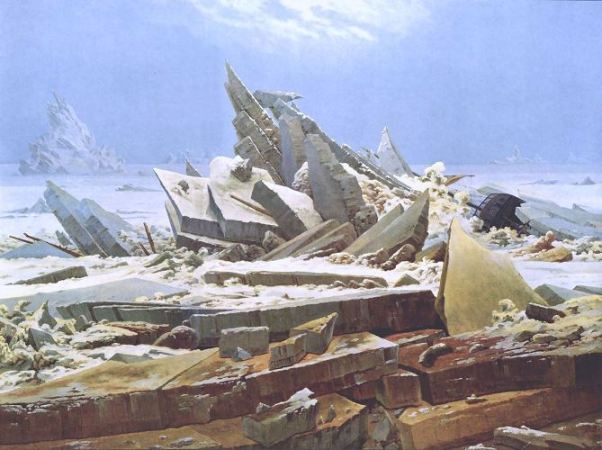 Caspar David Friedrich, Das Eismeer, oil on canvas, 1823-4. Kunsthalle, Hamburg 
The British Library's free exhibition Lines in the Ice: Seeking the Northwest Passage is now open.