13 April 2015
Lines in the Ice: top five highlights
As we enter the final week of the British Library's free exhibition Lines in the ice: seeking the Northwest Passage, here are my top five (unashamedly map-heavy) highlights of what has been a memorable and eventful five month residency. 
1. Robert Thorne's world map from 1582.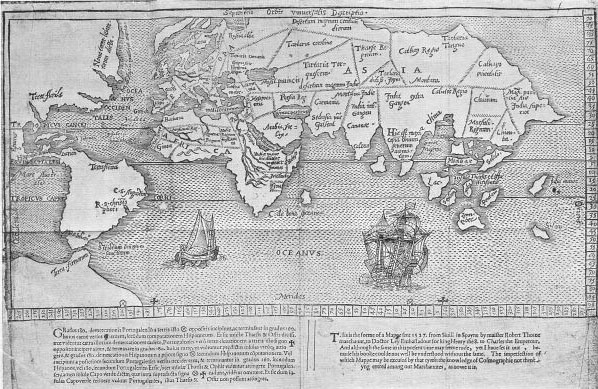 Robert Thorne, Orbis Universalis Descriptio [London : T. Dawson for T. Woodcocke, 1582]. British Library C.24.b.35 

You probably won't see another one of these exhibited in your lifetime, one of the earliest maps to have been printed in England, with only two in existence today, a clever bit of publicity by the Muscovy company which aimed to convince that the North West Passage didn't exist. Judging from the following 250 years of mostly fruitless searching, perhaps this point of view could have been given a bit more attention.   
2. Listening to icebergs
They are very big and very cold, and make a surprising racket. Curator Cheryl Tipp selected a number of sounds for the exhibition, which appear on sound points, and piped directly into the space. The angry polar bear was particularly eloquent.
 3. Explorer Ryan Nelson speaking at the BL
In an amazing coup, the British Library, the Eccles centre for American Studies and the Canadian High Commission hosted a talk by Ryan Harris, the man who discovered Sir John Franklin's ship Erebus on the sea bed. The event sold out almost before the ship was discovered!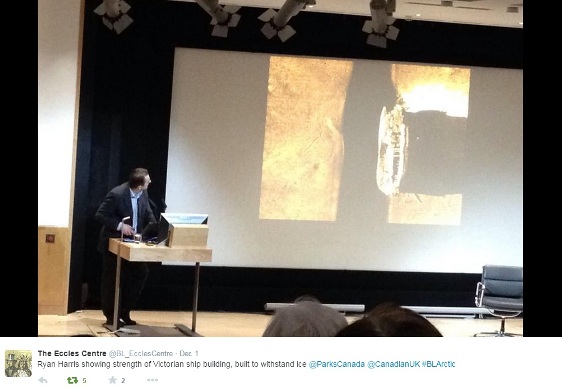 4. An egg-shaped Arctic-biased world map on display for the first time
This rare and extraordinary educational 20th Century map (featured in this book) cleverly positions the Arctic (and Antarctic) centre stage using the 'Atlantis' projection. Its purpose was to focus minds on these zones in order to combat the vast problem of overpopulation. Oil was first extracted from within the Arctic Circle just a few years later.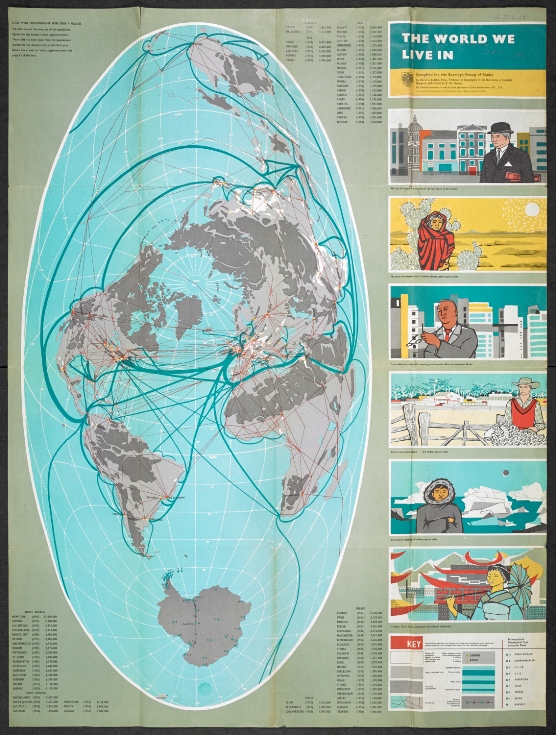 E.W. Fenton, The world we live in. Ipswich, 1958. British Library Maps 37.b.55.
5. Writer-in-residence Rob Sherman and his explorer Isaak Scinbank
Top: Rob Sherman, bottom: Isaak Scinbank
Rob Sherman's work has been a stunning feature of the exhibition. His fictional explorer Isaak Scinbank, online and in his written journal (which is exhibited), attempted to discover what happened to Sir John Franklin. For me, Rob's work has helped explore how narratives and stories (and their meanings) develop and change over time, and how they can be invested in objects. This isn't the last you'll hear of Rob, I feel fairly certain... 
6. Charles II's map of the Arctic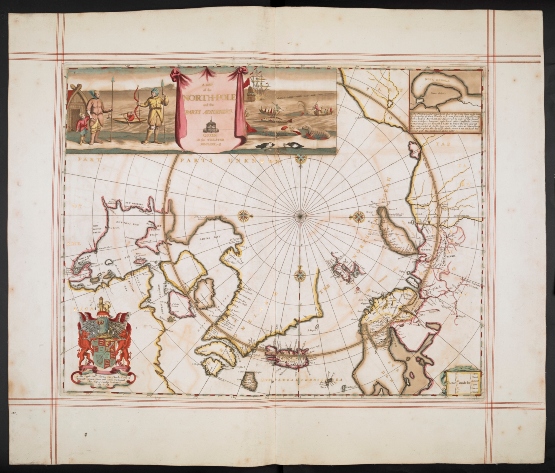 Moses Pitt,' A map of the North Pole and parts adjoining', from The English Atlas , London, 1680. British Library Maps 1.TAB.16. 

Another map that has never before been exhibited is Moses Pitt's map of the Arctic, this copy owned by Charles II and acquired by the nation via the Topographical Collection of George III. 
The gold leaf on this map will be shimmering in public until Friday, so if you have the chance to visit the exhibition before then, please do. We are also holding a free seminar on Friday to celebrate the end of Rob Sherman's residency. Thank you to all who has visited Lines in the Ice since November, and thank you to everybody who helped make the exhibition a reality.