24 April 2015
Maps lie in a new online course
At first maps were only thought of as representations of the places and the things they showed.
But in the 1980s (thanks in part to Jorge Luis Borges' tatty old lifesize cloth map) postmodernist historians began to see more power in them, and they became understood not as surrogates but as the prime reality of the places they were supposed to be showing. Given that one can't see an entire country very easily (apart from from space), it is easy to see how maps can become not just virtual, but actual realities to those who look at them.
From this point it is just a short leap to the position that maps - truthful, believable maps - are being used to persuade, hoodwink and indoctrinate. And so we come to the British Library, the University of Nottingham and FutureLearn's new and FREE  online course entitled 'Propaganda and Ideology in everyday life.' Designed to explore how propaganda interacts with us on a daily basis, in positive and negative ways, the course uses content and ideas from our 'Propaganda: Power and Persuasion' exhibition, and maps from our more recent 'Lines in the Ice: seeking the Northwest Passage'. 
The maps include a Russian 'Atlas of the Arctic', a powerful high-end and symbolic cartogrpahic product, but maps don't just function in the corridors of wealth and power. Maps for schools,  including this Russian one from 1903, persuaded schoolchildren, by means of  beautiful colourful decoration, that Russia had lots of food and produce. It was in fact in the middle of a famine, but if the map shows it, it must be true. Right?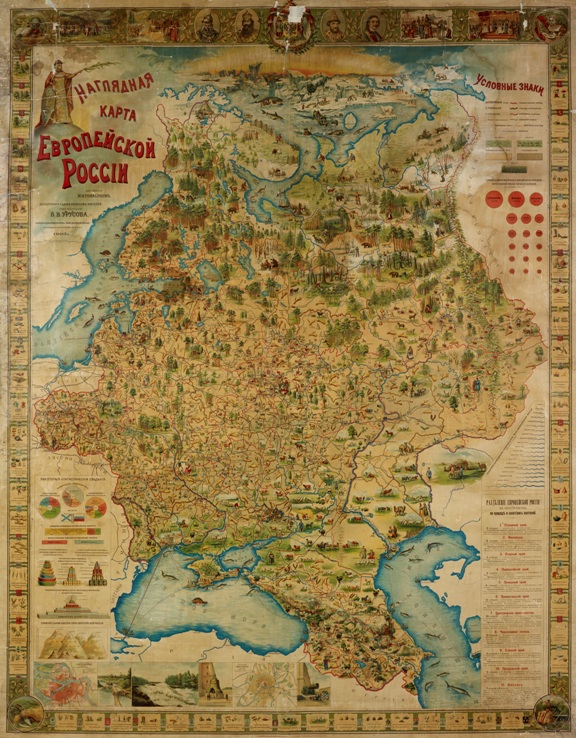 Наглядная карта Европейской Россiи. Составлена М.И. Томасикомъ. Дополнена и издана кружкомъ учителей подъ редакцией В.В. Урусова. M. I . Tomasik, Warsaw, 1903. British Library Maps Roll 537. 
The British Library contains one of the vastest and most powerful map archives the world has ever seen. Millions of virtual (or are they actual?) worlds are contained in our vaults. But I'm not the only person surrounded by maps. You are too. What is great about this course is that it encourages its students to notice and collect maps in everyday life. Maps are all around us, and their shapes and symbolism works powerfully upon us- especially powerfully, since we don't really notice it happening.
If you take the course (which starts on 11 May) have your eyes opened to propaganda in your everyday life. It will be especially potent during the General Election campaign. Use the underground / metro / subway and you will see far more maps down there than just the tube map. Look around you!