Digitisation of the Klencke Atlas
The British Library is running a major project to digitise the King's Topographical Collection, the personal map collection of King George III containing more than 50,000 maps and views.  It is considered to be one of most significant and beautiful collections of maps in the world, and it provides a rich insight into one of Britain's most intriguing monarchs.
A donation from Daniel Crouch Rare Books will enable the digitisation of one of the jewels of the collection, the extraordinary Klencke Atlas – a huge volume measuring 1.75 x 1.9 metres wide and presented by Johannes Klencke, a Dutch sugar merchant, to King Charles II of England in 1660 on the occasion of his restoration to the throne. The atlas, one of the largest in the world, contains 41 wall maps of the continents and regions including Britain and other European states, as well as Brazil, South Asia and the Holy Land.   Kept in the king's cabinet of curiosities, where the diarist John Evelyn observed it in November 1660, the atlas would have symbolised the king's knowledge and possession of the geography of the world.
Daniel Crouch said:
"This is an immensely important collection, which is rich and vast, and has never been fully catalogued. Conserving, cataloguing and transforming public access to these royal maps will give enthusiasts and scholars all over the world a unique opportunity to learn from them, and I am proud to be able to help get this project off the ground."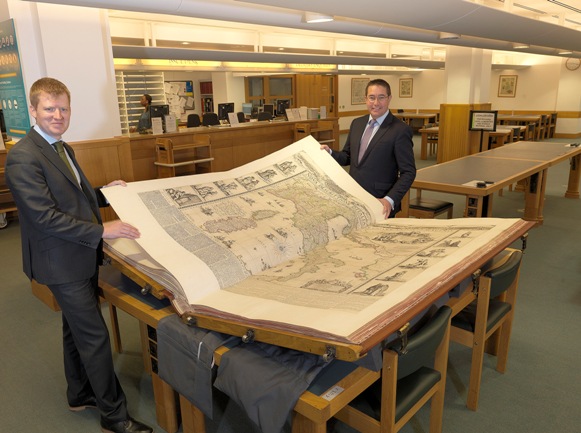 Daniel Crouch and Nick Trimming with the Klencke Atlas.
The Klencke atlas has been wonderfully documented in photography over the years. It seems to have been a rite of passage to be photographed standing next to it, and we have images of British Museum porters and conservators posing with it as far back as the late 19th century. Imaging inside the atlas is another story, however, and until fairly recently it simply was not possible to photograph the large maps to a sufficiently good  standard to make out each one of the tiny names, titles and other features. But now, high resolution images will be captured, and made available to everyone for research, enjoyment and inspiration for years to come. We are very grateful for the generosity of Daniel Crouch and all our donors for their support as we endeavour to transform access to our collections in this way.
Digitisation of the Klencke Atlas is expected to be completed by the end of 2016. The atlas itself is on permanent display in the lobby of the Maps Reading Room in St. Pancras.