The British Library Publishes War Office Archive Maps Online
The British Library has made available online over 550 military intelligence maps and associated documents from the War Office Archive relating to the former British East Africa - modern-day Kenya, Uganda and adjacent parts of Tanzania, Burundi, Rwanda, DR Congo, South Sudan, Ethiopia and Somalia.
The sheets were created between 1890 and 1940, and range from small sketch maps made by intelligence officers in situ, through surveyors' field sheets to cartographers' fair drawings. Most of the items are unique manuscripts, and show the region immediately before and during the colonial era.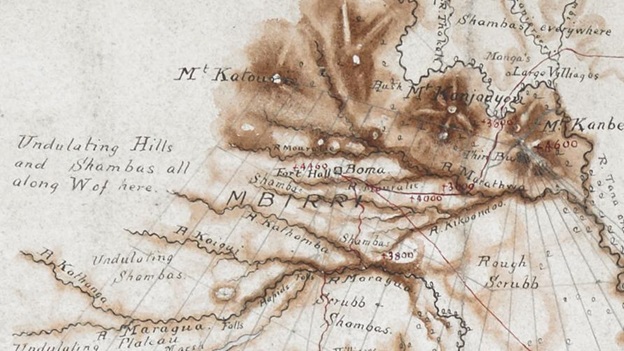 Detail of WOMAT/AFR/BEA/54

The archive is a rich resource not only for researchers of African and colonial history, but also for environmentalists and climate scientists – many of the sheets record the earliest systematic surveys of East Africa and provide a wealth of information relating to historical populations, settlements and tribal regions, along with details of historical land use, types and limits of vegetation, hydrology and much else.
A 'Collection Guide' provides easy access to the archive, with links to catalogue records and high-res images, which can be viewed on the British Library website or downloaded from Wikimedia Commons and re-used for any purpose free of charge. A Google Map page provides a geographical index to the sheets, also with links to images and catalogue records.
The British Library has catalogued, conserved and digitised the archive with generous funding from the Indigo Trust.
Nicholas Dykes