25 March 2015
We have 50,000 maps online that we ask you - the public - to identify the geographical location of.   The BL Georeferencer release is now live at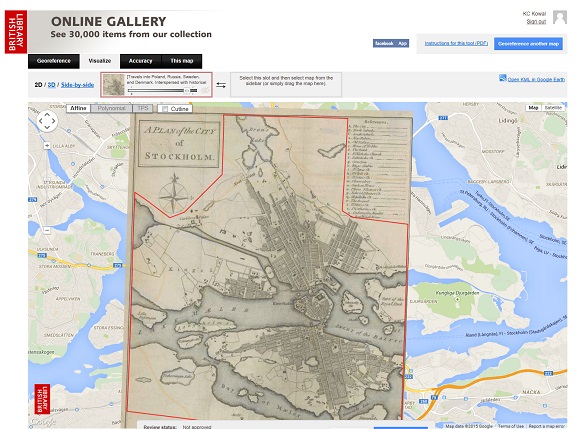 "A plan of the city of Stockholm" published in 1802, overlaid on current Google mapping
Using the BL Georeferencer online application, you will be presented with a historic map from a 19th century book; by finding the location on a modern map or imagery alongside, the old map is "georeferenced", and can be overlaid and interacted with in your browser (as above).
This is our largest release of maps yet, and will be a formidable task to complete, so any amount of help you can offer us will be gratefully received!
17 February 2015
Without looking, you can't know what's there. That was our experience locating maps amongst the one-million British Library images released to the public domain. We had not guessed that 50,000 images of maps were lurking there. So how were they singled out?
Answer: with the help of our friends (the crowd!) using several methods.
Semi-manually: A dedicated team of volunteers looked at individual images and applyied the tag "map" on flickr.  The work was organised using a synoptic index in Wikimedia Commons, providing a systematic method of looking at each volume and tracking shared progess. Over 29,000 map images were identified in this way.
Day-long event
The British Library hosted a one-day event, in concert with Wikimedia UK, to which volunteers were invited to kick-start the effort.  In between working, the 30 participants enjoyed tours and talks from speakers representing online mapping efforts, including OpenStreet Map and Stroly.  The day's activities were captured in Gregory Marler's engaging description, Lost in Piles of Maps, and a series of photographs from ATR Creative.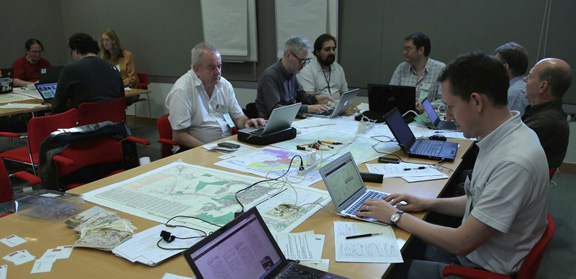 One corner of the room - detail of photo by Machi Takahashi of ATR Creative who joined the event from Tokyo and was one of the speakers. CC BY-SA 2.0
Ongoing crowd activity
The bulk of the work took place online over the next two months. With the wiki tools built by J.heald to guide and coordinate contributions, 51 volunteers approached the work, book by book, often focussing on geographic areas of interest. Together, they made short work of what was a huge task; 28% of the books were completed after the first 72 hours; 60% were reviewed in the first 20 days; after five weeks over 20,000 new maps were found in 93% of the source volumes.
Automated methods
But surely maps can be identified automatically? It's true that well before the organised effort just described, one user  produced algorithm-guided tags for this image set, which resulted in the addition of well over 15,000 map tags.
By the end of December 2014, every image in every book had been reviewed, and between the manual and automatic tagging, over 50,000 maps had been found. Since then, we have been working to clean up the data, including reviewing rogue tags, rotating images, splitting maps, and removing duplicates, to derive a final set of data. Next step: georeferencing.
The tagging project was presented on 12 February 2015 at the EuropeanaTech 2015 conference as a short talk and poster, Case Study: Mapping the Maps.
This achievement represents the work of many. Special thanks go to Maurice Nicholson, BL
Georeferencer participant; Jamed Heald, Wikimedia volunteer; and Ben O'Steen of BL Labs. 
04 November 2014
Online participation in the Maps Tag-a-thon, launched 31 October with an event here at the Library, is open!  We invite remote enthusiasts to get involved in the tagging so that maps can be identified and then georeferenced so as to offer full geo-functionality (public domain!). The aim to is to find every map from amongst the million images.
Nearly 33% of the books have been reviewed, with over 6,000 maps found, since Friday - that's only five days! If you can join us in this amazing effort, have a look at the instructions on Wikimedia Commons.
A report on the event will come soon, but I wanted to flag up this opportunity. Thanks to all the help from the British Library Digital Research Team, OpenStreetMap and Wikimedia Commons!
29 September 2014
Maps are still hidden in amongst the million images on Flickr, and we want to find them!
You are invited to the British Library for a day-long digital maps tag-a-thon event on Friday 31 October. The main activity will be reviewing Library images in Flickr to identify those that are maps. Once we have the maps consolidated, they can be included in the next round of BL Georeferencer, which will place them to their geographic location, increasing findability and allowing overlays on modern mapping. Register to attend here!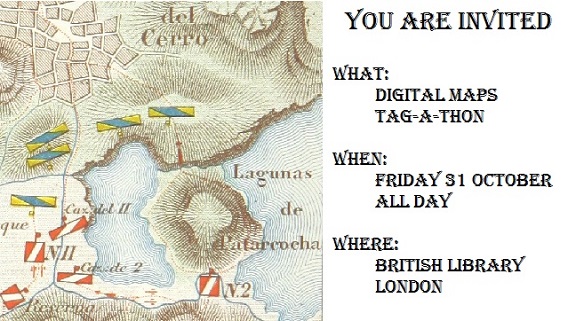 Above is one example of what can be discovered. This map of Cerro de Pasco in Peru is from a 1868 book.  The volume was scanned and images released on Flickr; this one was tagged "map", and so was included in the last round of BL Georeferencer. Sure, that effort was successful, but it has been estimated that there are 10,000 more maps in Flickr that we do not know about! We need help finding them.
Participants do not need to possess technical knowledge, but rather an interest in historic maps and a desire to bring them to life digitally. We are lucky to have experienced wiki-editors who will be present on the day to edit the wiki, answer questions, and update our statistics online. (Jheald provides a explanation of the technical process he designed and how it will work.)
Other activities are planned for the day, including a visit to the Maps area, brief updates on digital activities, and a look at the Gothic exhibition. See the event details and full agenda and registration here.
This is a joint event sponsored by the British Library Labs project and supported by OpenStreetMap and Wikimedia UK. I hope to see plenty of map aficionados and BL Georeferencer participants there as well, and I encourage our Maps and Views blog readers to attend!
07 August 2014
In just 28 days from release, 3,220 maps have been geo-located online by participants in the BL Georeferencer project.  For this quantity of maps to be completed at such a speed is truly impressive, and testifies to much scrutiny of maps and online research by many people.

On behalf of the British Library, I'd like to thank the volunteers that contributed their time and energy over the last four weeks to make this happen (the top 25 are recognised here).  Our two star participants, Maurice Nicholson and Susan Major, have once again shone; both assigned approximately 12,500 control points. Their commitment to this project, for this release and those before, has been remarkable, as has the work of many, many other contributors!
The maps have started to be added to Wikimedia Commons in their own British Library Georeferencer subset, thanks to the efforts of Wikipedia's user Jheald and others, providing another point of access in addition to the original Flickr British Library maps subset. Both contain links to the overlays in BL Georeferencer; the geospatial metadata (world files) are available from within the application. Together, this enables full and free download and use of these public domain images and metadata.
We have come a long way since our very first release of maps via BL Georeferencer in February 2012. One year ago, we could boast "only" 2,236 maps georeferenced maps online; since then 6,000 more have been added. As soon as the public can identify and tag another substantial chunk of maps from amongst the images in Flickr (here) or Wikimedia (here), we'll follow this up with more!
In the meantime, check out the placed maps here, where they can be accessed geographically, until they are reviewed by our expert panel for quality, and then added to the Old Maps Online portal with other collections of online historic maps. 
29 July 2014
We are in the last quarter of maps of this BL Georeferencer release.  I always like to review at this stage what has been accomplished and what remains. The maps left can be the most difficult ones, so those who like a challenge and want to undertake some tricky online research, this is your time!
Some of my picks for greatest challenges:
Hand drawn! Transliterated from a non-Roman alphabet! On its side!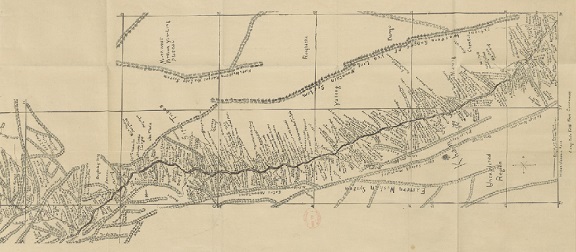 This map is from W.J. Reid's account of his exploration of western China and eastern Tibet, Through Unexplored Asia. It depicts a mountainous and relatively remote area in central China. There are not a great number of placenames for this area in online maps, and even these may not be spelled the same as the handwritten map labels. Thanks to the volunteer ("digger"), who solved it by using the lat-long references on the map.
I should add that no-one likes a map on its side - one participant said "Help me please, before I need to visit my chiropractor"! Unfortunately, because these maps were semi-automatically extracted from the texts and posted online, this is not an option for now.
Early mapping! Medieval script! Book in Hungarian!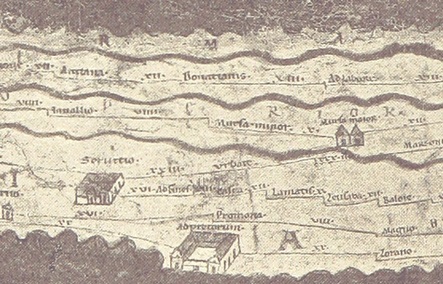 This map is a reproduction of a medieval map within an 1895 book in Hungarian, A magyar nemzet tortenete. 
Unless the map is already familiar to them, the participant will need to read the Hungarian text and decipher the map's medieval handwriting to place it - not a straightforward demand. (This one is still available, so Hungarian-speaking medievalist georeferencers, come forward!)
For every difficult map, however, there may be numerous more familiar ones.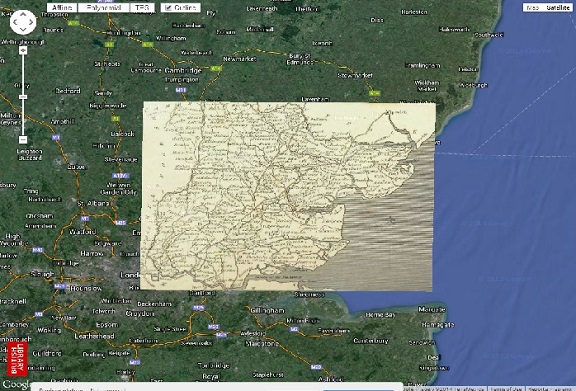 This map of Essex is one of 46 from the 1813 Topographical Dictionary of the United Kingdom.
If you've a talent for geography and curiosity about historic places and spaces, your input to BL Georeferencer will be valuable indeed. There are 762 maps remaining, waiting to be placed! 
14 July 2014
We are pleased with the amazing progress georeferencing the maps released last week in BL Georeferencer. In just five days, 30 percent - nearly 1,000 - of the maps were placed. 
This set of mainly 19th-century maps from books is a fine representation of publishing activity and reader interests at the time. The publishing industry had grown and diversified to what we recognise today, and popular topics included: travel; geography textbooks and school atlases; histories; and contemporary exploration and military accounts. The maps are familiar, but eminently of their time.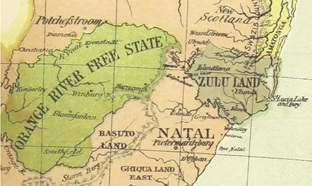 (The Competitive Geography Fourth ed. London: Longmans, Green and Co, 1874.  British Library Shelfmark HMNTS 10005.bb.3. Download pdf of atlas online)
A surge of school atlases were published in Britain during the 1800s to educate the young, and it is no surprise that the British Empire figures largely. The above detail of "Sketch map of South Africa" is from page 419 of The Competitive Geography. The British Territories are named in the text as Cape Colony, Griqaaland West, Natal, and the Transvaal. Note "New Scotland".
Contemporary accounts of military actions and histories, which usually featured maps and diagrams of troop movements and positions, also feature.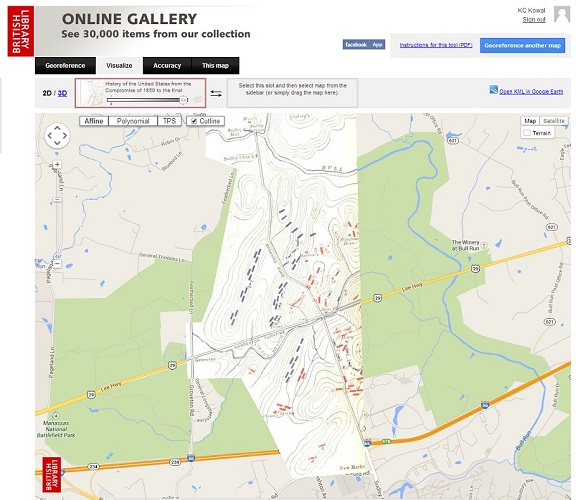 From the uniquely-titled History of the United States from the Compromise of 1850 to the final restoration of Home Rule at the South in 1877.
The overlay above indicates the locations of infantry and artillery during the first battle of Manassas (1861), a determinate early conflict in the US Civil War. The area is now a National Park, and those boundaries, along with the crossroads, make the present-day area appear releatively unchanged.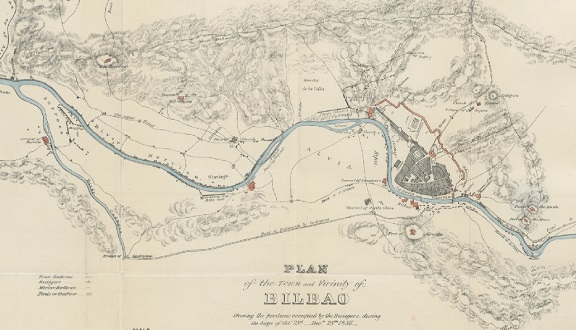 Part of the Carlist Wars in the Basque region of Spain, this "Plan of the town and vicinity of Bilbao, showing the positions occupied by the besiegers, during the siege of Oct 23rd – Dec 25th 1836" also derives from a published personal account, Six Years in Biscay: comprising a personal narrative of the sieges of Bilbao in June 1835... during the years 1830 to 1837.
While the city and course of the river have changed hugely since the 1830s, the contours indicating mountains on the original map match to the shaded ridge visible in the Google Terrain base layer of BL Georeferencer below, making the location apparent.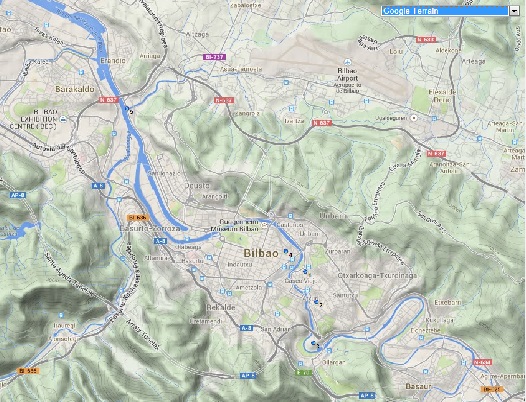 To explore what maps from 19th-century books are available to georeference, and search for yourself, visit the British Library maps subset in Flickr. There are links to georeference from below each image included in this release. See what you can discover and place!
To see the maps already placed, go to BL Georeferencer.
09 July 2014
Help us identify the locations of historic maps by participating in the largest release yet of BL Georeferencer. Over 3,100 maps, previously hidden within the pages of 17th, 18th, and 19th century books, are now available to georeference and overlay on modern mapping at
This set consists of the maps that the Library released to the public domain via Flickr.  All the illustrations in the books scanned by Microsoft - which included the themes of travel and geography - were extracted from the texts; once the images were posted to Flickr, the public assigned tags. Over the months that the tagging went on, we were thrilled to find a huge amount were maps, but are left with the question: "where in the world...?"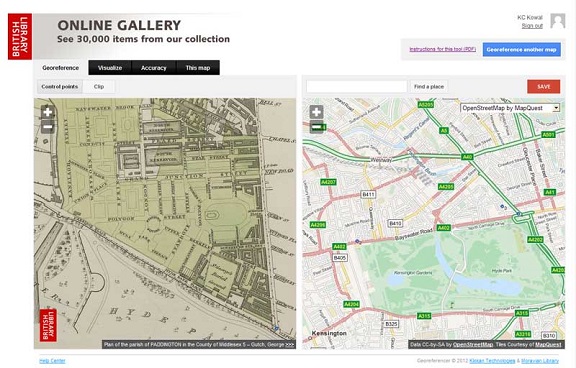 We have alot of work to do. Please help us identify the locations of these maps by participating in this release of BL Georeferencer!