04 November 2014
Online participation in the Maps Tag-a-thon, launched 31 October with an event here at the Library, is open!  We invite remote enthusiasts to get involved in the tagging so that maps can be identified and then georeferenced so as to offer full geo-functionality (public domain!). The aim to is to find every map from amongst the million images.
Nearly 33% of the books have been reviewed, with over 6,000 maps found, since Friday - that's only five days! If you can join us in this amazing effort, have a look at the instructions on Wikimedia Commons.
A report on the event will come soon, but I wanted to flag up this opportunity. Thanks to all the help from the British Library Digital Research Team, OpenStreetMap and Wikimedia Commons!
29 September 2014
Maps are still hidden in amongst the million images on Flickr, and we want to find them!
You are invited to the British Library for a day-long digital maps tag-a-thon event on Friday 31 October. The main activity will be reviewing Library images in Flickr to identify those that are maps. Once we have the maps consolidated, they can be included in the next round of BL Georeferencer, which will place them to their geographic location, increasing findability and allowing overlays on modern mapping. Register to attend here!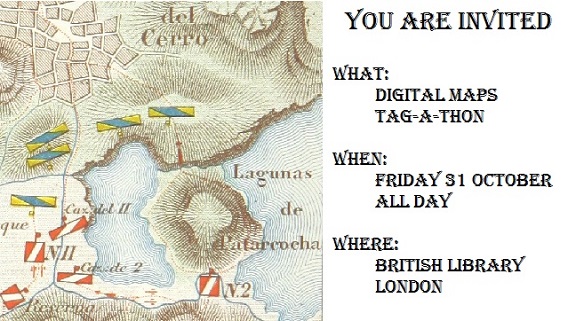 Above is one example of what can be discovered. This map of Cerro de Pasco in Peru is from a 1868 book.  The volume was scanned and images released on Flickr; this one was tagged "map", and so was included in the last round of BL Georeferencer. Sure, that effort was successful, but it has been estimated that there are 10,000 more maps in Flickr that we do not know about! We need help finding them.
Participants do not need to possess technical knowledge, but rather an interest in historic maps and a desire to bring them to life digitally. We are lucky to have experienced wiki-editors who will be present on the day to edit the wiki, answer questions, and update our statistics online. (Jheald provides a explanation of the technical process he designed and how it will work.)
Other activities are planned for the day, including a visit to the Maps area, brief updates on digital activities, and a look at the Gothic exhibition. See the event details and full agenda and registration here.
This is a joint event sponsored by the British Library Labs project and supported by OpenStreetMap and Wikimedia UK. I hope to see plenty of map aficionados and BL Georeferencer participants there as well, and I encourage our Maps and Views blog readers to attend!
04 July 2014
They cycled, oh how they cycled. The Tour de British Library meandered, weaved, jinked and possibly even jived, and in the dark arrived last night in Grantham, 225 k from their starting point on the Euston Road 13 hours earlier.
Today is a new day. The lycra band's quest to ye Boston Spa is given fresh impetus due to, amongst other things, it not being quite so far away, but also because of the many riders who have travelled down from the British Library north to cycle the 171.6 k back with them.
Amongst them shall be Kevin, who solved my latest computer glitch yesterday and will be sitting at the head of the peleton. All follow Kevin, if you know what's good for you.
As with yesterday, their track shall be accurately plotted stage-by-stage on the 'Anglia Figura' of 1536-7, one of the British Library's great cartographic treasures.
Onward!