23 April 2020
Here at the British Library we've been digitising our maps and making them available for over two decades now. Consequently, there's a wealth of fantastic and inspiring free-to-view historic maps on the web. In addition to ever-increasing quantities of maps on our own platforms, our digitised maps are also hosted by other cultural institutions, organisations and individuals with whom we've been pleased to collaborate.
This seemed like as good a time as any to pull a load of them together and let you know about them.
So, in this first of two posts, here are a few of the places on the British Library's site where you can find digitised maps, and upon finding them, use them escape to the ends of the earth (or the end of your street) from the comfort of your own home. Enjoy.
3D virtual globes
 https://www.bl.uk/maps/articles/european-globes-of-the-17th-and-18th-centuries
We just did this, and we hope you like it. 3D virtual models of 10 of our historic globes from the 17th - 19th centuries with thanks to our Digitisation Services and digitisation company Cyreal. Another 20 will be added over the coming months.  
The Georeferencer
http://britishlibrary.georeferencer.com/start
The British Library's Georeferencer isn't strictly a collection of maps, since it draws its 56,000-odd maps from a variety of places (including the below sources). But you can definitely search for maps in it, for example by using this crazy map with all of the georeferenced maps located on it. Zoom in for it to make more sense, and find the area you're interested in. 
Picturing places
https://www.bl.uk/picturing-places/collection-items
900 or so images, many of them maps from the King's Topographical Collection, illustrating a series of new and repurposed articles on the subject of illustrating place. The project was generously funded by the Paul Mellon Centre for Studies in British Art, The Finnis Scott Foundation, Marc Fitch Fund and Coles-Medlock Foundation.
20th century maps
https://www.bl.uk/maps/collection-items
Here are round a hundred maps from articles produced as part of our 'Mapping the twentieth century: drawing the line' exhibition.
Online Gallery 
http://www.bl.uk/onlinegallery/onlineex/
The British Library's Online Gallery was set up through the Library's 'Collect Britain' project in the early noughties. There are thousands of maps on here, and although the Zoomify and browse facilities are no longer functioning (we're in the process of migrating this stuff onto a new platform) there are still some great maps here, such as  
The Crace collection of maps of London
http://www.bl.uk/onlinegallery/onlineex/crace/index.html

One of the finest collections of historic maps of London anywhere, collected by a commissioner of London's sewers and George IV's interior decorator. Around 1200 maps from between around 1550-1850, digitisation generously funded in part by the London Topographical Society. Crace's collection of London views are held by the British Museum. 
All the maps from the Online Gallery are also available (in higher resolution) alongside maps from other collections via the Old Maps Online portal (with its fun geographical search tool). https://www.oldmapsonline.org/
Turning the Pages
http://www.bl.uk/turning-the-pages/?id=223c7af8-bad6-4282-a684-17bf45bd0311&type=book
This is another older British Library resource but it has a couple of really choice atlases in it. Are there any more choice atlases than Gerhard Mercator's hand-made Atlas of Europe of 1570 (which contains the only two surviving maps drawn by the man himself)? Or one of the volumes from the famous multi-volume Beudeker Atlas containing maps and views of Dutch stately homes from the 17th and 18th centuries.
Digitised Manuscripts
http://www.bl.uk/manuscripts/BriefDisplay.aspx
A number of maps and atlases held in the Western Manuscript collection have been digitised and found their way onto the Digitised manuscripts page. If you know what you're looking for you can search by pressmark. Or you can search by keyword (i.e. maps, plans etc.) if you're just browsing. 
Many highlights reside here, including the late 16th century Burghley-Saxton atlas (containing the first printed county maps of England and Wales in proof) at Royal MS 18.DIII http://www.bl.uk/manuscripts/FullDisplay.aspx?ref=Royal_MS_18_d_iii
Explore the British Library 
http://explore.bl.uk/primo_library/libweb/action/search.do?vid=BLVU1
The British Library's principal online catalogue does include thumbnail images for a tiny number of maps, but coverage is extremely uneven and the resolution of images is variable (to get a larger image for non commercial use, click on the map's title included in the right hand part of the details section). You may be lucky - for example if you're interested in Jacques Callot's map of the 1627 siege of Saint-Martin-de-Ré. 
********************
In a later blog I'll be listing non-British Library platforms and sites where you can find free-to-access British Library digitised maps. But in the meantime, I hope this keeps you busy.
Tom Harper  
21 April 2020
During the current pandemic, the next best thing to heading outdoors is (of course) to lose yourself in the printed landscapes of maps instead. In our London flat last weekend, I couldn't help reaching for my Ordnance Survey Explorer sheets of the English Lakes and tracing the routes of Easter walks in years gone by.
Although busy depicting roundabouts and service stations, road maps and atlases also give us armchair explorers a flavour of the landscapes, the countries and the times we move through in our mind's eye.
This example from the United States comes from a time when the American highway map was at its peak, when the automobile was an icon of progress, and state departments and commercial oil companies handed out road maps in their millions, free of charge.
Front and back of North Carolina Official Highway Map, 1967. Held at State Archives of North Carolina
While useful to many, these maps were also the vehicles for carefully chosen images and text promoting industry, nature, social progress and Christian values. A Motorist's Prayer on this sheet begins, 'Our heavenly Father, we ask this day a particular blessing as we take the wheel of our car...'
Detail of North Carolina Official Highway Map, 1967
A similar agenda is found on the other side of the Iron Curtain, where a Soviet regional map from the same year focussed on places and monuments of revolutionary history, industrial mines (asbestos, brown coal, gypsum...), pine forests and swan nesting sites.
Details from map of Orenburg Oblast, GUGK, 1967. BL Maps 35885.(63.)
Industrial prowess is emphasised again in the strong design on the cover of this regional atlas.
Atlas of Orenburg Oblast, 1969. BL Maps 54.e.48.
But unlike in Britain or America, the Soviet general public had no large scale Ordnance Survey or US Geological Survey maps to turn to for raw topographical detail. These were restricted to the military. Even generalised maps were deliberately distorted during the 1970s to make them harder to use for navigational and targeting purposes, should they fall into the wrong hands.
After the break-up of the Soviet Union, restrictions on sophisticated military mapping were relaxed, and elements of larger scale maps made their way into practical road atlases, amongst other products, for the general public. The evolution of these maps from military specification to a hybrid form more closely resembling the typical road map can be traced over the following years.
Left: Detail from Topographic map of the world at scale 1:200 000 produced by the Soviet Army General Staff, Sheet NM 40-2, 1987. BL Maps Y.1575.
Right: Equivalent detail from Orenburg Oblast, one of the Road Atlases of Russia series published by Roskartografia, 2003
In the road atlas on the right new colouring distinguishes road types and routes, and makes them more prominent while rivers fade away, and symbols are added to indicate petrol stations, medical facilities, museums and places of interest.
Detail of Sheet NM 40-2, Soviet Army General Staff, 1987
Equivalent detail from Orenburg Oblast Road Atlas, 2003
Precise bridge dimensions and maximum loads have been removed, though contours and direction of river flow remain, and the close mesh of the military grid has been replaced by a broad system of squares that correlates with the place name index at the back.
Cover of Orenburg Oblast Road Atlas, 2003
At last the landscape was revealed, and civilians could take to the open road better equipped.
And who knows, perhaps even now fingers are tracing imaginary routes from armchairs throughout Russia...
Nick Dykes
Further reading:
Denis Wood and John Fels, Designs on Signs/Myth and Meaning in Maps, in Cartographica vol 23 no 3, 1986, pp 54–103.
Zsolt G. Török, Russia and the Soviet Union, Fragmentation of, in The History of Cartography, vol 6, University of Chicago Press, 2015, pp 1376-1379.
Alexey V. Postnikov, Soviet Cartography, 1917-1991, in Cartography and Geographic Information Science vol 29(3), 2002, pp 243-260.

02 April 2020
The Collection of London Maps and Plans assembled by Frederick Crace is one of the Library's treasures and offers an unparalleled overview of the history of London's topography up to the mid-19th century. The collection contains a significant number of plans and drawings of public buildings including hospitals. With the coronavirus pandemic and the NHS facilities in the spotlight we decided to share with you a few examples from this amazing resource reflecting some healthcare changes in London. 
In early modern England hospitals were very different to the institutions we know today. After the dissolution of the monasteries by King Henry VIII in 1540 the hospitals were no longer associated with (and therefore supported by) the church. While some ceased to exist others transformed into independent entities administered by the secular authorities.


The facade of the Cutting Ward of St Bartholomew's Hospital. Maps K.Top.25.21.f
St Bartholomew's Hospital was established in 1123 and is the oldest hospital in Britain. It is located on the original site at Smithfield where it has continued to provide healthcare since its foundation. In 1547 Henry VIII granted it to the City of London and it became one of four royal hospitals along with Bethlem, Bridewell and St Thomas's. This grant endowed it with properties which helped provide an income.
Plans of the property of St Bartholomew's Hospital Maps Crace Port. 8.92 and Maps Crace Port. 8.93.
Unlike St Bartolomew's, the Bethlem Royal Hospital (commonly known as Bedlam) one of the oldest mental health institutions in the world, changed its location a number of times. It was founded in 1247 to shelter and care for homeless people and over time changed to a mental institution. The original location was near Bishopsgate (on the Liverpool Street Station site). In 1676 the Bedlam hospital moved to a larger building at Moorfields designed by the City Surveyor Robert Hooke.
Map of the Coleman Street ward showing location of the Bethlem Hospital at Moorfields.  Maps Crace Port. 8.16.
Although the building with the impressive baroque façade was grand in appearance, it again proved to be inadequate for purpose and the City felt the site was more appropriate for a new (profitable) housing development. 
Map showing the proposed improvements between the Royal Exchange and Finsbury Square. Maps Crace Port. 17.17
In 1815 the hospital moved to a new building designed by James Lewis located at St. George's Fields in Southwark (now home to the Imperial War Museum). In due course it was realised that the newly built premises were overcrowded and more space was urgently needed. In the 1830s new sections, constructed to a design by Sydney Smirke (the same architect who designed the famous British Museum's Round Reading Room building in Bloomsbury) were added.
General plan of Bethlem Hospital, shewing the improvements now in progress by Sidney Smirke Archt. Maps Crace Port. 16.62.

Those with keen eyes will spot a room labelled "beer cellar" and think of it as a surprising element in a psychiatric hospital but it seems the patients were put on a reduced diet poor in nutrition which they believed would help restore mental balance and interestingly this included beer. In order to improve patient conditions more space for indoor and outdoor activities were added. The new design included separate wards for "noisy patients" - a distinction not thought necessary at the previous location. Spacious gardens and airing grounds were also added, as well as rooms specifically designated for cold and warm baths as hydrography was practiced by Bedlam's physicians for years and it was believed that the "cold bathing" method had particularly therapeutic effects.
By the mid-19th century the need for improved hospital facilities and specialised medical care were recognised and gradually introduced.
Fairburn's Map of the Country twelve miles round London Maps * 3479.(25.).
The Fairburn's Map of the Country twelve miles round London includes inset views of hospitals in Chelsea and Greenwich. The buildings are shown in peaceful surroundings away from hustle and bustle of the metropolis, emphasising the importance of greenery and fresh air, the perfect setting for a quick healthy recovery.
16 October 2017
A remarkable new acquisition has arrived! Planning your neighbourhood  is a proposal on twenty display boards for post-war reconstruction produced by an architect Ernő Goldfinger and Ursula Blackwell in 1944 for the Army Bureau of Current Affairs.
Planning Your Neighbourhood. Title page. British Library Maps C.49.e.82.
Goldfinger, educated in Vienna and Paris, played an important part in the development of the modernist movement in Britain. His appreciation for the Brutalist style and unconventional designs (including the Alexander Fleming House at Elephant and Castle, Balfron Tower at Poplar, and Trellick Tower in west London) often upset the general public. Allegedly, the author Ian Fleming, who was Goldfinger's neighbour in Hampstead, was so opposed to the design of terraced houses in Willow Road, that he named one of the James Bond novel villains after the architect.
Planning your neighbourhood captures an air of optimism in which the designer presented the utopian vision of improved post-war city life. The district of Shoreditch in East London, heavily damaged through enemy actions and "overcrowded and disfigured by slums", was a perfect candidate for post-war reconstruction. The proposal incorporates maps, aerial photos and diagrams to visualise the concept of comfortable modern housing that caters for all. The idea was that anyone, young and old across different social classes, would enjoy living in the "vertical city".
Aerial view of the damaged site in Shoreditch. Board 11. Planning Your Neighbourhood. British Library Maps C.49.e.82.
The set opens with a comparison of country and city life stating that in towns "the advantage of neighbourliness is lost". The solution suggested by Goldfinger is the creation of neighbourhoods composed of residential units, in line with principles of planning concept introduced by Sir Leslie Patrick Abercrombie and John Forshaw in their Greater London Plan, which promoted development of self-contained communities.
Goldfinger's scheme advocates vertically built cites over traditional outward expansion. He compared a footprint of a tower block against a street of terraced houses, demonstrating the advantage of the modern approach.
Board 10. Planning Your Neighbourhood. British Library Maps C.49.e.82.
The importance of planning is strongly emphasized, with the planner having to carefully consider a design which allowed for different sized apartments, depending on individual family needs, and appropriate amenities located nearby. Goldfinger also thought about green spaces and recreational facilities such as local cinemas and swimming pools, playgrounds, cricket and football grounds – all conveniently situated in the centre of the neighbourhood within an easy reach from home. Also, with safety in mind, he introduced the idea of segregated traffic with high speed roads exclusively reserved for heavy vehicles (including buses and trucks), and slow roads for horse carts, bicycles and pedestrians providing safe access to nurseries and schools with no crossing of traffic required.  
Board 8. Planning Your Neighbourhood. British Library Maps C.49.e.82.
The reconstruction of post-war Britain was less ambitious than Goldfinger estimated and his Shoreditch scheme was never built. One could argue it was realised on a 'mini scale' as Trellick Tower Cheltenham Estate in west London completed in 1972 with its own doctor surgery, nursery, school, laundrettes, and shops. Loved or hated, it became one of London's landmarks and has been given Grade II listed status by English Heritage.
By the mid-1970s concrete tower blocks were no longer perceived as a model for urban regeneration. What originally was intended to provide a solution to the housing problem and growth of a healthy strong community in reality became the main factor for social alienation, crime and creating serious safety hazards.
Unfortunately Planning your neighbourhood was acquired too late to be included in our Maps and the 20th Century: Drawing the Line exhibition held in November 2016 to March 2017 but the set is available for ordering through the online catalogue.
26 February 2017
Maps improved in their technological power during the 20th century, and as a result became better able to meet the requirements of their time. Some of them even came to symbolise key themes of the age such as dynamism and modernity.
Harry Beck, 'Sketch for the London Underground map], 1931. Victoria and Albert Museum, E.814-1979.
Probably the best map to capture this sense of speed, efficiency, new-ness, was the new London Underground map of 1933 by Harry Beck. Here was a map which broke dramatically with the conventions of the old, dispensing scale and representational accuracy in order to be useful to its users quickly in the new rapid bustling urban environment (there's also more than a passing similarity between the underground map and Mondrian's noisy, bustling 'Broadway Boogie Woogie' of 1943).
Grazioso Benincasa, [Portolan chart of the North-West coast of Europe], 1473. Egerton MS 2855.
Beck's Underground map may the pin-up map for the brave new 20th century world, but in one crucial respect it drew on a trait of mapping which is as old as maps themselves: simplification. In straightening and regularising and de-cluttering the underground lines, the map is no different to early 'portolan' sea charts, sailing maps which possibly originated during the 13th century, and which use the same technique of simplifying, straightening and de-cluttering coastline features in order to be easier for their users to use.
And that's one of the lessons we can take from maps: that history is a sequence of changes and continuities.
17 February 2017
In this exclusive guest post, map historian John Davies introduces one of the most enigmatic of 20th century map genres.
 'The story of Soviet military mapping is the story of a massive secret project, spanning the fifty years of the Cold War period – from the 1940s to the 1990s – and involving thousands of people. It's the story of the world's largest mapping endeavour and, arguably, the world's most intriguing maps.
 The story of this amazing enterprise has never been told in full in print and the maps themselves have rarely been publicly displayed. One of them, however, the city plan of Brighton on England's south coast is on show in Maps and the 20th Century: Drawing the Line.
 Topographic Maps
The full extent of the project will probably never be known, but it is safe to say that almost the entire land surface of the globe was captured on topographic maps at scales of 1:1 million and 1:500,000. Huge areas of the Americas, Europe and Asia were mapped at 1:200,000 and 1:100,000, whilst maps at scale of 1:50,000 (the same as the familiar Ordnance Survey Landrangers) cover much of Britain and continental Europe. On top of that, the vast territory of USSR itself was mapped at 1:25,000 (the scale of Ordnance Survey Explorer maps) and much even at 1:10,000.
 The topographic maps have sheet boundaries corresponding to lines of latitude and longitude. This means they are non-rectangular, the two sides narrowing towards the top in the northern hemisphere. The sheets are non-overlapping and are identified by a reference number that uniquely identifies the global location and scale of every sheet.
 It works like this: each 1:1 million map is a quadrangle which covers an area of the globe four degrees of latitude deep and six degrees of longitude wide. The latitudinal bands are alphabetic, starting with A at the equator and increasing as you head north; the longitudinal zones are numbered 1 to 60. The Greenwich meridian (longitude 0) defines the boundary between zone 30 and 31; London, at latitude 51, lies in band M (the 13th band, spanning latitudes 48 to 52). London west of Greenwich, therefore lies in quadrangle M-30 and east of Greenwich in M-31.
International Map of the World nomenclature adopted by Soviet Union, with lettered bands of 4° latitude and numbered zones of 6° longitude
 This convention, known as IMW – the International Map of the World – nomenclature was devised originally by Albrecht Penck at the end of the 19th century and was adopted in 1913 for a proposed international cooperative mapping project.  Although that project fizzled out, the USSR made use of the same convention and did succeed in mapping the whole world by the mid-20th century.
 As you zoom in on a 1:1 million sheet, you get 4 sheets at the larger scale of 1:500,000 (numbered 1-4); 36 sheets at scale 1:200,000 in a 6 by 6 grid (numbered 01-36), and 144 sheets at 1:100,000, in a 12 by 12 grid, (001-144). Zooming further in, for each of these you get 4 sheets at 1:50,000 (numbered 1-4).
Part of sheet M-31, scale 1:1 million, compiled 1969, printed 1975, showing the non-rectangular edges, aligned to lines of latitude and longitude.
Part of sheet M-31-1, scale 1:500,000, compiled 1978, printed 1985.
Part of sheet M-31-01, scale 1:200,000, compiled 1982, printed 1986. Road distances in km are overprinted in purple.
The reverse side of the 1:200,000 series sheets has a comprehensive essay describing the physical, social, economic and industrial importance of the locality, together with a geological sketch map.
Part of sheet M-31-013, scale 1:100,000, compiled 1976, printed 1982. Note the M25 under construction.
Part of sheet M-31-013-3, scale 1:50,000, compiled 1974, printed 1981. This is the SW quarter of M-31-013. Note the A2 road is also labelled E107 (upper left), a European road number that did not appear on British maps.
 The projection used is the Gauss-Krüger (G-K) projection, based on a regular system of Universal Transverse Mercator projections that each cover a zone 6 degrees wide, with central meridians (axial lines of longitude) at 3 degree intervals. The advantage of this is that it simplifies the depiction of the globe as a flat surface for relatively small areas and allows the use of a rectangular grid within each zone. The grid provides accurate geographic co-ordinates to facilitate precise artillery targeting.
 The security classification depended on the map scale; small-scale maps (1:1 million and 1:500,000) were unclassified; 1:200,000 maps were classified as 'For Official Use', as were 1:100,000 and 1:50,000 maps of non-USSR territory. Maps of USSR territory larger than 1:200,000 were classified 'Secret'.
 City Plans
Even more remarkable than the topographic maps are the city plans. These are known to exist for about two thousand cities worldwide, and there may have been many more. City plans are to a large scale, either 1:25,000 (two-and-a-half inches to the mile) or 1:10,000 (about six inches to the mile), and show an altogether much greater level of detail, including street names and listings of factories and their products, public buildings and transport facilities – even relatively unimportant (certainly non-military) objects such as bus stations and post offices. They are classified 'Secret'.
 City plans are rectangular, being based on G-K projection with a central meridian near to the city. The sheets themselves vary in size, but are typically about 1,000 mm by 800 mm, and may be oriented as portrait or landscape layout to suit the terrain to be covered. Many cities require several sheets (in Britain, typically two or four; in USA, Los Angeles requires 12 sheets and New York 8). Unlike the topographic maps, in which the coverage is continuous and non-overlapping, city plans are individual, specific sheets, centred on a particular city; in some cases, such as the conurbation of West Yorkshire, the plans of several cities overlap. 
 About 100 British and Irish cities are known to have been mapped in this way, several of them more than once. Halifax, Luton, Cambridge and Cardiff are just some of the places for which maps of the 1970s and again of the 1980s exist. The later editions are entirely new productions, rather than revisions of the originals.
 The coverage of British cities includes not only the major industrial and commercial centres and important seaports and naval bases, but relatively rural and less strategically significant places such as Gainsborough and Dunfermline (although Rosyth Royal Naval dockyard is not far from Dunfermline, it is not included in the map coverage).
 The information depicted on city plans is derived from a wide variety of sources and includes detail not normally seen on local street atlases. For example, the 1990 Brighton 1:10,000 plan seen in Maps and the 20th Century: Drawing the Line shows signals alongside the railway line, annotates the shoreline as having a mean tidal range of 4 metres, differentiates the vegetation types in parks and open spaces and identifies the ownership of facilities such as motor repair depots.
 City plans have a street index, a descriptive essay and a list of 'important objects'. numbered and colour-coded on the map – purple for administrative buildings. black for industrial and green for items of military importance.
Part of 1:25,000 plan of London (sheet 1 of 4, compiled 1980, printed 1985) showing colour-code and numbered 'important objects'. These are listed in the index as:
State Archives [actually Public Records Office]
Treasury
Foreign Office
Ministry of Defence
Government offices
Courts of Justice
Police – Scotland Yard
General Post Office
Radio station BBC
Residence of the Queen and Prime Minister [actually Her Majesty's Theatre]
Greater London Council
University of London
HQ of the US Navy in Europe [actually American Embassy]
HQ General Staff
 Note also the depiction of tube stations (symbol M), arrows showing direction of flow of the Thames and direction of tides, Kingsway tunnel and symbols indicating lawns in Hyde Park. The river name is in upper case lettering, denoting that the river is navigable. None of this information appears on contemporary Ordnance Survey maps]
Part of 1:10,000 plan of Thurrock (compiled 1974, printed 1977) showing Tilbury docks and the Dartford tunnel
 All the maps described above, the topographic maps and the city plans, were produced by VTU, the Military Topographic Directorate of the General Staff of the Soviet Army and are headed 'General Staff'.  They carry in the bottom right-hand corner a print code, defining the map type, when it was printed and at which of the twelve print factories spread across the USSR.  
 How and Why
Two obvious questions spring to mind when looking at these maps. How did they do it? And why did they do it?
Neither has a simple answer.
Copying from Ordnance Survey maps, for example, is an obvious possibility. However, the wealth of information shown far exceeds what could be derived from these.  Analysis of the information shown on Soviet maps and plans proves that the compilers and cartographers had access to a huge range of published maps and guides. They include commercial street atlases, geological maps, transport maps and timetables, trade directories, tourist guides Admiralty charts and many other sources. Although these would have been freely available in Western cities, it is surprising to see just how wide the net was cast and intriguing to consider the process by which material was gathered and transmitted to USSR.
Even more surprisingly, the sources include items which had been published many years previously, resulting, for example, in the maps depicting ferries alongside the bridges that superseded them and long-disused railway lines being shown as operational.
After the launch of Zenit satellites in 1962, aerial imagery became a significant component in the data sources and can be seen in many cases where new roads and housing estates, for example, which had not yet appeared on Ordnance Survey maps, are shown on Soviet maps. Often these have the street names omitted, indicating that the cartographer had only the aerial image to hand and not the latest street directory.
As to why so much time, effort and money was expended on this gigantic project for over fifty years, we can only speculate. The concentration on depicting civil rather than military information suggests that these were intended not as invasion maps, but as necessary tools to manage and control the economic and industrial activity of Western cities after their eventual peaceful conversion to communism. But who can say?
Wasn't the West doing the same thing during the Cold War?
Of course, mapping the territory of a potential enemy was nothing new and not restricted to the Soviet Union. But during the Cold War, the West, generally, was far more selective about where they mapped and what they showed. Whereas the Soviet Union produced huge numbers of city plans, each of which shows minute detail of all aspects of a city (regardless of military significance), the West tended to focus on places of particular interest – and included on their maps only what was relevant to the purpose.     
Two views of Maribor, Former Yugoslavia (now Slovenia).
Top, A typical Soviet military city plan, showing as much information as possible (1:10,000, 1975). Below, A greatly simplified plan, produced by USA military, concentrating on the major features. (1:20,000, 1993).]
John Davies is editor of Sheetlines, the journal of Charles Close Society for the Study of Ordnance Survey Maps (www.CharlesCloseSociety.org) and is co-author with Dr Alex Kent of The Red Atlas: How the Soviet Union Secretly Mapped the World, to be published by University of Chicago Press in September 2017 (http://redatlasbook.com/)
12 December 2016
As was announced here yesterday, the British Library has acquired important additions to its collection in the form of 9 sheets of copper, discovered in the possession of a scrap metal dealer. Scrap value £3.60 per kilo, but historical significance and research value far more considerable.
Detail of an engraved copper plate for a map by James Rennell, published in 1780.
The 9 engraved copper plates were used to print maps of India for the use of the East India Company (EIC) during the late 18th and early 19th centuries. The archive of the EIC, the India Office records and map collection was passed to the British Library in 1984 where it resides today. How the copper plates came to be reunited with this archive is a fascinating story which reveals a lot about the custodial history of the archives of British government as well as changing perceptions of maps.
Our recent purchase of nine copper plates was as follows: four plates used to print trigonometrical diagrams of William Lambton's first survey of Malabar and Coromandel, begun in 1802; one triangulation diagram of 1827 by Lambton and his successor George Everest (he of highest mountain fame); three (of four) plates for James Rennell's (1742-1830) 'Map of Hindoostan' (1788); and finally a single plate for a map included in James Rennell's 'Bengal Atlas' of 1780.
These plates enable us to complete sets of copper plates already held in the India Office map collection, alongside another copper plate which had been purchased in 1988.
How did they come to be dispersed in the first place? Well this is one of the most interesting parts of the story. Dr Andrew Cook, former India Office archivist, was able to sketch out the story for me, referencing Antonia Moon's article of the East India Company records published in the British Records Association Journal 'Archives (October 2008).
View of the East India House, Leadenhall Street, London, 1796.
The plates seem to have been with the EIC in the 1830s in East India House, Leadenhall Street, London. In 1860 the EIC archives were due to move from there to the New India Office building in Whitehall, but because this building was unfinished when the old premises were sold, the archives went to temporary storage in the Westminster Palace Hotel nearby.  It is at this point that a number of the copper plates were apparently re-routed via the scrap metal trade, where they would remain for over a century.
In 1988 Dr Cook was tipped-off about a copper plate in the possession of a Norfolk farmer, who was looking to turn it into a mudguard for the trailer of his tractor. Upon visiting Norfolk, and examining the plate on the pool table of a local working man's club, Dr Cook identified it as a plate from Rennell's  'Bengal Atlas' and acquired it for the collection. The nine plates more recently purchased are further miracles of survival. 
James Rennell, An engraved copper plate for 'A map of North Bahar...', London, c. 1779.
James Rennell, 'A map of North Bahar...' from The Bengal Atlas, London, 1780. Maps 145.d.26.
The uniting of various sets of engraving plates enables us to study in greater depth the printing and publishing history of some of the most powerful and significant imperial cartographic projects of the 18th and 19th centuries. It also shines light on the complex history of custodianship and cartography during the 19th century.
11 March 2015
As is to be expected, King George III's Topographical Collection contains outstanding examples of all the major maps and atlases published in his lifetime and extending back to 1660. Less comprehensively the collection goes back to include Italian maps published in Rome and Venice from 1540.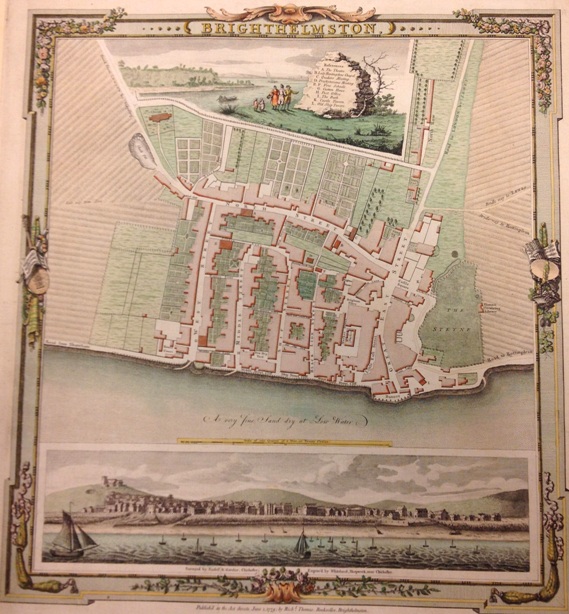 Thomas Yeakell sr and William Gardner, View of the Town of Brightelmstone, (Brighton: P. Thomas, 1779). Maps K. Top. 42.14
But the Collection's great delight is the variety of map that is to be found. George III's beautiful copy of the map of 'Brightelmstone' surveyed in 1779 by Thomas Yeakell and William Gardner was probably specially coloured, by Yeakell's daughter Louisa, a skilled colourist, for presentation to the King. Beneath the map showing a town that had barely expanded beyond The Lanes, there is a panorama of what was soon to become Brighton from the sea just as it was developing as a fashionable resort and a few years before the future Prince Regent created his 'marine villa', the predecessor of the Pavilion, just to the north of the old town. Yeakell and Gardner were to become famous far beyond the county of Sussex. Having come to the attention of the Master General of the Ordnance, the Duke of Richmond, Yeakell was to be appointed Master Draughtsman to the Ordnance in the early years of Ordnance Survey, and Gardner Chief Surveying Draughtsmen, and they set the quality and style of its maps.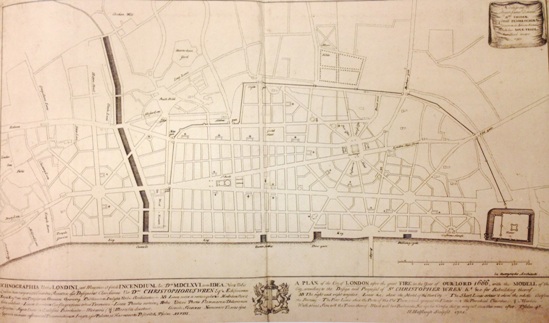 H. Hulsbergh, Plan of the City of London after the Great Fire . . . according to the Design and Proposal of Sir Christopher Wren, 1721.  Maps K.Top. 20.19-3.
The King's Topographical Collection includes a particularly rare copy of  Christopher Wren's radical proposals for the rebuilding of London after the Great Fire of 1666. It is a proof example, published in his lifetime, with the title added in manuscript. Wren's proposals came to nothing because, contrary to the impression given by his map, the City of London was not a blank sheet. The buildings may have been damaged or destroyed, but property rights remained intact – and so did the imperative to rebuild and to get back to business.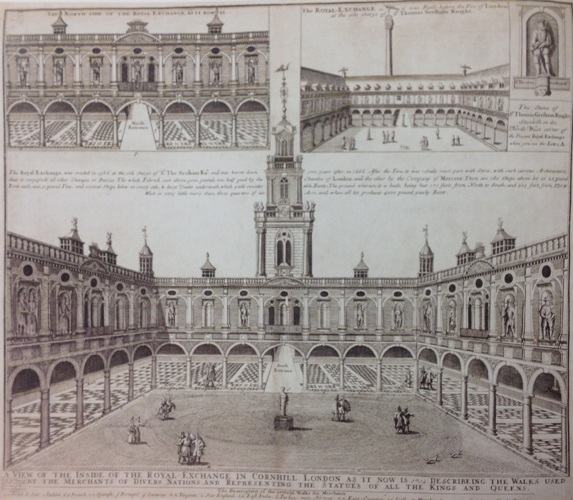 Thomas Taylor, A View of the Inside of the Royal Exchange in Cornhill, London as it now is 1712.   Maps K. Top. 24.11-k.
Of no building was this truer than the Royal Exchange, London's commercial hub, which was soon rebuilt. Betraying the innate conservatism of most financial institutions, the new building strongly resembled Thomas Gresham's Royal Exchange of the 1560s (as, in a more monumental way, does the present Royal Exchange of the late 1830s). The new building is shown here as it was in 1712.  
'No', I can hear you saying, 'There's a mistake: this a view not a map!'. But look closely and perhaps we can compromise : at the very bottom, beneath the title, letters indicate the positions taken up by the various 'nations' under the arcade: the Dutch (a), the Jews (b), Italy (c), France (dd), Spain (ee), Portugal (f), Canaries (g), Virginia (hh), New England (i), East India (kk), Turkey (l), Norway (mm),  Baltic states ('East-landers') (nn), Hamburg (p) and finally the Irish (oo) and 'Scotch or North Britain' (qqq). Then as now, London was an international city.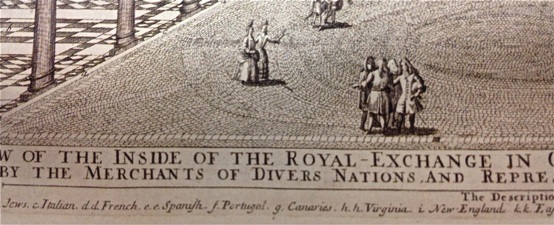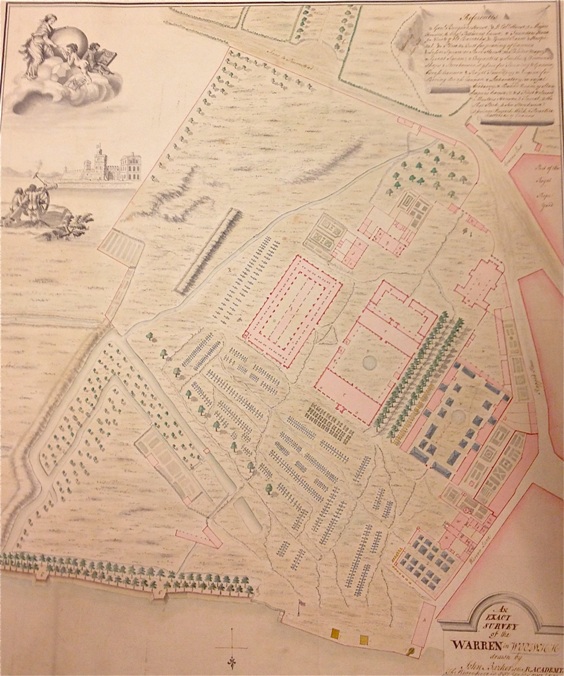 An Exact survey of the Wareen in Woolwich drawn by John Barker at the R. Academy, An. 1749. Maps K. Top. 17.22.
As well as printed maps, the King's Topographical Collection contains many manuscript fortification plans. Several are, perhaps surprisingly, charming. This one, showing the Military Arsenal in Woolwich in 1749, was drawn and decorated by John Barker, a cadet at the Military Academy that had been founded there in 1741. Cadets were taught drawing as well as surveying and several became talented artists. John shows his skills in the top left, with a fine if fanciful ink drawing of putti firing at the Arsenal (a schoolboy's fantasy at getting his own back on his teachers?). John went on, over the following decades,  to be an active estate and military surveyor in Britain and Canada. His artistic skills may not have had a chance to develop, but the quality of his survey of Woolwich was such that when the King's Topographical Collection was inspected by his successors on the Board of Ordnance in the 1830s, they ordered the plan to be sealed for security reasons.  The left corner of the map contains the initials ('WHT') of the inspector who insisted on it.  It was only to be unsealed many decades later: about 150 years after it had been created.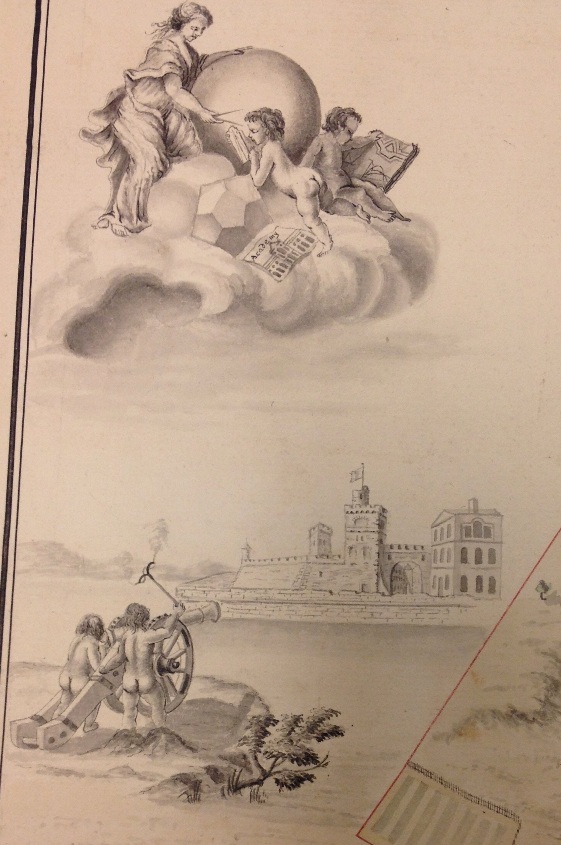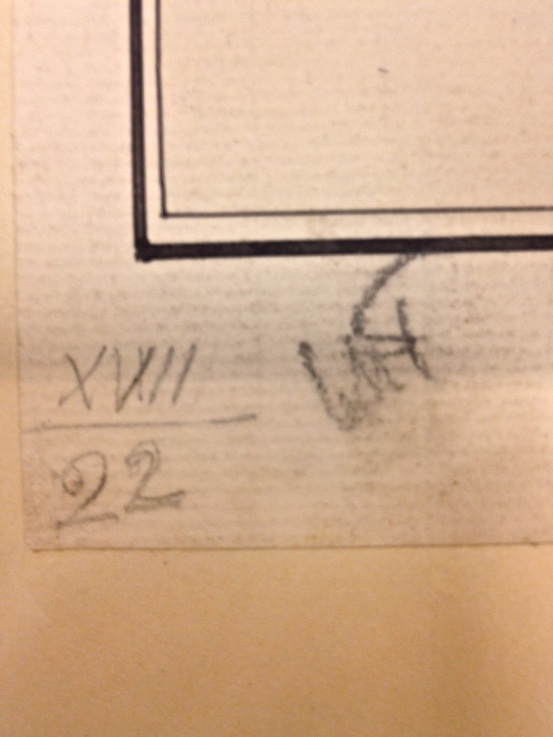 One of the most evocative plans in the collection is this sketch to the view to be had from Morant's Court  Hill near Sevenoaks in Kent (shown at the bottom)  in about 1780. Executed by a military draughtsman, Captain Robert Johnstone, it shows the country houses to be seen from there.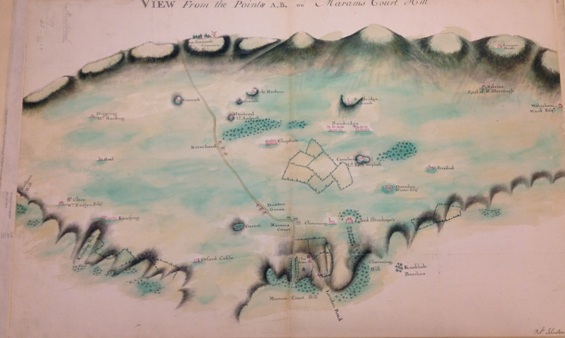 Robert Johnstone, View from the points A, B, on Marams Court Hill ca. 1780 Maps K Top.17.43-c-2.
It was commissioned for the King by Lord Amherst, the former Commander-in-Chief of British forces in North America whose country house Montreal (named after the city of which he had been governor), had recently been completed and features prominently. Amherst had invited the King and Queen to visit him one November morning and the letter of invitation is still preserved with the plan. In it, Amherst gives the King instructions for reaching his house, adding that Captain Johnston 'will be on the right of the road where he took the Sketch, in case Your majesty should chuse to have any further information of the Places'. Then anticipating royal tours of today,  he ends his letter with a request. 'The Gentlemen and Ladies of the Parish', he wrote, 'will be at the Gate and if it pleased Your Majesty not to drive fast by them, their Happiness would be increased in the honour of seeing Your Majesty and the Queen'.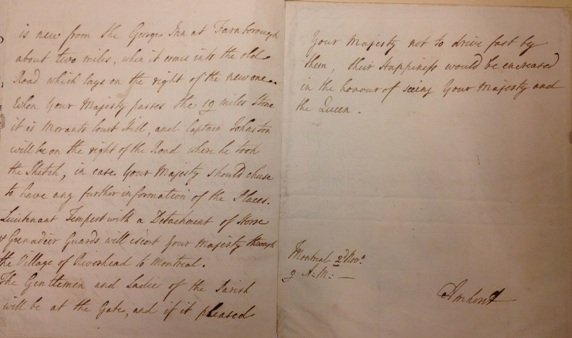 Concluding pages of letter from Lord Amherst to George III, 2 Nov [no year but ca. 1780]  Maps K. Top. 17.42-c-1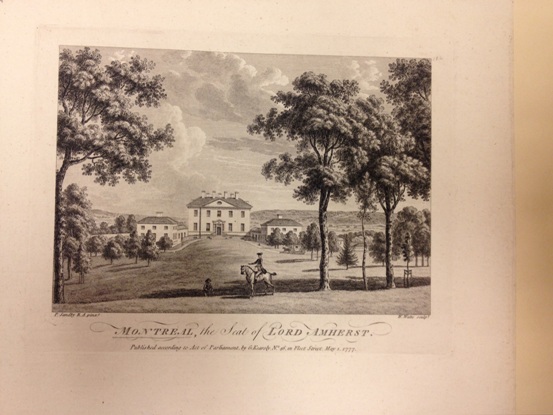 Montreal, the Seat of Lord Amherst. P. Sandby R.A. pinxt; W. Watts sculp, 1777.
We are seeking money to catalogue and digitise all the maps in the King's Topographical Collection but particularly those of London and the South-East. Please give generously at www.bl.uk/unlock-london-maps and help us to make more discoveries like these.
Peter Barber