03 March 2015
Robert Adam (1728-1792), who died on this day in 1792, is perhaps the best-known British architect of the 18th-century. He, and his lesser-known brothers, John and James, combined and re-modelled architectural and decorative elements from Roman antiquities in Pompeii and Split, which they had seen during their Grand Tour, to create a distinctive style, foreshadowing the neo-classicism of many British buildings created between about 1780 and 1850. They are also famous as being among the first architects to design all aspects of their buildings, from plan, exterior and interior designs to the furnishings and fixtures.
The Adam brothers played a major part in the creation of the King George III's geographical Collection when in 1762 they negotiated the purchase, on the King's behalf, of the collections of Cardinal Francesco Albani, which account for some of the most outstanding items in the Italian volumes of the King's Topographical Collection. Of particular importance are the 16th-century maps and views collected by Cassiano dal Pozzo, the most important 17th-century collector of prints and drawings, and architectural drawings from the papal archives.
Despite this successful mission, Robert Adam never enjoyed the sustained patronage of George III, but the King's Topographical Collection contains autograph drawings by him for actual or proposed buildings in London and the South-East, and views of the buildings that he created.
The most significant, and of crucial importance for any evaluation of his work, is the only surviving hand-drawn plan by him and his brothers for an important development on the Strand, called the Adelphi, or, in English, 'Brothers' – an allusion to Robert, James and John who all worked on it.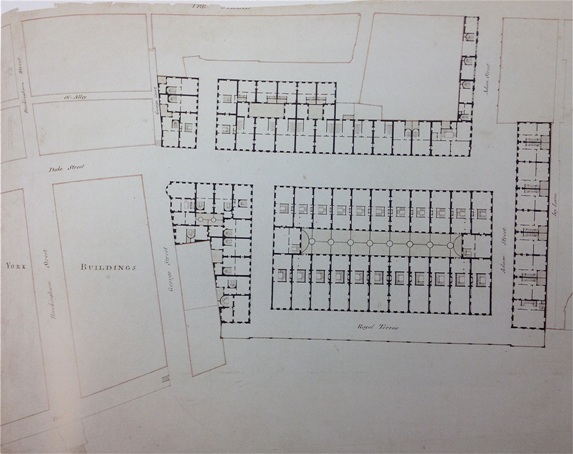 James, John and Robert Adam and their workshop]  The unique surviving plan for the Adelphi, 1786.  The 'Royal Terrace' overlooked the Thames.  Maps K Top 22.7-a
The plan, dating from 1768, was probably sent to the King in the hope of raising money in 1771. The Adelphi, which was modelled on the palace of the Emperor Diocletian in Split in Croatia, was the first ever attempt in Britain to disguise what was effectively a housing estate as a palace (an idea later followed in the Nash terraces around Regents Park). The King's Topographical Collection also includes a handsome view of how the brothers thought their development would look, with the massive arches supporting the buildings leading directly to the shores of the Thames as they did before the creation of The Embankment in the mid-19th century.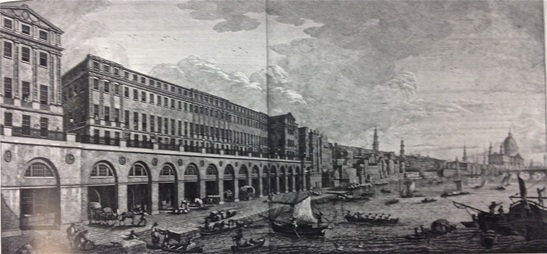 Benedetto Pastorini, South Front of the New Buildings called Adelphi , ca. 1774.  Maps K Top 22.7-b.
The heart of the Adelphi was demolished in the 1930s, though several of the houses in the side terraces and the vaults remain.
The King's Topographical Collection contains preliminary drawings for various handsome structures that never got built. One was a proposed grand entrance to London at Hyde Park Corner – not far from where the Wellington Arch stands today. Imposing though it looks, it was primarily meant to be a tollhouse!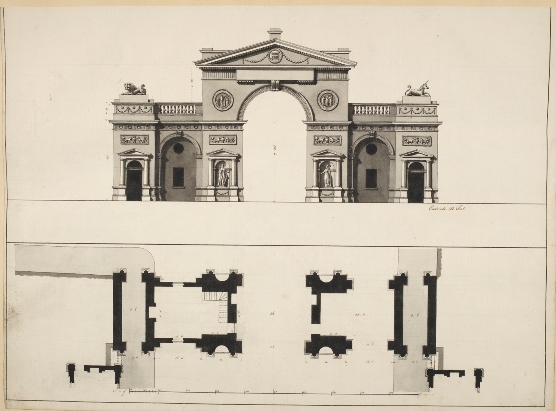 Robert Adam [Elevation and plan of a proposed arch at Hyde Park Corner, November 1778]  Maps K Top 27.26-c-2.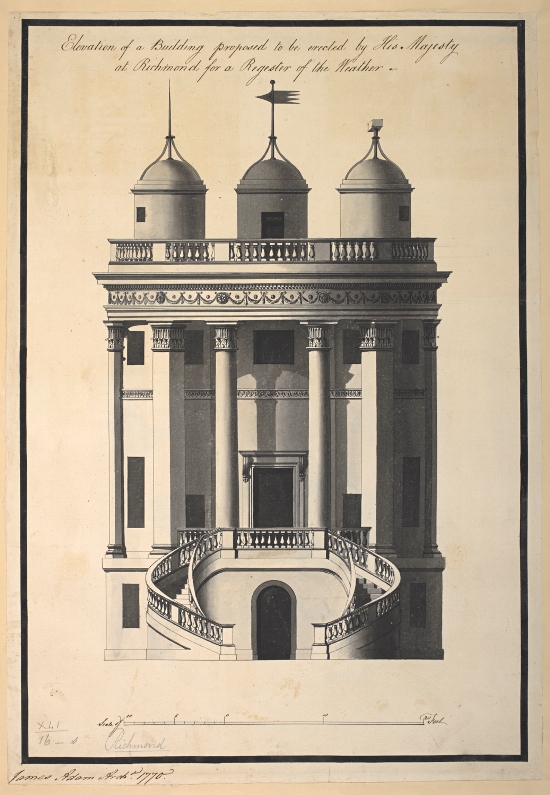 'An elevation, in Indian ink, of a building proposed to be erected by his Majesty at Richmond, for a register of the weather, designed by James Adam, Archt. 1770,'  Maps K Top 41.16-s
At the time that the Adelphi was being planned, in 1770, brother James Adam submitted an elegant proposal for a weather observatory in Richmond Park, reminding us that, like the true Briton that he prided himself on being, George III was fascinated by the vagaries of his homeland's climate!
The Collection includes views of some buildings that remain with us to today, like Kenwood House between Hampstead and Highgate, which Robert Adam remodelled for the Lord Chief Justice and fellow Scot, the Earl of Mansfield between 1764 and 1779, adding a completely new library wing. Adam was rightly proud of his work, and the print of the garden front which he included in his collected works is to be found in the King's Topographical Collection. But in this blog we are reproducing an idyllic view published in 1781 showing the artist, George Robertson, drawing the House from meadows on the other side of the still-existing lane that led from Highgate to Hampstead Lane. If you look carefully you can make out the Spaniards' Inn in the background.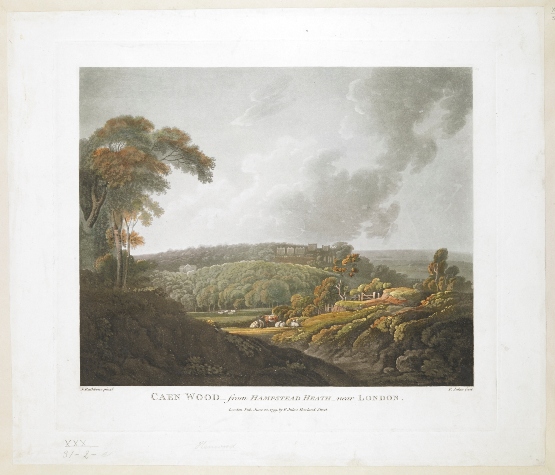 George  Robertson,  View of Kenwood, the Seat of the Earl of Mansfield,  engraved by Lowry (London: J. Boydell, 1781).  Maps K Top 30.31-2-b
Perhaps the most remarkable building that Robert Adam created in the South-East of England, however, was the enormous – but temporary – pavilion to host a fete champetre hosted by the11th Earl of Derby in the gardens of his home, The Oaks, near Epsom in Surrey on 9 June 1774. The Earl is best remembered to day for the races that are named after him – and after his home. The festivities were intended to celebrate the wedding of the Earl's grandson, Lord Stanley, to Lady Betty Hamilton. A vestibule led to a dining and supper room was 120 feet long which encircled the ballroom. Over 1000 visitors in fancy dress attended and the festivities which were marked by a masque, country sports, country dances and formal dances directed by the ballet master of the Royal Ballet. Prints by Caldwell and Grignon, published in 1780 immortalised the rather frenetic atmosphere – and the architecture – of what must to its participants have seemed a golden afternoon and evening.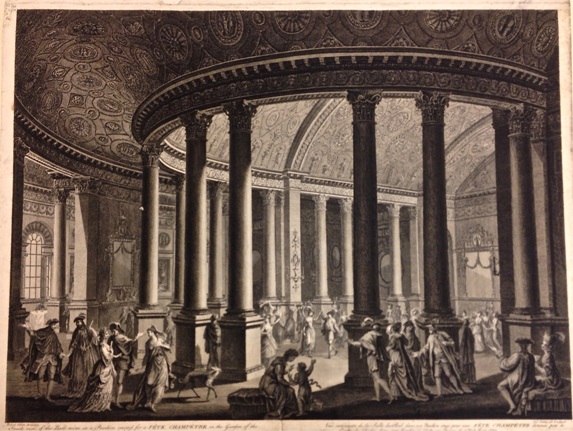 James Caldwell, Interior view of the ball room of the pavilion erected for a Fete Champetere  in the garden of the Earl of Derby's in the Oaks, at Epsom Surrey. 1774.  Engraved by Charles Grignion, 1780. Maps K Top 40.25-b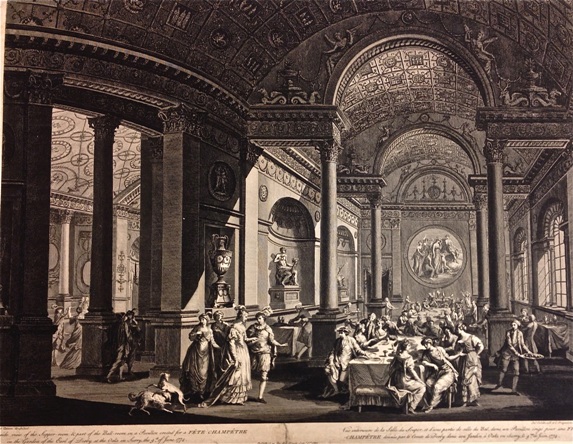 James Caldwell, Interior view of the supper room of the pavilion erected for a Fete Champetere  in the garden of the Earl of Derby's in the Oaks, at Epsom Surrey. 1774. Engraved by Charles Grignion, 1780. Maps K Top 40.25-c
We are fundraising to catalogue, conserve and digitise King George III's collection. Help us unlock one of the world's most important map and view collections by making a donation today at www.bl.uk/unlock-london-maps. If would like to learn more about the project and how you can get involved, please get in touch with Rachel Stewart ([email protected]) and me, Peter Barber, at the British Library ([email protected]).
Peter Barber
21 February 2014
Maps contained within the pages of 17th-, 18th-, and 19th-century books are still being unearthed. Of the one million images that the Library extracted from scanned volumes and explosed on Flickr Commons, over 2,100 have already been tagged as maps by the public!
As these map images are in the public domain and so open for reuse, we've seen new interpretations, further exposure, and interesting geospatial applications. For instance, John Leighton's 1895 diagrammatic map of London Indexed in Two-Mile Hexagons has been brought up to date and into space in this dynamic visualisation created for International Open Data Day tomorrow in Osaka City, Japan. Though I've been warned that this is a work-in-progress, it is impressive already; the newly geo-aware index is interactively linked to its 18 component hexagonal maps, with the current location in OpenStreetMap appearing alongside. Ollie described the purpose of Leighton's mapping scheme in his Mapping London blog post in December. The results of making these maps available just keep getting better.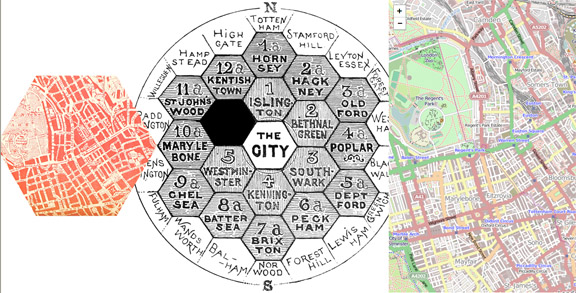 Work-in-progress at http://museum-media.jp/london/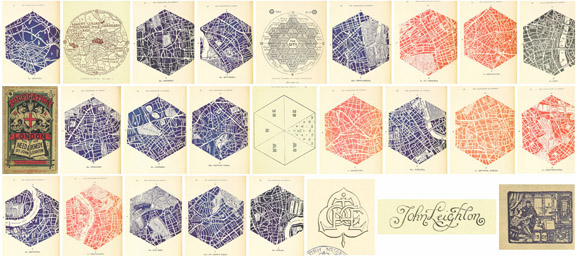 Leighton's index map, the 18 component maps, and other images from the book
Here at the Library we're anticipating opening up the 2,100+ maps for public georeferencing. Once all of the one million images get tagged with keywords in Flickr, those identified as maps will be consolidated and released via BL Georeferencer. Please lend a hand by finding and tagging any maps among the remaining images! 
10 January 2014
Earlier this week, georeferencing of the Library's collection of first-edition Goad mapping of British and Irish towns was completed!
In just seven weeks, the work of a great many people brought order and place to what was previously simply 2,700 digital image files. The precise location of each scanned map - for the over 50 cities and towns mapped by the Chas. E Goad firm 1886-1930 - is now known. Places small (Goole, covered in just three maps) and  large were included, with the giant of London making up more than 1,000 maps, as shown in below graphic. All maps may be accessed here.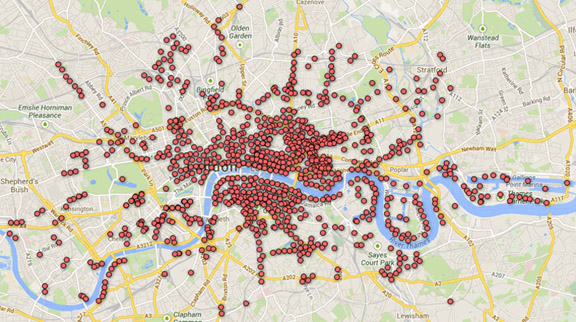 "Thank you" to all the BL Georeferencer participants, and in particular to two volunteers who, since the release of 20 November, have contributed an outstanding amount of time and effort. Dr Susan Major added over 10,000 control points to the Goad maps, and in addition played an active role in offering feedback and suggestions. Maurice Nicholson, a past Top Contributor, submitted the most points for the military maps, and his contributions to Goad were second only to Susan.
What's next? We have a team of volunteer reviewers - dedicated participants invited to review for their skill and expertise - to quality-check submitted metadata. Maps requiring further work will be released back to the crowd, so expect to see maps become available over the next few weeks and months. Check back at http://www.bl.uk/maps/
14 February 2012
We're asking the online public to undertake a task beyond our own means: to georeference some of our treasures of British mapping. http://maps.bl.uk
The maps included represent a very small sample, to be sure. But the the Ordnance Survey Drawings are some of the most enquired-after maps we have, being unique manuscript documents that portray the lanscape of England and Wales before the onslaught of industrialisation made its mark.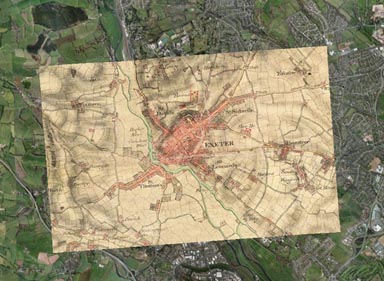 This is a detail of OSD 40, pt. 3. In 1801, Exeter was a small and compact town!
The other collection we've included in this effort is a selection of the Crace Collection of Maps of London. I've found these maps to be more difficult to georeference, and am eager to see how others fare with them.
The project web page is http://maps.bl.uk - there is a short video there and detailed instructions. Access is also available from within the map pages in the Online Gallery. Please try this new tool out, as it will be a great help towards improving access to and visibility of these collections!
07 May 2010
The Magnificent Map of King's Cross now hangs in the Entrance Hall.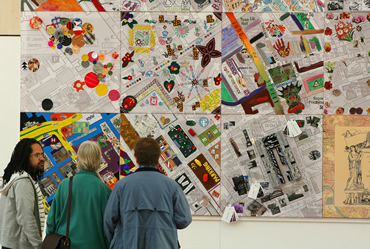 This map of the local area was produced as part of the community programme to support the exhibition and as part of the Reveal Festival – a festival of visual arts in King's Cross.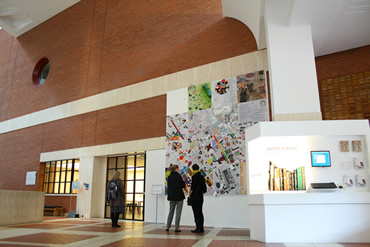 It is made of 16 separate canvases each depicting a separate part of the area. A number of groups and some individuals were given a canvas to create their unique interpretation of the neighbourhood.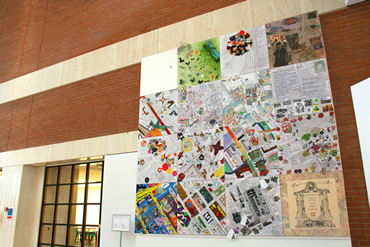 The map includes work by The London Canal Museum, Camley Street Natural Park, University College Hospital School and Somers Town Youth Club.
21 April 2010
A tweet-like posting to say that all programmes in this excellent BBC4 series are now available to watch again and download.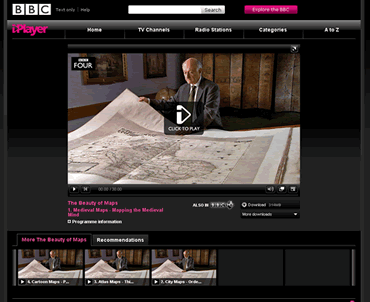 Tom will be blogging about the third and fouth programme soon.
Part two of The Beauty of Maps, aired on BBC4 last night, tackled the history of London through its most notable post-1666 maps. The three featured - William Morgan's map of 1682, John Rocque's of 1746 and Stephen Walter's 2008 effort - will all be included in the Magnificent Maps exhibition, so if you want to gaze at them for hours, be my (and the British Library's) guest!
What the programme did so skilfully was to weave the sub-plots of each map into their appearance, adding voiceovers to some really quite beautiful close-ups of details. Maps can, admittedly, be quite difficult to decipher, but if the programme taught anything, it was that to trust one's eyes and to ask 'why' a map is so elegantly drawn, 'why' a map shows a cathedral that had not yet been built, can allow for a clearer understanding of the minds and mentalities of people .
As with Monday night's programme, we had an array of speakers including Laurence Worms and Tim Bryars, two of the most knowledgeable people I know.
Incidentally, you may have noticed the footage of myself and Peter arranging Rocque's multi-sheet map of London on a table. (The whole process was speeded up on film, in fact a bit of Benny Hill-esque music wouldn't have been out of place). The assembling of the sheets wasn't as straightforward as we would have liked - I found out later that the director had rearranged the sheets in the wrong order, so that it would take us more time to complete. Watch again and, at one point, we look rather confused.
Great stuff - world domination by maps is proceeding according to plan. Look out tonight for part three on the golden age of cartography, Dutch 17th-century maps. Watch especially as we take the BIGGEST atlas in the world out of its case, and then put it back again.
05 April 2010
The most common statement to greet my ears is 'I love maps'. Now, I do not mean that people accost me in the street and declare their love for all things cartographic. That would be odd. The declaration usually comes from people who have just been told what I do for a living. And as curator of antiquarian mapping at the British Library, my response of late has been to bid them 'prove their love is true' by coming to our exhibition Magnificent Maps: Power, Propaganda and Art, which opens on 30 April.
For those of you of the 'I dislike maps but I don't quite know why' variety, the exhibition offers the following explanation: maps are all around us, so much so that we scarcely notice that they are there. They are an integral part of our visual culture, on walls, on rooftops, as statues, in palaces, schools, homes and offices. They appeal to our pride, our sense of belonging, and our aspirations. And to do this, they employ artistic motifs, devices and meanings. In short, maps are not about geography, and nor is this exhibition. Prepare to be surprised. 
As the title suggests, Magnificent Maps will be a map blockbuster, the like of which has not been seen in Britain since our enormously popular London: A Life in Maps exhibition in 2006. Around 90 of the largest, rarest, most beautiful maps ever created will be on display, many for the first time. Ranging in date from 300AD to 2008, these are display maps, intended to be placed upon walls, not in books or folded and stuffed in one's pocket. We will be showing maps on paper, vellum, parchment, silk, marble maps, tapestry maps, maps on coins and medals, art and propaganda posters. A visual delight, accompanied by a deeper exploration of our histories, societies, and visual language.
Over the coming weeks I'll be keeping you up-to-date with the preparations for the exhibition, providing interesting anecdotes about the maps and their makers, maps in interesting locations, and any other map and exhibition related gossip that lurches across my radar. I hope you'll join me in witnessing the moving of the world's largest atlas, and keep tabs on coverage of the exhibition in the national press, of which there has already been a great deal. I'll also be providing updates on the wide range of related events. Get involved!