13 October 2020
Today we release 18,000 digital images of historic maps, views and texts from the Topographical Collection of King George III into the public domain.
The collection has been digitised as part of a seven-year project to catalogue, conserve and digitise the collection which was presented to the Nation in 1823 by King George IV. This is the first of two planned image releases.
The images are made available on the image sharing site Flickr, which links to fully searchable catalogue records on Explore the British Library.
For the first time, anybody who wishes to can remotely view, search, research and enjoy one of the world's richest and most varied public collections of the history of place.
The idea of remote or virtual travelling is a particularly common one today thanks to the seamless interfaces of online map viewer that simulate the idea of airborne travel and evoke the excitement of discovery. However, the idea of virtual travel has a long history, and is well illustrated by the travel-averse king who resided in his palaces and viewed the world through his collection of maps and views. This is the Google Earth of the late 18th century and the journeys it can take you on are no less informative, intriguing, and instructive of the many facets of past eras.
 What is K.Top?
The King's Topographical Collection (K.Top) is one part of the Geographical Collection of King George III (the other parts are the Maritime and Military collections). The nucleus of the collection was assembled from 1660, but added to considerably after 1760 by the king's librarians and agents. The collection was presented to the British Museum (from 1973 British Library) as a distinct part of the King's Library in 1823,. For more on the history of the collection see this post by Felicity Myrone.
What is in it?
It's probably easier to list what isn't in this collection. It totals around 40,000 printed and manuscript maps, views, charts, texts, architectural plans, prints, atlases and ephemera. The collection is arranged geographically, with around 40% dedicated to the British Isles, one third covering the Europe of the Grand Tour, and 10% for British areas of influence such as North America, the West Indies and India.
 What themes does it include? 
Too many to mention, but here's a sample: landscape, tourism, antiquarianism, architecture, rural life, fine art, agriculture, medieval and church studies, urban planning and development, industrialisation – canals and transport, military history, the history of collecting, the history of cartography, the Grand Tour, royal palaces and stately homes, science and invention, the history of exploration, American Independence. 
As a product of the 16th-19th centuries, the collection is also associated with imperialism, and the role of maps in facilitating imperialist activities both practically and ideologically. We hope that the release of this material will facilitate research and greater understanding of these aspects of the past.  
How can I access it?
18,000 images are available via the file-sharing site Flickr, which you can find here https://www.flickr.com/photos/britishlibrary/albums/72157716220271206
Images from the collection are also tagged George III Topographical Collection https://www.flickr.com/photos/tags/georgeiiitopographicalcollection
There are links to full Marc cataloguing records on Explore the British Library. To view a digital image from the catalogue record on Explore, select 'I Want This' and then 'View Online Digital Item.'
 How about georeferencing?
Glad you asked. For those of you who like a challenge, we have made all of the maps from this release available on our Georeferencer Tool.  See how you get on with geolocating the maps. Some will be easier than others.
What can I do with the images?
You are free to study, enjoy, download and remix these images as you see fit. When doing so, please bear in mind any potential cultural or other sensitivities associated with them. Importantly, we'd really like to know what you are doing with the images so please let us know @BLMaps or by emailing [email protected], we'd love to hear from you.
Who do we have to thank?
So very many people. Here goes:
Generous trusts and individuals including the American Trust for the British Library, Art Scholars Charitable Trust, Blue Rubicon, Viscountess Boyd Charitable Trust, Christies Education, Coles Medlock Charitable Foundation, Cornwall Heritage Trust, Cumberland and Westmorland Antiquarian and Archaeological Society, Daniel Crouch Rare Books, Dunard Fund, The Eccles Centre for American Studies, Englefield Charitable Trust, Edward and Dorothy Cadbury Trust, Hadfield Trust, John R Murray Charitable Trust, Ken Biggs Charitable Trust, Samuel H Kress Foundation, Langtree Trust, London Historians Ltd, London Topographical Society, Maunby Investment Management Ltd , PH Charitable Trust, Peck Stacpoole Foundation,  Pitt Rivers Charitable Trust, Reed Foundation, Sylvia Ioannou Foundation, Swire Charitable Trust, Swinton Charitable Trust, Trefoil Trust, Turtleton Charitable Trust, Cyrus Alai, Caroline and Peter Batchelor, Michael Buehler, Tom Boyd, Richard H Brown, Claire Gapper, William B Ginsberg, Jaime Gonzalez, Martin Halusa, Jerome S Handler, Peter Holland, Tina Holland, Arthur Holzheimer, J Michael Horgan, John Leighfield, Norman Leventhal, Sri Prakash Lohia, Tom and Hilary Lynch, Lynda Partridge, Robert E Pierce, Carolyn Ritchie, David Rumsey,  J T Touchton, Tony and Maureen Wheeler, Peter A Woodsford and others who wish to remain anonymous.
Dedicated project staff Felicity Myrone, Hugh Brown, Alex Ault, Mercedes Ceron, Kate Marshall, Magdalena Kowalczuk, Oliver Flory, Grant Lewis, Rebecca Whiteley, Marianne Yule, Sileas Wood, Tom Drysdale, Tamara Tubb, Fred Smith, Jeremy Brown and Emily Roy.
Also very dedicated British Library colleagues Louise Ashton, Filipe Bento, Kate Birch, Michele Burton, April Carlucci, Alan Danskin, Silvia Dobrovich, Adrian Edwards, Roger Gavin, Tony Grant, Karl Harris, Mahendra Mahey, Scot McKendrick, Victoria Morris, Magdalena Peszko, Gethin Rees, Sandra Tuppen, Mia Ridge and Joanna Wells.
And finally, none of this would have been possible without the efforts of Peter Barber, Head of British Library Map Collections until his retirement in 2015, in promoting the research value, relevance and importance of the King's Topographical Collection to existing and new audiences.
07 July 2020
Welcome to Group three of the British Library's world map world cup competition, where you get to select our favourite historic world map for us. 
This group contains some astonishing artefacts from the last one thousand years, and I'm happy to provide further information on them  to help you make up your mind.
When you have done so, vote for your favourite over on Twitter (@BLMaps). The two maps with the most votes will go through to the quarter finals on Friday.
1. The Anglo-Saxon World Map. Drawn in Canterbury between 1025 and 1050 (Cotton MS Tiberius B.V.).
For a world map containing such a quantity of information, the Anglo-Saxon world map is extraordinarily early. Much of this information relates to the Roman world: key walled towns such as Alexandria, Rome, Constantinople, the Pillars of Hercules at the bottom edge marking the limit of the world as known to Europeans, and lines marking the division of Roman provinces. Its genesis is possibly the first century map ordered by Julius Caesar. At any rate, the people who made the map would have felt themselves still to be living in the great Roman era.
Link to digitised copy: http://www.bl.uk/manuscripts/FullDisplay.aspx?ref=Cotton_MS_Tiberius_B_V/1
Further reading: Peter Barber, 'Medieval world maps; in Paul Harvey, The Hereford World Map: medieval world maps and their contexts (London: British LIbrary, 2006).
David Woodward, 'Medieval Mappamundi' in The History of Cartography volume one (Chicago: CHicago University Press, 1987).
2. The Martellus world map. Drawn by Henricus Martellus Germanus in Florence, around 1490 (Add. MS 15760).  
Henricus Martellus, or to give him his proper name Heinrich Hammer's world map is very similar to the 2nd century geographical picture presented by Claudius Ptolemy (see group one). But there are some updates. For example, Scandinavia appears, as do features taken from an account of the journey of Marco Polo. But the most momentous update is the one that shows the Indian Ocean not as an inland sea, but open, with the southern tip of South Africa navigable. Martellus knew this, because Bartholomeu Dias had sailed around it in 1488. The effect was to contest the hallowed ancient perception of the world, literally cutting part of the map's border away in the process.  
Link to digital copy: https://www.bl.uk/collection-items/world-map-by-henricus-martellus
Further reading: Nathalie Bouloux, 'L' Insularium illustratum d'Henricus Martellus' in The Historical Review 9 (2012).
3. Chinese globe, by Manuel Dias and Niccolo Longobardo. Made in Beijing in 1623 (Maps G.35.)
This earliest surviving Chinese globe was constructed in Beijing by Italian Jesuits, most probably for a scholarly audience, in order to demonstrate geodetic principles such as longitude, latitude, meridians and parallels. Much of the globe, including large passages of text, derives from the giant world map by Matteo Ricci of 1602. But if you want to show things relating to the spherical nature of the earth, you really need a sphere in order to do it properly, hence the globe.
Geodesy had been known in China well before Europe, and we know that globes were also constructed before his one (though they have not survived), but such things were not part of Chinese culture at this time. The 'gift' of scientific enlightenment was used as a Trojan horse by the Jesuits to impose their religion upon China.
Link to digitised copy: https://www.bl.uk/collection-items/chinese-terrestrial-globe
Further reading: Wallis, Helen and E.D. Grinstead, 'A Chinese Terrestrial Globe A.D.1623' in British Museum Quarterly, XXV (1962).
4. World map by Antonio Sanches, drawn in Lisbon in 1623 (Add. MS 22874)
This is an extraordinarily beautiful, large world map, emphasising coasts and navigational features. Delicate and elegant, blues and golds, painted and coloured with consummate skill. This indicates that it was not intended to go on board a ship. It presents the Portuguese view of the word, celebrating Portuguese influence well beyond Iberia with the Quinas (Portuguese arms) stamped upon areas as far afield as South America and China. The map also contains a significant (to say the least) quantity of religious imagery, the spread of Catholicism being a pillar of this world view, and violently enforced. Ironically, given the confidence this map oozes, by 1623 Portuguese dominance in world affairs was being increasingly contested by that European upstart, the Dutch.
Link to digital copy: https://eresources.nlb.gov.sg/printheritage/detail/93fd9675-b190-4dd2-a485-6bc1c78f8276.aspx
Further reading: Maria Fernanda Alegria, Suzanne Daveau, João Carlos Garcia, Francesc Relaño,,  Portuguese Cartography in the Renaissance in The history of cartography volume three: cartography in the European Renaissance (Chicago: Chicago University Press, 2010).
 
06 July 2020
Hello and welcome to Group two of our British Library world map world cup. 
In every world cup there tends to be a group of death. This group is the football equivalent of Brazil, Germany, Argentina and Spain all together. So I hope the following descriptions, links and images will provide you with what you need to choose between them.
Vote for your favourite over on Twitter (@BLMaps). The top two maps will go through to the quarter finals on Friday.
1. Vesconte-Sanudo Mappamundi.
Drawn in Venice or Genoa in around 1325 (Add. MS 27376*).
This map is an extraordinary hybrid between a traditional 'mappamundi' and a portolan or sea chart. It was drawn by the Genoses chartmaker Pietro Vesconte to illustrate Marino Sanudo's mysteriously-titled book 'Secret book of the Faith of the Cross.' The book was presented to Pope John XX in order to persuade him to give his blessing to a Christian Crusade to invade the Holy Land. Other maps in the book illustrated the route to the Holy Land and the goal of the proposed mission: Acre and Jerusalem.
The world map is particularly clever because, most unusually, it consciously played down Christian iconography in order to present the Pope with an image of Christianity in crisis.
Link to digitised copy: https://www.bl.uk/collection-items/liber-secretorum-fidelium-crucis-by-marino-sanudo
Further reading: David Woodward, 'Medieval Mappamundi' in The History of Cartography volume one (Chicago: Chicago University Press, 1987). 
2. World map by Pierre Desceliers, 1550.
Drawn in Dieppe, 1550 (Add.MS 24065).
Descelier's map is perhaps the crowning achievement of the Dieppe School of French chartmakers; a large planisphere focused upon navigational information (it has dual orientation indicating that it was to be viewed upon a table) but also corresponding to the idea of a visual encyclopedia of everything occurring in the world. The map contains the arms of Henri II of France and the Duc de Montmorency and could have been owned by either. Of particular interest is its depiction of areas of North America then only recently encountered by Jacques Cartier and the unusual arrangement of South East Asia and Australasia entitled Java La Grande that would flummox Europeans up to and beyond the journeys of James Cook two centuries later,
Link to digitised copy: https://en.wikipedia.org/wiki/Pierre_Desceliers#/media/File:Map_of_the_world_-_Pierre_Desceliers,_1550_-_BL_Add_MS_24065.jpg
Further reading: Sarah Toulouse, 'Marine cartography and navigation in Renaissance France' in The history of cartography volume three, part two: cartogrpahy in the European Renaissance (Chicago: Chicago University Press, 2007).
3. Joan Blaeu world map, 1648.
Engraving on 21 sheets, printed in Amsterdam, 1648 (Maps KAR.(1-2.).). 
Blaeu's gargantuan map is regarded as the high water mark of Dutch cartography, and that's saying something given the quality of 17th century Netherlands cartography. There are two main reasons for this high regard. Firstly, the technical skill and artistry involved in creating such a high-quality printed map over 3 metres wide. The second is the range and quantity of first-hand geographical information it shows. Blaeu was chief cartographer of the Verenig Oostindische Compagnie (VOC), charged with compiling charts from the latest information gathered from company ships. Instead of secreting this commercially sensitive information like the Portuguese and Spanish did, Blaeu stuck it on a publicly available map. For the Dutch, nothing was more important than business.
The map was used as the model for the giant floor mural of Amsterdam Town Hall. There are a small number of copies still in existence, this one was owned by Charles II. 
Link to digitised copy: https://www.bl.uk/collection-items/klencke-atlas
Further reading: Cornelis Koeman, Günter Schilder, Marco van Egmond, and Peter van der Krogt, Commercial Cartography and Map Production in the Low Countries, 1500–ca. 1672 in The history of cartography volume three: cartograpy in the European Renaissance (part two).
4. Ch' ōnhado (Map of All Under Heaven), c. 1800.
Woodcut, printed in Seoul (Maps C.27.f.14.)
This incredible map, which is part of a set of maps showing the world and regions of Korea, is one of select group of Korean world maps produced during the late 18th and 19th centuries. They show the world oriented to the east and centred upon East Asia. Look carefully and you can make out the eastern coast of China, Beiing a large red symbol, with the yellow river and Great Wall nearby. The rest of the world are scattered islands on the periphery. These maps were far more basic than earlier Korean-produced maps, and it has been suggested that one of their intended audiences was tourists.
Link to digitised copy: https://www.bl.uk/collection-items/cheonhado-world-map
Further reading: Gari Ledyard, 'Cartography in Korea' in The history of cartography volume two book two: cartography in the traditional east and East Asian societies (Chicago: Chicago University Press, 1994).
11 November 2016
Adult colouring books. Leave it to the kids? Whether you're addicted to them, or bamboozled by their appeal, they're probably here to stay. Adult colouring atlases (currently for sale in the British Library shop) are particularly interesting, and not so peculiar as you might think because before printed colour came in during the late 19th century, by hand is exactly how maps were coloured.
It wasn't so usual to use colouring pencils in, say, the 18th century. Instead it was usually a water-based paint such as watercolour or the thicker gouache which could provide a brighter and smoother finish.
Daniel Stoopendaal after Isaac de Moucheron, 'Plan or View of Heemstede in the province of Utrecht'. Amsterdam: [N. Visscher], ca. 1700. Maps C.9.e.9.(25.).
There were certainly expert map colourists, for example the artist who coloured prints such as the one above from the British Library's sublime 18th century Beudeker Atlas (online version here). Something to aspire to, colouring book enthusiasts.
But colouring maps wasn't as glamorous a pastime as you may think. There are rumours, for example, that among others the 19th century London mapmaker John Tallis used child labour for the colouring of his maps. Looking closely at the outline colour in the map below, I think we can all agree that a gold star was probably not so forthcoming.
John Tallis, 'North America'. From Tallis's Illustrated Atlas and Modern History of the World. London, 1851. Maps 5.e.25.
So when you next find yourself daydreaming as you delicately shade pale pink just the right side of a printed line, spare a thought for those browbeaten children who would likely have had at least 50 atlases to complete before bedtime.
Our exhibition Maps & the 20th Century: Drawing the Line is now open. 
23 April 2010
Ah, beauty is all around us: in the air we breathe, the people we meet... and the maps we look at. Last night's programme on BBC4 focused upon the incredible cartographic production of the 16th- and 17th-century Dutch printing houses, which managed to fuse scientific precision and elegant artistry within a range of maps, atlases and globes of supreme quality. We had a few surprises: for example, the fact that the atlas by Mercator - father of the atlas - bombed when it was first published. Who would have thought, from such an ignominious beginning...?
You were treated also to the now very well-known Klencke Atlas of 1660 being taken out of its case and looked at on a table. Not the sort of thing to take to read on a train, the Klencke has always been seen as one massive book, which of course it is. However it is really a 'composite' atlas: that is, a book made up of many previously published maps, especially for one purpose. The fact that these maps were all originally intended as wall maps says something of the huge over-the-top gesture made by Klencke when he presented it. Perhaps ironically, it is purely because of the fact these maps were bound up in a book that they have survive.
Early next week we shall be moving the atlas into the PACCAR gallery, which will be a photo opportunity in itself. But with all the photographs and coverage the atlas has had, I still do not think that anyone can properly appreciate its scale and conception until they've stood next to it. I've never been scared by a book before (not even Enid Blyton's Five go Down to the Sea), but the unnerving feeling of standing next to a book both bigger and heavier than oneself needs to be experienced by all. Opportunity to see it from next Friday. 
21 April 2010
A tweet-like posting to say that all programmes in this excellent BBC4 series are now available to watch again and download.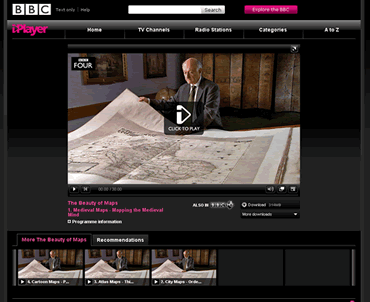 Tom will be blogging about the third and fouth programme soon.