28 April 2020
In a previous blog I described the best free-to-access digitised British Library maps available on the Library's own site. But there are more. Lots more!
Where we've worked with other institutions, organisations and individuals on digitisation, we've been pleased for those institutions to host the resulting content on their own sites. Often, the maps we've provided form a subset of a wider collection drawn from a range of other sources. So it isn't just about the spirit of collaboration, but the enormous research benefits to be drawn from a broader and more integrated picture.
In the fullness of time you can expect to see this content also hosted on the BL's Universal Viewer. For now, here are some of the riches and where to find them.
Wikimedia Commons Collections
https://commons.wikimedia.org/wiki/Category:Collections_of_the_British_Library
There's a ton of British Library content on Wikimedia Commons which is great because of the open access nature of the site and its clear usage terms. Maps are included in a range of categories, including the Off the Map videogame competition and Images Online (the British Library's commercial imaging site). But the main category, labelled maps collections, contains 28,000 images. Three main ones are
Ordnance Surveyor drawings - https://commons.wikimedia.org/wiki/Category:Ordnance_Survey_Drawings
These 321 maps are some of the earliest works by the Ordnance Survey of Great Britain, which was formally established in 1791 to map southern England in response to the threat of invasion from France. The phrase 'scope-creep' is something of an understatement when applied to the OS, whose work continues to the present day. These large 'fair drawings' are the maps produced by the earliest Ordnance Surveyors of parts of England and Wales from the 1790s to the 1840s, and it's from these that the one inch to the mile 'Old Series' printed maps were derived. The maps were received in 1958. For close, local work, there's really nothing better than these for the period.
Goad fire insurance maps - https://commons.wikimedia.org/wiki/Category:Goad_fire_insurance_maps_from_the_British_Library
Charles Goad's maps are incredible windows into Britain's urban past – stupidly detailed late-19th and early 20th century maps of various towns produced in order to assist the calculating of fire insurance risk. To do this, the maps included not only tell us the shapes and forms of buildings, but what they were made of, and who was using them and for what. Over 2,500 here for you to savour. Goad mapped other world cities including a large number of Canadian towns.  
War Office Archive - https://commons.wikimedia.org/wiki/Category:War_Office_Archive_%E2%80%93_East_Africa
Thanks to the Indigo Trust, over 1800 East Africa maps and materials from the wider WOA have been digitised and placed here for your study and enjoyment. They're also georeferenced. Hurrah!
Maps of Qatar and the Middle East
https://www.qdl.qa/en/search/site/?f%255B0%255D=document_source%3Aarchive_source&f%5B0%5D=source_content_type%3AMap
Through the Library's partnership with the Qatar National Library, over 1300 maps of the area, drawn mostly from the India Office Records, have been catalogued and uploaded onto their digital library portal.
American Revolutionary War Maps
https://collections.leventhalmap.org/collections/commonwealth:hx11xz34w
In collaboration with the Norman Leventhal Map and Education Center at Boston Public Library, 377 maps of North America and the West Indies from the American Revolutionary War Era were digitised and placed on the Center's educational site. Ten other partners including the Library of Congress also contributed material. The British Library's contribution includes maps from the King's Topographical Collection and Royal United Services Institute, which itself contains maps from the collection of Jeffery Amherst (1717-1797), commander-in-chief of British forces during the Seven Years' War.
Japanese produced historic maps
https://mapwarper.h-gis.jp/maps/tag?id=british+library
We digitised all of our pre-1900 maps of Japanese origin thanks to a wonderful collaboration with Ritsumeikan University, Kyoto. And what a collection – over 300 maps drawn from the Map Collection, the Western Manuscripts Collection, and Asian and African Studies Collection. Some of these maps arrived from earlier private libraries including the Engelbert Kaempfer and Philipp Franz von Siebold Collections. Some of them are very big indeed. You can access these maps through the Ritsumeikan University MapWarper portal.
Maps of Singapore and South East Asia
https://eresources.nlb.gov.sg/printheritage/browse/Charts_Maps_British_Library.aspx
The five-year project between the British Library and National Library of Singapore, generously funded by William and Judith Bollinger, enabled us to digitise and upload 300 maps onto the NLB Singapore's web portal. These cover Singapore and its wider geographical context. 
Flickr maps
https://www.flickr.com/photos/britishlibrary/albums
In 2013 the British Library Labs' Mechanical Curator project placed 1 million British Library images onto Flickr. They are images drawn from books digitised as part of the Microsoft Books project, and include an enormous wodge of maps ('wodge' in this sense meaning tens of thousands of maps). See this individual album containing over 25,000 maps https://www.flickr.com/photos/britishlibrary/albums/72157648036792880
These are the maps which are currently being Georeferenceed via the Library's Georeferencer tool http://britishlibrary.georeferencer.com/start
The Roy map of Scotland
And finally, just one map, but a very large and important one. This is the fair copy of General William Roy's (1726-1790) map of Scotland produced between 1747 and 1755. The map is a landmark in British mapping for applying military surveying methods to a very large area, and is regarded as the precursor to the Ordnance Survey. It's also highly regarded artistically, since it includes the hand of celebrated watercolour artist Paul Sandby (1731-1809). The map is part of the Kings Topographical Collection, having formed part of the collection of the Duke of Cumberland.
We're delighted for the National Library of Scotland to host this map on their website, given its signal national importance. And they do a very good job of it too, with a superb interface and numerous layers, including a 3D one.
****************
I hope you find something here to interest and inspire you – and I'd be very glad to learn of any comments or questions you have, either by commenting here or on Twitter at @BLMaps.
Tom Harper
21 April 2020
During the current pandemic, the next best thing to heading outdoors is (of course) to lose yourself in the printed landscapes of maps instead. In our London flat last weekend, I couldn't help reaching for my Ordnance Survey Explorer sheets of the English Lakes and tracing the routes of Easter walks in years gone by.
Although busy depicting roundabouts and service stations, road maps and atlases also give us armchair explorers a flavour of the landscapes, the countries and the times we move through in our mind's eye.
This example from the United States comes from a time when the American highway map was at its peak, when the automobile was an icon of progress, and state departments and commercial oil companies handed out road maps in their millions, free of charge.
Front and back of North Carolina Official Highway Map, 1967. Held at State Archives of North Carolina
While useful to many, these maps were also the vehicles for carefully chosen images and text promoting industry, nature, social progress and Christian values. A Motorist's Prayer on this sheet begins, 'Our heavenly Father, we ask this day a particular blessing as we take the wheel of our car...'
Detail of North Carolina Official Highway Map, 1967
A similar agenda is found on the other side of the Iron Curtain, where a Soviet regional map from the same year focussed on places and monuments of revolutionary history, industrial mines (asbestos, brown coal, gypsum...), pine forests and swan nesting sites.
Details from map of Orenburg Oblast, GUGK, 1967. BL Maps 35885.(63.)
Industrial prowess is emphasised again in the strong design on the cover of this regional atlas.
Atlas of Orenburg Oblast, 1969. BL Maps 54.e.48.
But unlike in Britain or America, the Soviet general public had no large scale Ordnance Survey or US Geological Survey maps to turn to for raw topographical detail. These were restricted to the military. Even generalised maps were deliberately distorted during the 1970s to make them harder to use for navigational and targeting purposes, should they fall into the wrong hands.
After the break-up of the Soviet Union, restrictions on sophisticated military mapping were relaxed, and elements of larger scale maps made their way into practical road atlases, amongst other products, for the general public. The evolution of these maps from military specification to a hybrid form more closely resembling the typical road map can be traced over the following years.
Left: Detail from Topographic map of the world at scale 1:200 000 produced by the Soviet Army General Staff, Sheet NM 40-2, 1987. BL Maps Y.1575.
Right: Equivalent detail from Orenburg Oblast, one of the Road Atlases of Russia series published by Roskartografia, 2003
In the road atlas on the right new colouring distinguishes road types and routes, and makes them more prominent while rivers fade away, and symbols are added to indicate petrol stations, medical facilities, museums and places of interest.
Detail of Sheet NM 40-2, Soviet Army General Staff, 1987
Equivalent detail from Orenburg Oblast Road Atlas, 2003
Precise bridge dimensions and maximum loads have been removed, though contours and direction of river flow remain, and the close mesh of the military grid has been replaced by a broad system of squares that correlates with the place name index at the back.
Cover of Orenburg Oblast Road Atlas, 2003
At last the landscape was revealed, and civilians could take to the open road better equipped.
And who knows, perhaps even now fingers are tracing imaginary routes from armchairs throughout Russia...
Nick Dykes
Further reading:
Denis Wood and John Fels, Designs on Signs/Myth and Meaning in Maps, in Cartographica vol 23 no 3, 1986, pp 54–103.
Zsolt G. Török, Russia and the Soviet Union, Fragmentation of, in The History of Cartography, vol 6, University of Chicago Press, 2015, pp 1376-1379.
Alexey V. Postnikov, Soviet Cartography, 1917-1991, in Cartography and Geographic Information Science vol 29(3), 2002, pp 243-260.

10 December 2018
'Atlas: a world of maps in the British Library' is a different sort of atlas to, say, the Times world atlas or the AA motoring atlas, because you would never use it to find your way from A to B or peruse potential venues for your next holiday.
This is largely because the maps in it are mostly pretty old and do not all conform to our modern idea of accuracy.
The most common question people ask me about an old map is "is it accurate?" On such occasions I would like to be able to sound one of those alarms like in the BBC quiz show QI. But to be polite I tend to answer that "it is as accurate as it was possible to be" or "it is accurate for its time."
Angelino Dulcert (atrib.), [A portolan chart of the Mediterranean Sea (detail)], c. 1339. Add.MS 25691. 
Accuracy is relative and incredibly subjective. For example, 14th century 'portolan' sea charts look freakishly accurate because although they are really old we can recognise familiar coastlines in them. Yet if we look more closely, we see that each cape, bay and inlet is exaggerated and distorted in size because – guess what? – the map had to be legible for its user.
William Roy, [A map showing the Trossachs, part of the fair copy of the military survey of Scotland], 1747-55. Maps CC.5.a.441., sheet 15 (part).
William Roy's map of Scotland of 1747-55 looks very accurate, and indeed is regarded by some as one of the first modern maps and a precursor to the Ordnance Survey, but it hasn't been geodetically measured, and the sweeping hill forms sit more in the realms of landscape art.
Anon. [Map showing the position of the Indian tribes to the north-west of South Carolina, copied from a painting on deer-skin by an Indian chief, and presented to Sir Francis Nicholson], c. 1719.  Add. MS 4723.
The 1719 Native American map of Carolina is woefully inaccurate by these standards, but more accurate than anything else in its description of the complex interrelations between tribes (shown as circles) and European colonial powers (squares).
Few maps produced before the 19th century will pass muster if judged by contemporary standards of mathematical accuracy. But if we judge old maps by contemporary standards we can miss the genuinely insightful perspectives they provide on the periods and people they concerned.
They can also help to shine a light back onto ourselves. For who would have thought that a modern and 'accurate' map such as a motoring atlas would exaggerate and distort features such as roads in order for users to read them more clearly?
'Atlas: a world of maps from the British Library' is out now.
Tom Harper
12 May 2017
The first atlas of England and Wales was published in 1579. It is a landmark in the cartography of Britain, containing maps of the counties of England and Wales by the mapmaker Christopher Saxton, engraved mostly by Dutch artists but also the odd Englishman such as Augustine Ryther.
The maps are believed to have been commissioned by Queen Elizabeth's secretary of state William Cecil Lord Burghley during the 1570s. Its purpose was security, defense and administration during a period of internal intrigue and international instability, notably tension with Catholic Spain. 
Burghley's own copy of the atlas, held in the British Library (Royal MS.18 D.III.)  contains his notes identifying Catholic families and potential justices of the peace. Shannon and Winstanley suggested the author of one of the atlas's maps of Lancashire to be none other than Francis Walsingham's cryptographer Thomas Phelippes.
Thomas Phelippes(?), [Map of Lancashire], c. 1576. British Library Royal MS.18.D.III 
England had enemies indeed during the 1570s, and war would break out with Spain in 1585. So why, by contrast to the atlas's larger scale county maps of snug and safe Monmouthshire and Leicestershire did Saxton provide only a puny small scale map for vulnerable south east England?
Christopher Saxton, Cantii, Southsexiae, Surriae et Middlesexiae comitat. London, 1576. British Library Maps C.3.bb.5.
In 1801 again under threat of war, this time with France, the Ordnance Survey made sure Kent was mapped before anywhere else.
William Mudge / Ordnance Survey, The county of Kent, with part of the county of Essex. London: William Faden, 1801 (1809). David Rumsey Historical Map Collection
Peter Barber pointed out that the elaborate decoration of Saxton's south east map could not distract from the fact that it wasn't really fit for purpose. Barber also suggested the most likely reason for the rather pathetic map: Saxton was skint, short on funds and economising on engraving and production costs.
War isn't really the best time to be scrimping and saving, and it is around the time of the south east map (dated 1576) that a new paymaster, Thomas Seckford, was drafted in by Burghley to see the production through.
The eventual Spanish invasion was defeated in 1588. Then there was plenty of money to commission extravagant celebratory copper engraved maps of the English victory over the Armada.
Robert Adams, [The British Isles with the route of the Spanish Armada] from  Expeditionis Hispanorum in Angliam vera descriptio. Anno Do. MDLXXXVIII. R. Adamo authore. A. Ryther sculpsit. London, c. 1590. British Library Maps C.3.bb.5
A set of these Armada engravings is bound up with another of the British Library's copies of Saxton's atlas (Maps C.3.bb.5), believed to belong to James I. The rest is history. 
27 January 2017
Today we are accustomed to using maps on our mobiles,  tablets and in our cars. The situation was very different a century ago. From roughly the end of the nineteenth century the growth in popularity of outdoor activities such as cycling and rambling and the increasing availability of cars and motorbikes allowed urban dwellers get away from their normal surroundings. In turn this changed the way people enjoyed their free time and how they used maps. It also represented a great business opportunity for map companies.
In this blog I look at the early commercial activities of Britain's national mapping agency the Ordnance Survey, and how after World War I, it reshaped the way its maps were regarded by the general public through the use of artistic and colourful map covers.
The Ordnance Survey was founded in 1791 but with origins stretching back further. However, it was not until late 1890s that it started to publishing folded maps with covers. The design of these covers was basic: the first design was a title on red cloth card, which was changed to white later on, and still later a simple diagram of the coverage area was included on the cover. These designs were the same regardless of the scale of the map.
These plain map covers contrasted with the products of commercial map firms like Bartholomew and George Philip, whose maps (themselves based on Ordnance survey maps) had appealing and attractive cover designs.
Accordingly, when World War I ended in 1918, Ordnance Survey decided to market their small scale products better in order to increase sales and reach new customers. The attention was directed to map cover design. A professional artist, Ellis Martin, was appointed to create attractive illustrations for their tourist and district maps. Martin joined the Ordnance Survey in 1919. During the years that he was working he raised the standard of map cover art to high levels. 
Ellis Martin, Tourist Map Forest of Bowland. Southampton: Ordnance Survey Office, 1934. British Library Maps 209.d.2.(3).
One of his most popular covers depicts a young man smoking a pipe leaning against a fence looking at an Ordnance Survey map. The scene is completed with cyclists, a car and a coach. This cover epitomises the period, emphasising how people from urban areas could enjoy their free time pursuing new leisure activities such as cycling, rambling or motoring with the help of maps. People peruse maps on other covers too, emphasising the universality of map use, maps as the perfect tool to enjoy their day out.
Ellis Martin, District Map The Chilterns. Southampton: Ordnance Survey Office, 1938. British Library Maps 209.d.2.(30).
In another of Martin's well-known covers we can see a couple walking through a valley. The design is so evocative that it makes you want to buy a map and go there. The inclusion of a woman enjoying outdoor activities illustrates how the role of women in society started changing after the First World War. Women appear in other similar maps cover designs, suggesting a modern touch from Ellis Martin artwork which is absent from other artists of the same period.
These two covers do not depict a particular place and so were used as the covers of maps of different parts of the country.  The next covers were designed for particular places depicting an identifiable landmark or symbol of that place.
Ellis Martin, Tourist Map The Middle Thames. Southampton: Ordnance Survey Office, 1923. British Library Maps 209.d.(30).
The cover for the Middle Thames is one of the best of its kind. It shows the river and elegantly dressed people enjoying boating in lovely weather. The whole picture resembles certain French Impressionist paintings in the use of light and the composition.  The artwork is so enticing that it could almost sell the map on its own!
One of the most unusual of Martin's covers is the cover of a map of part of Britain produced for the solar eclipse of 27th June 1927. It is a unique and rare cover for a unique and rare event. On the cover the eclipse is depicted in a ghostly landscape in black and grey, which serves to recreate the atmosphere. This cover shows Ordnance Survey's marketing acumen in taking advantage of the event, publishing a map with limited usability that became a souvenir and collector's item afterwards.
Ellis Martin, The Solar Eclipse 29th June, 1927. Southampton: Ordnance Survey Office, 1927. Cover not held in The British Library.
Ellis Martin, Roman Britain. Southampton: Ordnance Survey Office, 1924. British Library Maps 1135(45).
Another group of Martin's covers are the Archaeological & Historical maps series. These include covers such as Seventeenth Century England (1930), Neolithic Wessex (1932) and The Trent Basin (1933). But the one that really stands out from the others is Roman Britain, first published in 1924 and reprinted in full colour in 1979. This is an excellent example of Martin's attention to detail. This cover took advantage of the growing interest for ancient history in the early twentieth century. It encouraged the public to discover history on their doorstep.
Another great Ordnance Survey artist was Arthur Palmer. His illustrations tended to have an old fashion aura, more reminiscent of the Edwardian era than the roaring twenties when they were created. This can be seen even in the Art-Nouveau calligraphy that he uses, with asymmetric and elongated letters. This gives to his covers a special charm that made them very attractive to the public.
Arthur Palmer, Tourist Map Oban. Southampton, Ordnance Survey Office, 1920. 
Arthur Palmer had a talent for landscape and architectural illustration. His first cover for Ordnance Survey was of Oban (1920). This cover was part of a series for Scottish tourist resorts. In other covers such as the one for Oxford (1920) and Liverpool (1924) we can see his skill for architectural drawing.
Arthur Palmer, District Map. Oxford and district. Southampton, Ordnance Survey Office, 1921. British Library Maps 209.d.2.(18).
After World War II, Ordnance Survey redesigned its covers with designs that reflected the austerity of the post-war years. Since then, map cover designs have been more standard and less artistic and have arguably never again reached the high levels of artistic creativity shown during the inter-war years.
The British Library holds some of these covers. However many of them were discarded at that time. Perhaps it was felt that they were not important from the cartographic point of view with no regard to their artistic value. Nowadays, they have become collectors' items and the value is arguably as much in the covers than the actual maps.
If you would like to see some of the covers you can contact the Maps Reference Team at Maps. See a number of Ordnance Survey covers on sdisplay in our current exhibition Maps and the 20th Century: Drawing the Line. 
For further reading:  BROWNE, J. P. (1991). Map cover art. Southampton, Ordnance Survey (Maps Ref. G.2b (36)).
Carlos Garcia-Minguillan
19 October 2016
In the 20th century maps truly arrived at people's fingertips. People learnt to read maps and to use them for a wide number of pursuits, especially (though not exclusively) finding their way around.
The Ordnance Survey's National Map Reading Week initiative is motivated by a concern that people have stopped being able to read maps in this age of automatic mapping (where people are instead increasingly read by maps). There is a strong feeling that map-reading should be a basic life-skill. It is a feeling which arose during the early decades of the 20th century  as maps became important tools in education and way-finding, as peoples' horizons widened to beyond their immediate vicinities, and as mobility, tourism and general 'open-air culture' became the norm for much of western society.
Henry James Deverson and Ronald Lampitt, The Map That Came to Life. Oxford, Oxford University Press, 1948. Cup.1245.aa.53.   
One of the most celebrated 20th century children's map reading guides is showcased in our forthcoming exhibition Maps and the 20th Century: Drawing the Line. Published in 1948, Ronald Lampitt and James Deverson's The Map that Came to Life follows the story of John and Joanna who use an Ordnance Survey map to walk to town. As they pass over fields, past houses and along footpaths, their surroundings are compared with map adjacent on the same page. The fields turn into contoured blank spaces, houses become black cubes, footpaths dashed lines. Map literacy is acquired by the reader as they accompany the children on their virtual journey, matching map with reality.
In The Map that Came to Life the map is portrayed as an objective, precise and above all truthful mirror of nature. And this inherent trustworthiness enabled maps to become important features of the lives of successive generations of people.  Over time maps became able to serve people with growing ease, particularly thanks to automated mapping and Geographical Information Systems (GIS) from the 1990s.
But was this growing ease without cost? The implications of what commentators such as the historian J.B. Harley felt to be a relinquishing of people's control over maps were voiced even before the end of the century. But the danger that society could forget how to use maps would have been widely viewed as collateral against the massive pace of positive technological change, if it was thought of at all.
Does the mapping impulse lie dormant but still active within society? National Map Reading Week may tell us whether we really want to find out.
10 May 2013
The Library's unique collection of Ordnance Surveyors' Drawings is now available under new terms, making the maps freely accessible and usable in digital tools.
The Ordnance Surveyors' Drawings (OSDs), compiled between 1789 and c.1840, represent the first continuous topographic mapping of England and Wales and are the most detailed record of the landscape preceding full-scale industrialisation in the mid-19th century. These original manuscript maps, drawn primarily at scales of ca. 1:21,120 and 1:31,680, with coastal areas of military significance at ca. 1:10,560, depict the whole of Wales and England south of an east-west Preston-Hull line.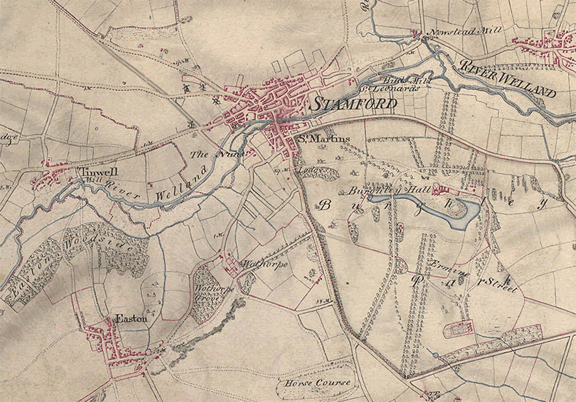 Detail of OSD 267(pt.2). Ordnance Surveyors' Drawings. Boyce, draughtsman. 1814
Though these ink-on-paper drawings formed the cartographic basis for the first published Ordnance Survey one-inch mapping, they contain topographic details not captured in the smaller-scale, printed series. The detail above of the 1814 OSD 267(pt.2) was drawn at a scale of two-inches-to-the-mile and indicates field boundaries, land cover, water courses, relief, roads and footpaths, and built features, including the presence of stone walls, drawn here in red.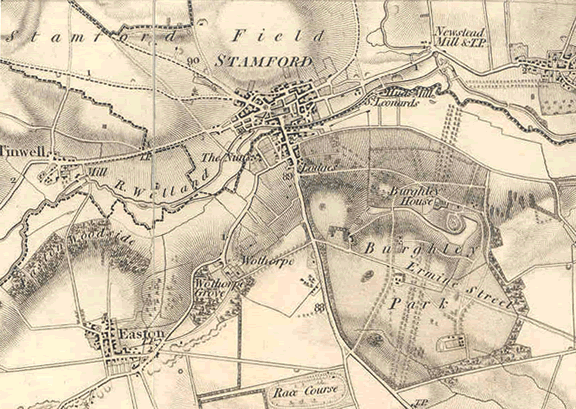 Detail of Sheet 64. Ordnance Survey,  Old series,  First ed.  1:63,360. 1824
In contrast, the published sheet above in the First Ed (Old Series), printed in 1824 and based on the OSD, was by necessity generalised, due to the smaller scale (one-inch-to-the-mile) and limitation to black-and-white. 
The OSDs were georeferenced in 2012, and partly as a result of the immense success of that public crowdsourcing effort – BL Georeferencer - scanned images of the maps have been "opened up" for reuse under an Open Government Licence. A small sample of four OSD images have been posted to Wikimedia Commons here. The remaining 400 or so will follow; if you wish to be notified when it is complete, contact georeferencer@bl.uk
Another exciting development with these maps is their inclusion in British Library Labs, a new project supporting research and development with BL digital data that offers direct curatorial and financial support, including an expenses-paid residency at the British Library. We are hoping that researchers and developers with an interest in cartographic history and geospatial data will participate, and we'll see these maps put to new and dynamic uses online!