21 April 2020
During the current pandemic, the next best thing to heading outdoors is (of course) to lose yourself in the printed landscapes of maps instead. In our London flat last weekend, I couldn't help reaching for my Ordnance Survey Explorer sheets of the English Lakes and tracing the routes of Easter walks in years gone by.
Although busy depicting roundabouts and service stations, road maps and atlases also give us armchair explorers a flavour of the landscapes, the countries and the times we move through in our mind's eye.
This example from the United States comes from a time when the American highway map was at its peak, when the automobile was an icon of progress, and state departments and commercial oil companies handed out road maps in their millions, free of charge.
Front and back of North Carolina Official Highway Map, 1967. Held at State Archives of North Carolina
While useful to many, these maps were also the vehicles for carefully chosen images and text promoting industry, nature, social progress and Christian values. A Motorist's Prayer on this sheet begins, 'Our heavenly Father, we ask this day a particular blessing as we take the wheel of our car...'
Detail of North Carolina Official Highway Map, 1967
A similar agenda is found on the other side of the Iron Curtain, where a Soviet regional map from the same year focussed on places and monuments of revolutionary history, industrial mines (asbestos, brown coal, gypsum...), pine forests and swan nesting sites.
Details from map of Orenburg Oblast, GUGK, 1967. BL Maps 35885.(63.)
Industrial prowess is emphasised again in the strong design on the cover of this regional atlas.
Atlas of Orenburg Oblast, 1969. BL Maps 54.e.48.
But unlike in Britain or America, the Soviet general public had no large scale Ordnance Survey or US Geological Survey maps to turn to for raw topographical detail. These were restricted to the military. Even generalised maps were deliberately distorted during the 1970s to make them harder to use for navigational and targeting purposes, should they fall into the wrong hands.
After the break-up of the Soviet Union, restrictions on sophisticated military mapping were relaxed, and elements of larger scale maps made their way into practical road atlases, amongst other products, for the general public. The evolution of these maps from military specification to a hybrid form more closely resembling the typical road map can be traced over the following years.
Left: Detail from Topographic map of the world at scale 1:200 000 produced by the Soviet Army General Staff, Sheet NM 40-2, 1987. BL Maps Y.1575.
Right: Equivalent detail from Orenburg Oblast, one of the Road Atlases of Russia series published by Roskartografia, 2003
In the road atlas on the right new colouring distinguishes road types and routes, and makes them more prominent while rivers fade away, and symbols are added to indicate petrol stations, medical facilities, museums and places of interest.
Detail of Sheet NM 40-2, Soviet Army General Staff, 1987
Equivalent detail from Orenburg Oblast Road Atlas, 2003
Precise bridge dimensions and maximum loads have been removed, though contours and direction of river flow remain, and the close mesh of the military grid has been replaced by a broad system of squares that correlates with the place name index at the back.
Cover of Orenburg Oblast Road Atlas, 2003
At last the landscape was revealed, and civilians could take to the open road better equipped.
And who knows, perhaps even now fingers are tracing imaginary routes from armchairs throughout Russia...
Nick Dykes
Further reading:
Denis Wood and John Fels, Designs on Signs/Myth and Meaning in Maps, in Cartographica vol 23 no 3, 1986, pp 54–103.
Zsolt G. Török, Russia and the Soviet Union, Fragmentation of, in The History of Cartography, vol 6, University of Chicago Press, 2015, pp 1376-1379.
Alexey V. Postnikov, Soviet Cartography, 1917-1991, in Cartography and Geographic Information Science vol 29(3), 2002, pp 243-260.

31 March 2020
In my last post I posed a set of tricky (or maybe not so tricky) questions on five of our 3D historic globe models. So how did you do? Find out below.
Blaeu's terrestrial globe (1621)
Where is the Le Maire strait, sailed through by a Dutchman (unsurprisingly named Le Maire) in 1616 and making an early appearance on this globe?
The strait is at the southern extremity of Tierra del Fuego at the bottom of South America. Jacob le Maire and William Schouten sailed through it in 1616.
2. Who engraved the globe? Clue: he's signed it somewhere.
Joshua van den Ende (1584-1634), one of Blaeu's favourite engravers, His name appears (below Blaeu's cartouche) so he must have been well-regarded, since most map engravers weren't important enough to be allowed to sign their work.
3. Blaeu's globe pre-dates the introduction of the 'Island of California' on maps by some years, but can you identify another large peninsula which appears as an island here?
1. Which late 16th century Dutch expedition first recorded stars in the southern hemisphere, and can you name 3 of these new constellations appearing on this globe?
Pieter Keyser (1540-1596) and Frederick de Houtmann (1571-27) on two voyages in 1595-7 (to modern-day Indonesia) and 1598 (De Houtmann only). The constellations reflect what to Europeans were new and extraordinary things from far-away places: a toucan, a flying fish and a fly-gobbling chameleon. 
2. Which famous astronomer was Blaeu's teacher?
The Danish astronomer Tycho Brahe (1546-1601). Willem Blaeu spent 1594-6 at his observatory on the island of Hven. Brahe devised a model of the solar system that was a sort of hybrid combination of Copernicus' heliocentric system and the traditional Ptolemaic one, with the earth at the centre but the planets revolving around the sun as it moved around the earth.
3. Can you spot a supernova? Which constellation is it in?
The star explosion happened in Cygnus in 1600, and Blaeu is supposed to have witnessed it himself.
Thomas Tuttell, celestial globe of 1700
1. Who / what does the constellation Cor Caroli represent, and which modern constellation would it lie in today?
Cor Caroli – the 'Heart of Charles', was created by Sir Charles Scarborough to commemorate the restoration of the monarchy (Charles II) in 1660. Cor Caroli isn't actually a constellation but the brightest star in Canes Venatici (the hunting dogs of the adjacent constellation Boötes which were carved out into a separate constellation by Hevelius).
2. Who is the guy in the portrait included in the globe?
Tycho Brahe again. Tuttell's globe is a faithful version of Blaeu's globes, copying a number of elements right down to the costumes worn by some constellations, and, yes, this portrait of Blaeu's teacher.
3. How did Tuttell meet his tragic end?
Tuttell, who was a hydrographer (marine surveyor) for the Admiralty, drowned in the River Thames near Dagenham whilst surveying in 1702.
Richard Cushee, terrestrial globe, 1730
1. There are two New Britains on the globe. Can you find them?
One is in modern-day Canada, and the other is one of the islands of Papau New Guinea (named by William Dampier in 1700).
2. What do all the tiny little arrows refer to, and why might this sort of information be of interest to the globe's viewers in the early 18th century?
The small arrows covering the sea refer to trade winds and are included on the globe as aids to navigation and the charting of sea routes (the areas of sea with no arrows are labelled 'variable winds' – ie. of no fixed direction). This sort of information on sea-faring, trade and exploration was a key aspect of British maps, particularly in the 18th century, and was enthusiastically consumed by its audience. Exploration was the equivalent of what space travel is for us today.
3. The Gobi desert is labelled as what on the globe?
It is the Sandy desert of Xamo
1. Where was Richard Price's shop?
'At the Atlas against Exeter Change in ye Strand' (London, pretty near where Stanley Gibbons' shop is today). No building numbers then, obviously. Mapmakers' addresses, which tended to change fairly often as mapmakers frequently moved premises, are a key method of mapping the map trade and a handy tool for dating undated maps.
2 What collection of desirable commodities can you get from Chile?
'Chili produceth gold, silver, maize, corn, honey, ostridges, metals….'
3. There's an island in the Atlantic that is way too far north of where it should be. Can you find it?
That would be Le Roche's Island, named after the English mariner Anthony de la Roché in 1675 and now known as the Antarctic island of South Georgia. It is shown here at the same latitude as Buenos Aires.
Even mapmakers sometimes make mistakes.
21 April 2019
Today's commercial pilots are well equipped to detect and fly over or around meteorological obstacles such as thunderstorms that lie in their path, so that as passengers behind we are rarely troubled by them. But imagine if you were flying in an airship of the 1920s instead. We recently added to the BL Collection a map designed for just that – Map showing the frequency of thunderstorms during the month of June on the England-Egypt section of the England-India airship route.
The map was made at the British War Office in 1926 and is a product of the Imperial Airship Scheme, a Government initiative of the 1920s to create a commercial airship route between Britain and the furthest parts of the Empire. The sheet shows three alternative routes for comparison, concluding that the most western and southerly of the three is the least likely to encounter difficulty.
The thought of negotiating thunderstorms at all in an England-India airship is frankly terrifying, and despite the careful planning evidenced by this sheet, the initiative came to a tragic end when one of the airships designed to fly the route crashed in France on its maiden voyage overseas in 1930.
Far more re-assuring is this recent donation to the BL. The Pilots' Free Flight Atlas - Eastern Hemisphere, is a colourful collection of topographical mapping of Europe, South-East Asia and the Middle East overlaid with aeronautical information – radio beacons, airspace reservations, waypoints, airfields and runway lengths…
A number of thematic pages include political maps, a star chart and a sheet entitled Climate/Winds in Europe, North Africa, Middle East showing the main wind directions and strengths in January and in July alongside bar charts giving precipitation and temperature data for selected locations throughout the year.
Detail of 'Climate/Winds in Europe, North Africa, Middle East' Maps 2019.a.24. page 8
Not being an aviation expert I don't know the frequency with which commercial pilots might turn to this volume in-flight, but as a layman I am re-assured by the detailed information it provides, and the calm and efficient manner in which it is conveyed on backgrounds of natural greens and blues. Not to mention the section on Dos and Don'ts during Thunderstorm Avoidance – 'Avoiding thunderstorms is the best policy' remains as true as ever.
Nick Dykes
Project Manager, Modern Maps
26 February 2017
Maps improved in their technological power during the 20th century, and as a result became better able to meet the requirements of their time. Some of them even came to symbolise key themes of the age such as dynamism and modernity.
Harry Beck, 'Sketch for the London Underground map], 1931. Victoria and Albert Museum, E.814-1979.
Probably the best map to capture this sense of speed, efficiency, new-ness, was the new London Underground map of 1933 by Harry Beck. Here was a map which broke dramatically with the conventions of the old, dispensing scale and representational accuracy in order to be useful to its users quickly in the new rapid bustling urban environment (there's also more than a passing similarity between the underground map and Mondrian's noisy, bustling 'Broadway Boogie Woogie' of 1943).
Grazioso Benincasa, [Portolan chart of the North-West coast of Europe], 1473. Egerton MS 2855.
Beck's Underground map may the pin-up map for the brave new 20th century world, but in one crucial respect it drew on a trait of mapping which is as old as maps themselves: simplification. In straightening and regularising and de-cluttering the underground lines, the map is no different to early 'portolan' sea charts, sailing maps which possibly originated during the 13th century, and which use the same technique of simplifying, straightening and de-cluttering coastline features in order to be easier for their users to use.
And that's one of the lessons we can take from maps: that history is a sequence of changes and continuities.
05 December 2016
Our relationships with maps changed very dramatically in many different ways in the 20th century. One of the important changes is not only that maps became more widespread and familiar, but how that affected our relationships with them. The examples in the exhibition richly illustrate many of these changes, but one trend I would like to focus on here is the recognition that the power of maps became increasingly hidden as they became more accurate and realistic.
Perhaps the most iconic example in the exhibition is the Van Sant first map of the earth from space that appeared in Scientific American in 1990. This immense technological achievement has often been described as "showing the real world as it appears from space" (www.tomvansant.com). But it was also a huge artistic achievement. And it both symbolised and contributed to the decline of the traditional map maker. This is a kind of photograph, and photographs don't lie.
But think about this claim for just a moment as you look at it: no clouds; daylight around the whole planet; the Atlantic ice at its summer limit. This image is, as the article recognises, "equal parts software and artistic judgement". Is this "the real world as it appears from space"? Or is it an interpretation, much like any other map? There is no doubt that publication of this image marked a massive milestone for maps in the 20th century. It seems to be so very different from imperial propaganda maps for example. And yet, as the exhibition explores, maps are by nature unreliable witnesses – misleading their readers as well as informing them.
The label 'critical cartography' was coined in the 20th century to describe a way of looking at maps. Critical geographers questioned their hidden assumptions and compromises, and revealed their inherent unreliability and partial truth. They did so not to invalidate maps, but to understand their power more thoroughly. This approach shared much with 'critical' developments in the 20th century in other areas of life, such as epic theatre, literary theory, cultural geography, and educational policy.
The exhibition explores the profound incursion of maps into everyday life in the 20th century. At the same time, the profound social, political and cultural changes often hidden in everyday life can also be seen in the development of maps and especially in understanding our relationship to them.
Further Reading:
Wood, Denis. 1992. The Power of Maps, New York/London: The Guilford Press
Harley. J.B. 2001. The New Nature of Maps: Essays in the History of Cartography. (Edited by Paul Laxton). Baltimore and London: The Johns Hopkins University Press.
Huw Rowlands
12 August 2015
The British Library's Map Library is offering the following three month internship opportunity for a Research Council funded PhD student.
Contribute to a major exhibition launching in November 2016 that will explore key aspects of national and international government policy, boundaries and identities through the 20th Century. You will focus on developing part of the exhibition narrative that discusses the role of maps in geopolitical contexts e.g. boundary mapping used to establish new national borders; the role of mapping in communicating the work and supporting the existence of supranational bodies such as the UN andEEC.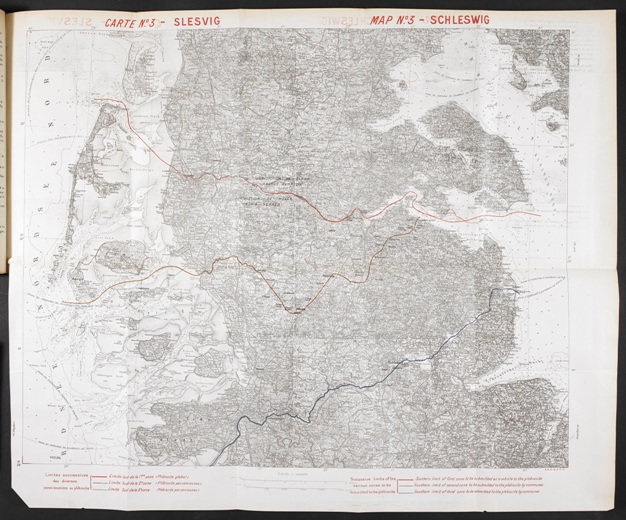 CARTE NO. 3 - SLESVIG / MAP NO. 3 - SCHLESWIG from Conditions de Paix  =  Conditions of Peace [Paris, s.n., 1919]. British Library L.B.31.c.6113. 

One placement is available, open to Economic and Social Research Council students. You can find further details of the scheme, together with application form and guidance notes here. 
This is one of a number of exciting internship opportunities offered by the British Library, and the deadline is fast approaching: 16:00 on the 28th August 2015. Good luck!
13 April 2015
As we enter the final week of the British Library's free exhibition Lines in the ice: seeking the Northwest Passage, here are my top five (unashamedly map-heavy) highlights of what has been a memorable and eventful five month residency. 
1. Robert Thorne's world map from 1582.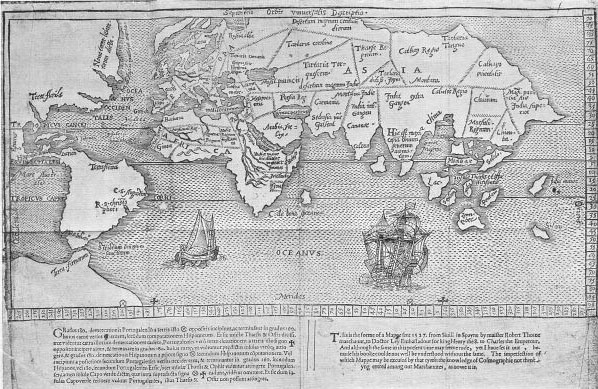 Robert Thorne, Orbis Universalis Descriptio [London : T. Dawson for T. Woodcocke, 1582]. British Library C.24.b.35 

You probably won't see another one of these exhibited in your lifetime, one of the earliest maps to have been printed in England, with only two in existence today, a clever bit of publicity by the Muscovy company which aimed to convince that the North West Passage didn't exist. Judging from the following 250 years of mostly fruitless searching, perhaps this point of view could have been given a bit more attention.   
2. Listening to icebergs
They are very big and very cold, and make a surprising racket. Curator Cheryl Tipp selected a number of sounds for the exhibition, which appear on sound points, and piped directly into the space. The angry polar bear was particularly eloquent.
 3. Explorer Ryan Nelson speaking at the BL
In an amazing coup, the British Library, the Eccles centre for American Studies and the Canadian High Commission hosted a talk by Ryan Harris, the man who discovered Sir John Franklin's ship Erebus on the sea bed. The event sold out almost before the ship was discovered!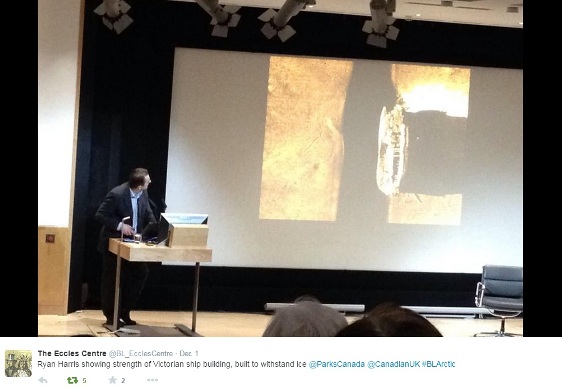 4. An egg-shaped Arctic-biased world map on display for the first time
This rare and extraordinary educational 20th Century map (featured in this book) cleverly positions the Arctic (and Antarctic) centre stage using the 'Atlantis' projection. Its purpose was to focus minds on these zones in order to combat the vast problem of overpopulation. Oil was first extracted from within the Arctic Circle just a few years later.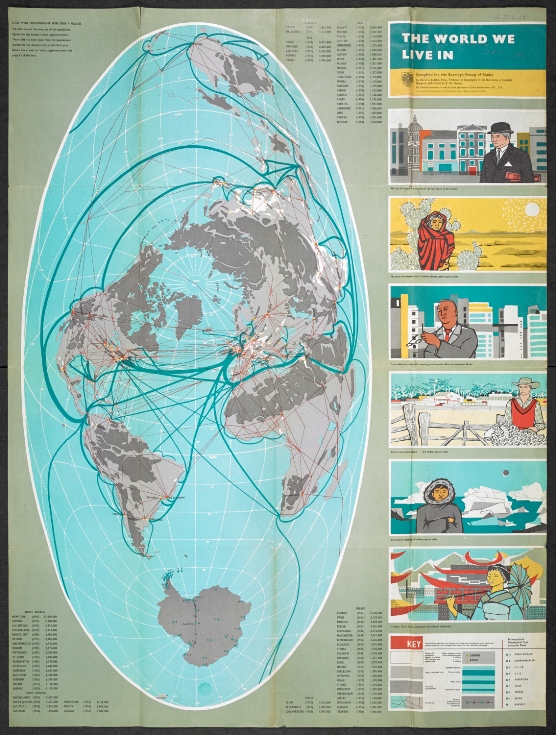 E.W. Fenton, The world we live in. Ipswich, 1958. British Library Maps 37.b.55.
5. Writer-in-residence Rob Sherman and his explorer Isaak Scinbank
Top: Rob Sherman, bottom: Isaak Scinbank
Rob Sherman's work has been a stunning feature of the exhibition. His fictional explorer Isaak Scinbank, online and in his written journal (which is exhibited), attempted to discover what happened to Sir John Franklin. For me, Rob's work has helped explore how narratives and stories (and their meanings) develop and change over time, and how they can be invested in objects. This isn't the last you'll hear of Rob, I feel fairly certain... 
6. Charles II's map of the Arctic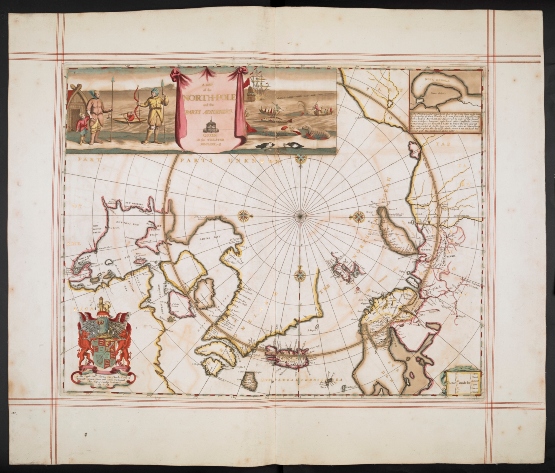 Moses Pitt,' A map of the North Pole and parts adjoining', from The English Atlas , London, 1680. British Library Maps 1.TAB.16. 

Another map that has never before been exhibited is Moses Pitt's map of the Arctic, this copy owned by Charles II and acquired by the nation via the Topographical Collection of George III. 
The gold leaf on this map will be shimmering in public until Friday, so if you have the chance to visit the exhibition before then, please do. We are also holding a free seminar on Friday to celebrate the end of Rob Sherman's residency. Thank you to all who has visited Lines in the Ice since November, and thank you to everybody who helped make the exhibition a reality.
03 October 2011
The recent controversy surrounding the Times Comprehensive Atlas of the World was interesting in all sorts of ways.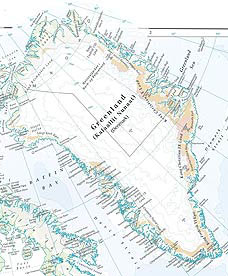 Photo: Times Comprehensive Atlas of the World 
To recap: the publicity which accompanied the new 13th edition of the Times Atlas focused upon changes visible on the maps which had been wrought by environmental change. We saw the Aral Sea - or more appropriately the Aral mudflat. We also saw the eastern coast of Greenland with alarmingly diminished ice cover – 15% less ice than in 1999 according to the press release.
"We're all going to die!" shouted the majority of the inhabitants of Norfolk, and promptly ran for the hills. "Hang on a minute, this can't be right" shouted an incensed scientific community. And united in fury at the obvious inaccuracy (as well as not having been consulted in the first place), they forced concessions including an apology from the publishers HarperCollins, a promise to include an updated insert map, with a printed explanation of the error. Science showed cartography who was boss, no mistake there.
Whether the error was the result of deception or just a horrible misunderstanding (and it is difficult to believe the former), perhaps the only real mistake of the map was to define the incorrect border between the white (ice) and brown (once ice) so very clearly. The map, in short, was too good, and that made it terrible. My own pocket atlas shows a far more gradated, blurred division between ice and non ice. Actually, if you look at it in a certain way and with certain intent, it does seem to agree with the withdrawn claims. Now you see how very dangerous maps can be.
The widespread astonishment which greeted the revelation of an inaccurate map will have raised a wry smile amongst those of you who recognise the inherent subjectivity of maps.
However, to me the most interesting point about the argument is that it concerns the receding of ice-cover, a process of movement, whilst the map is a snapshot of a static and unmoving earth. Not a brilliant thing to show movement and change. Even while the atlas was being printed, the situation would have changed. At a sufficiently large scale, local changes in the ice would happen before our eyes. Why not publish a seasonal atlas, one for the summer months, one for the winter months, if you want to try and catch the flow, as well as the ebb.