09 July 2014
Help us identify the locations of historic maps by participating in the largest release yet of BL Georeferencer. Over 3,100 maps, previously hidden within the pages of 17th, 18th, and 19th century books, are now available to georeference and overlay on modern mapping at
This set consists of the maps that the Library released to the public domain via Flickr.  All the illustrations in the books scanned by Microsoft - which included the themes of travel and geography - were extracted from the texts; once the images were posted to Flickr, the public assigned tags. Over the months that the tagging went on, we were thrilled to find a huge amount were maps, but are left with the question: "where in the world...?"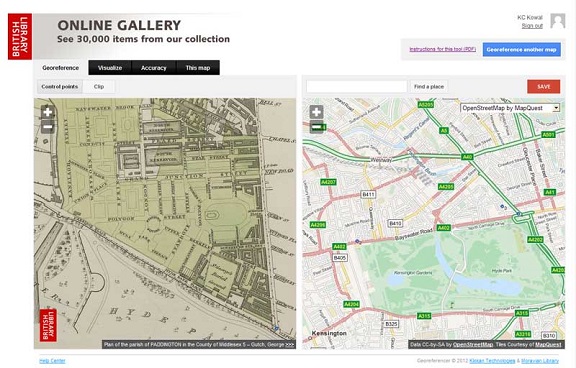 We have alot of work to do. Please help us identify the locations of these maps by participating in this release of BL Georeferencer!
21 February 2014
Maps contained within the pages of 17th-, 18th-, and 19th-century books are still being unearthed. Of the one million images that the Library extracted from scanned volumes and explosed on Flickr Commons, over 2,100 have already been tagged as maps by the public!
As these map images are in the public domain and so open for reuse, we've seen new interpretations, further exposure, and interesting geospatial applications. For instance, John Leighton's 1895 diagrammatic map of London Indexed in Two-Mile Hexagons has been brought up to date and into space in this dynamic visualisation created for International Open Data Day tomorrow in Osaka City, Japan. Though I've been warned that this is a work-in-progress, it is impressive already; the newly geo-aware index is interactively linked to its 18 component hexagonal maps, with the current location in OpenStreetMap appearing alongside. Ollie described the purpose of Leighton's mapping scheme in his Mapping London blog post in December. The results of making these maps available just keep getting better.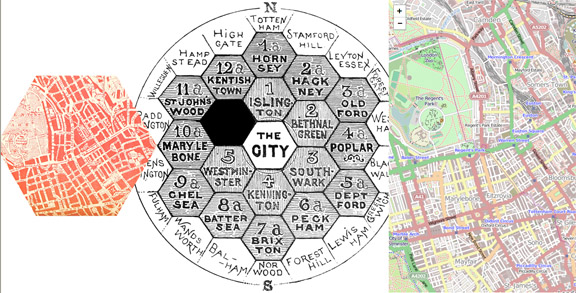 Work-in-progress at http://museum-media.jp/london/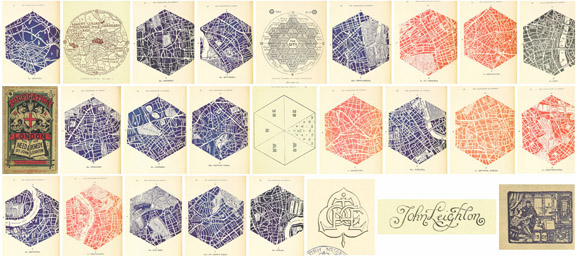 Leighton's index map, the 18 component maps, and other images from the book
Here at the Library we're anticipating opening up the 2,100+ maps for public georeferencing. Once all of the one million images get tagged with keywords in Flickr, those identified as maps will be consolidated and released via BL Georeferencer. Please lend a hand by finding and tagging any maps among the remaining images! 
23 December 2013
Georeferencing the Library's Goad plans of British and Irish towns is progressing well.  I've been asked several times, however, about the miniscule slices of maps that we're asking you to place. What are these obscure and tiny pieces of maps, and how to tell where they are located?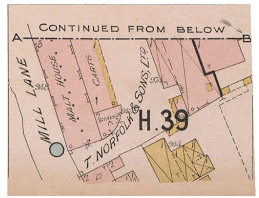 Pieces such as above are portions of original paper map sheets as published by Chas. E. Goad Ltd. When a block or other important area extended beyond the bounds of the page, it was simply printed elsewhere on the sheet, with a reference to its location. This was done for reasons of economy; key areas could be included without adding to the cost of paper and printing. In the sheet below, the dark outline indicates an inset, with the block number "8" identifying its location on the main map.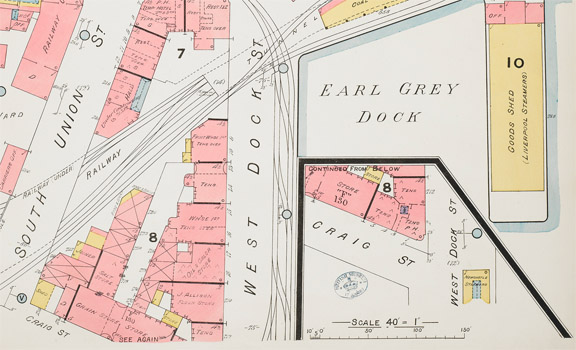 So how can a user of BL Georeferencer know what sheet a bit appears on? All insets are linked to the main map page on which they appear. Choose the "This Map" tab within the Georeferencer application. By clicking "Original web presentation", the bit is shown on the larger map sheet which will include a reference to its location.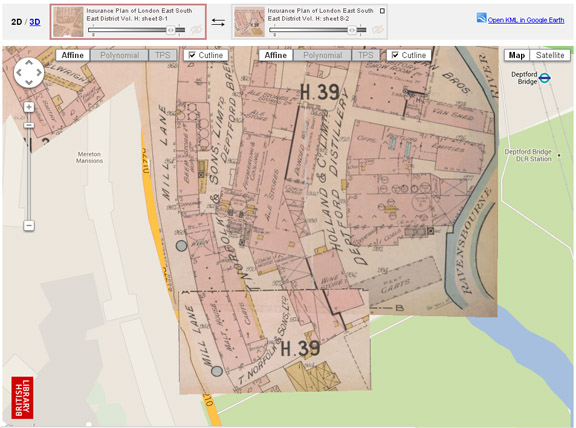 These map "bits" are important to place in order to provide the full available mapping of an area! Above image of the Deptford Bridge area of London shows the "bit" adjacent to its location on the main map sheet.
Once properly georeferenced, these small pieces will continue and complete the maps in their correct places - an eloquent solution to the problem of viewing insets on paper maps!
Try out BL Georeferencer if you are up for a visual, geographic, and historic challenge. Locating the remaining pieces is a like solving a Victorian map puzzle!
01 February 2013
This is more a news update than anything else, to say that s
ome amazing stuff has gone on this week with BL Georeferencer, our online crowdsourcing project for placing historic maps at http://www.bl.uk/maps/

In less than *three* days from the lauch (four from the "soft" launch of social media leaks!), all of the 781 historic maps we put online for georeferencing were completed using the BL Georeferencer tool. Participants captured spatial metadata about the maps so that they may now be seached and viewed using popular geographic web tools, eg Google Earth and Old Maps Online, and data (OSM, OS OpenData). 
So before I head off to a training session, I wanted to say "thank you" to the volunteers who gave their time to sort out where all these maps belonged. I know from my familiarity with this collection that finding the places depicted often required plenty of patience, online research and a spatial sense!
02 November 2012
All the maps in this latest round of BL Georeferencer were completed yesterday, 1 Nov, thus producing second lot of of the Library's historic maps that know where they belong. A related result was the amicable conclusion of the weeklong point leapfrogging between the two top participants, Sue White and Maurice Nicholson.
A heartfelt "thank you" to Sue and Maurice for their dedicated work! In what must have been mutual design or compromise, each contributed precisely 3,300 points over the course of the six days. This impressive number is evident in the high quality of the georeferencing they produced, and will be enjoyed by users overlaying the maps in future.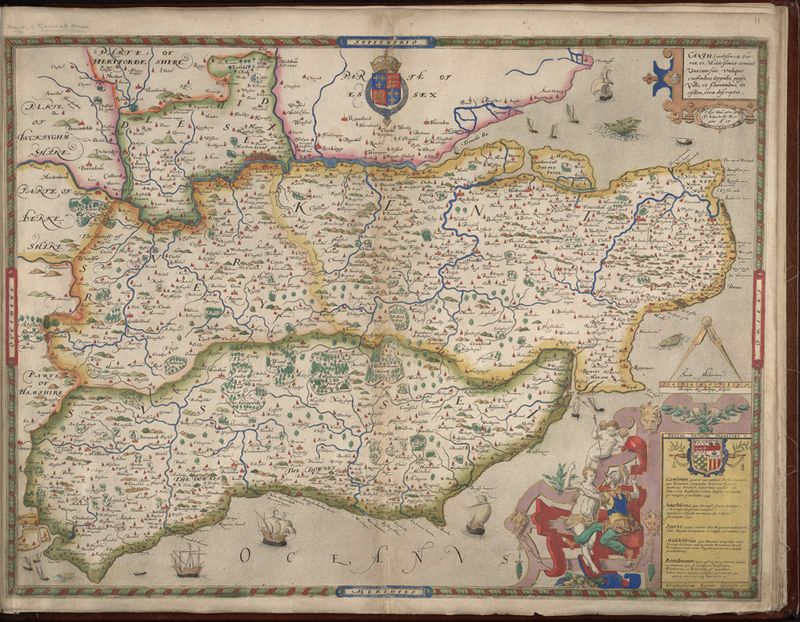 This Christopher Saxton map of Kent, Sussex, Middlesex and Surrey was assigned a mind-boggling 398 points, more than any other map!
A quarter of the maps were georeferenced with 3-5 points, with more than half of the maps sporting between 6 and 30 points. Less - ~18% - have between 30 and 100 points at present, such as this 1928 OS map of the south west coast of Wales (38 points).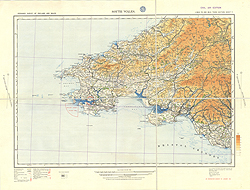 Thanks to all the volunteers that assisted in the BL Georeferencer effort. We will see their work added to Old Maps Online in future, where maps from numerous collections can be searched geographically and by time. Before that, however, we have some error-checking that I'll be looking for help with... stay tuned! 
30 October 2012
Sometimes the map that's leftover, that no else wants to decipher, is the most valuable to georeference.
In my periodic checks on BL Georeferencer http://www.bl.uk/maps/, I've noticed that the more opaque, difficult to discern maps are avoided - and this is entirely understandable! Associating the places that appear on historic maps with their current geographic location on the ground can be straightforward, but not always. Here are a few of those more demanding: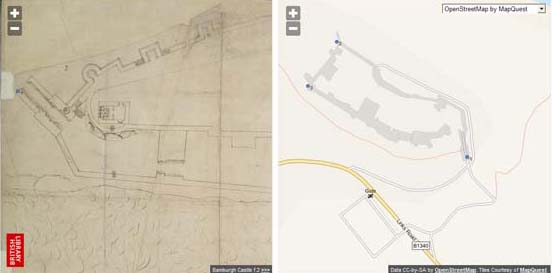 This 16th c. drawing required reading the title and description to get any idea of where or what it was - there is no text on the map!


This ca 1600 map of Shopshire is nicely labelled, but requires some interpretation.  Shewsbury is labelled "Salop", an historical name for the city, and scale varies over the map: the loop of the river on which the city is located is of an inordinately large scale, but this emphasises its prime geographic feature making it firmly recognisable.
Thanks to Steven Feldman for taking on these two.
Below are a couple I am less certain will make it...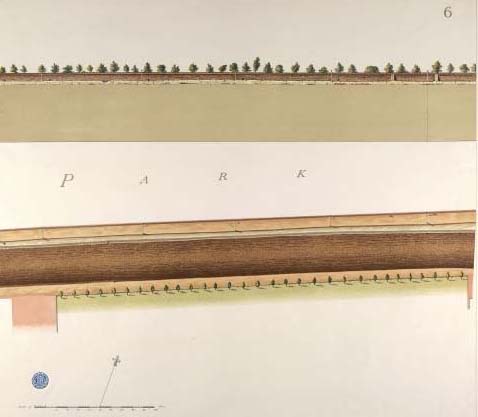 Numerous maps from the Kensington Turnpike Trust are available, and all seem to be difficult to move. This, sheet 6, has even less information than most!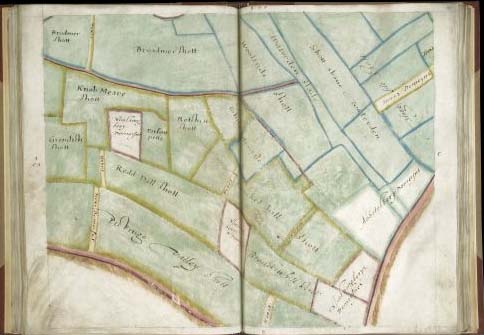 No one has dared attempt this estate map of "the manors of Mincingbury, Abbotsbury and Hoares, in Barley, Hertfordshire." If anyone can figure where this might be located, please help!
What makes the difficult maps especially valuable to georeference is their very obscurity; because most folks will not know what they represent, they are made less useful. Once their location is known, they are able to be found and used as maps. 
My thanks and admiration go out those participants in the BL Georeferncer project that accept the challenging maps!
26 October 2012
It was only this morning that a new set of 700 maps was opened to the public for georeferencing, but this afternoon I am overwhelmed at the interest we've received. Participating individuals examined the scanned maps closely - many of which were not easy to decipher, being of an earlier and more "characterful" sort - and, using an online gazetteer and map, found and assigned their locations. Amazing.
There is plenty left to do. Please give it a try!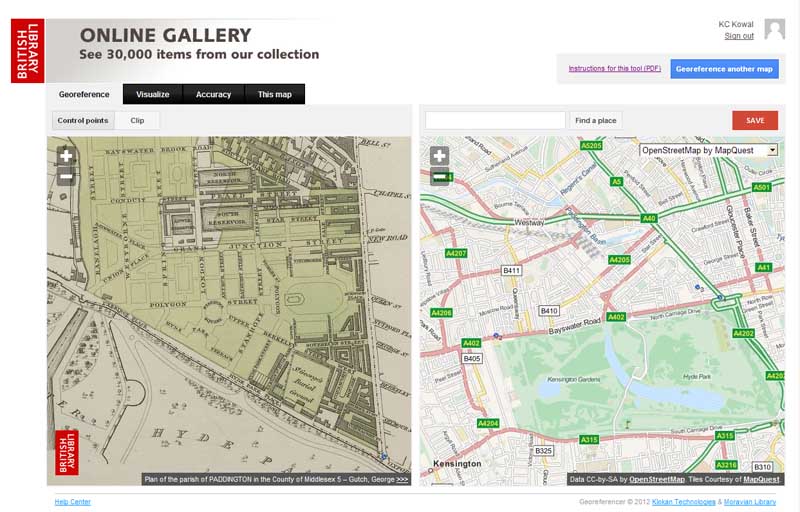 Once a map has been georeferenced with this tool, it may be viewed overlaid on the landscape, and each participant is credited for the number of points they submit.  
But it is not all about immediate gratification and competition! Georeferencing these maps extends their usability and findability, and allows visualisation in new ways using popular geospatial tools. The British Library has tremendous collections of historic maps that, without georeferencing, lack visibility via digital technologies, so we decided to crowd-source the activity. All the data created from this effort will be used for enhanced searching; the results of our initial pilot (thanks to those volunteers) have already been applied in Old Maps Online (http://oldmapsonline.org) and we have plans for our own uses.