10 July 2012
Endangered dongjing archives
The following is a guest post by Lynda Barraclough, Endangered Archives Programme Curator.
In 2007 the Endangered Archives Programme at the British Library received digital copies of music scores, lyrics and sutras documenting the Chinese ritual music known as dongjing. We also received audio and video recordings of recitals and interviews with performers and material relating to dongjing societies themselves, including correspondence, research notes and newsletters. The archives were copied from eight separate collections held by dongjing societies and private individuals in North Yunnan, China. In 2010 we received further dongjing scores and related material, this time copied from two privately owned collections in South Yunnan.
The original composers, authors and scribes of this material are largely unknown. Exact dates for most of the compositions are also unknown. The original documents and volumes date to the 20th and 21st centuries, but they contain copies of pieces that may be much older. For example, some of the texts recorded in volumes belonging to EAP209/1 Li Chun Collection on Dongjing Manuscripts are attributed to the Ming dynasty (14th century). The image below comes from EAP209/1/3 San yi za yue shang, thought to have been written by Li Hao during the reign of Emperor Hongwu in the early Ming dynasty.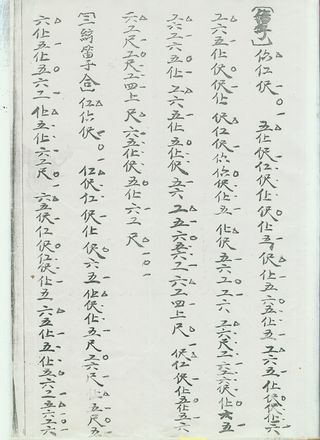 Most of the scores are written in the jianpu notation, although other notations such as guche and gugin are also present. The image below shows a music score in jianpu notation. It comes from EAP012/8/1/30 Heqing ding jing yin yue. This script includes an introductory explanation to the piece, and comes from Heqing county.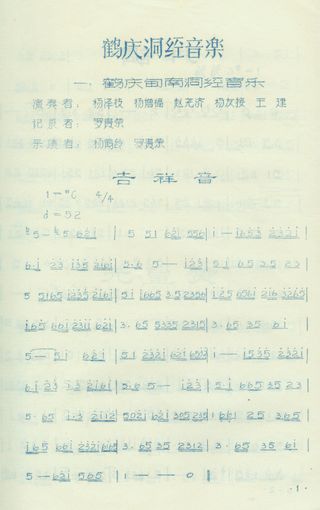 The Endangered Archives Programme is funded by Arcadia. More information on the projects responsible for digitally preserving this material can be found on the EAP webpages:
EAP012 Salvage and preservation of dongjing archives in Yunnan, China: transcript, score, ritual and performance
EAP209 Survey on surviving dongjing archives in Jianshui, Tonghai and Mengzi 
Copies of these archives were also deposited with the Institute of Historical Anthropology and the University Library at Sun Yat-sen University. The images received by the British Library are available via the Endangered Archives Programme webpages. Four complete manuscripts are also available on the Library's Digitised Manuscripts pages (just type in "dongjing"). For information on how to access the audio and video material please email the EAP.
**
You can read more about the Endangered Archives Programme on Lynda's Endangered Archives blog.