10 September 2012
Milton, Dancing and the 'Passion of Love'
The following is a guest post by Moira Goff, Curator of Printed Historical Sources (1501-1800).
Research can lead in curious directions, for example from the repertoire of a once-famous dancer in eighteenth-century London, to a masque by a great English poet and a score by a now underrated English composer. The Library's music collections, as well as its early printed materials, proved a treasure trove for one particular line of enquiry.
On 4th March 1738, the new production at the Drury Lane Theatre was Comus, described as 'Never Acted before. Alter'd from Milton's Masque perform'd (upwards of a Hundred Years since) at Ludlow-Castle, and now adapted to the Stage'. The antiquarian details in the advertisement were accurate, for Milton's Maske with its central character Comus had received its sole performance at Ludlow Castle in 1634 and been first published in 1637. The new adaptation of Comus was such a success that it continued to be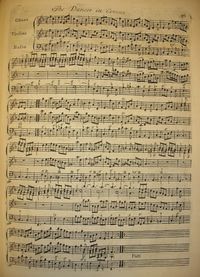 played in London's theatres throughout the eighteenth century. This was due as much to the new score by Thomas Arne as to the additional entertainments provided by singers John Beard, Kitty Clive and Cecilia Arne and the dancer George Desnoyer (who was probably also the choreographer) alongside other dancers from the Drury Lane company. The Library holds not only copies of the text of the new adaptation published in 1738 and The Musick in the Masque of Comus published around 1740, but also a late eighteenth-century manuscript score.
Dancing was as much a feature of entertainments on the eighteenth-century stage as it had been of the court masques of the early seventeenth century. The importance of dancing in the new version of Comus is shown by the regular mention of dances and dancers in newspaper advertisements. Although there had been dances in the original Maske, those provided for the 1738 production were quite different. They come in act 3, when the virtuous Lady (the heroine of the piece) has been immobilised by the magic of Comus and he tries to seduce her. With a wave of his wand Comus summons Naiads who 'dance a slow Dance … expressive of the Passion of Love'. Later Euphrosyne calls for Fauns and Dryads who enter 'And in various Measures shew Love's various Sport' in a tambourin (a lively dance). Later advertisements suggest that there were as many as twelve dancers, six men and six women, led by Desnoyer and his new dancing partner Mlle Chateauneuf.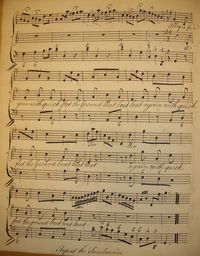 Where seventeenth- and eighteenth-century dance tunes are concerned, it is always difficult to reconcile scores and libretti. Were there more dances than those included in the printed and manuscript scores for Comus? The Library's rich collections of music and early printed materials provide plenty of opportunities to investigate.