21 September 2012
SHO-ZYG at Goldsmiths
Today sees the launch of a week-long exhibition and events programme of experimental sound installations at Goldsmiths, University of London. The exhibition takes its inspiration from some of the invented instruments of Hugh Davies, who established the Electronic Music Studio at Goldsmiths College in 1967 as the first facility of its kind at any British institution.
Hugh Davies died in 2005, and much of his archive is now held at the British Library: his correspondence and research papers chart the history of electronic music from its birth, while his own compositions are now comprehensively listed on our Sound and Moving Image Catalogue. Some of his invented instruments are on display at the Science Museum, and this exhibition allows us to see several more.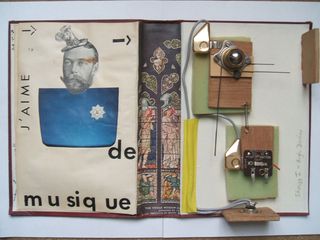 Hugh Davies's most famous instrument, the Shozyg, was first made from the dismembered binding of the final volume of an old encyclopedia, covering entries for SHO-ZYG. Later Shozygs used the remains of different books, and the creation on display in the exhibition was a special version originally included in an edition of the French poet Henri Chopin's OU Magazine.
The Shozyg uses a combination of household objects and electronic pickups to create a wide range of extraordinary sounds. The display includes a film of Hugh Davies in 1991, from which this excerpt is taken, culminating in a virtuosic performance on a cheese-slicer:
Hugh Davies occupies only one room of the SHO-ZYG exhibition, which seeks to explore the rich tapestry of sound practice at Goldsmiths, both past and present, with selected works from over 50 artists from the 1950s to the present day. A varied programme of related events accompanies the exhibition, which runs until 27 September at the newly-renovated gallery in St James's Hatcham Church, New Cross, London SE14 6AD.