09 November 2012
Boxing day
Barely a day passes when there is not another delivery of packages from record companies containing the latest releases to add to the BL collection. A constant stream of sturdy, anonymous brown boxes arrive at my desk, labelled only by the distribution company, with little external clue as to their contents. Even after many years of receiving such deliveries there remains a thrill of anticipation as to what the boxes might contain – Christmas Day every day, as a colleague has described it.
But yesterday this arrived: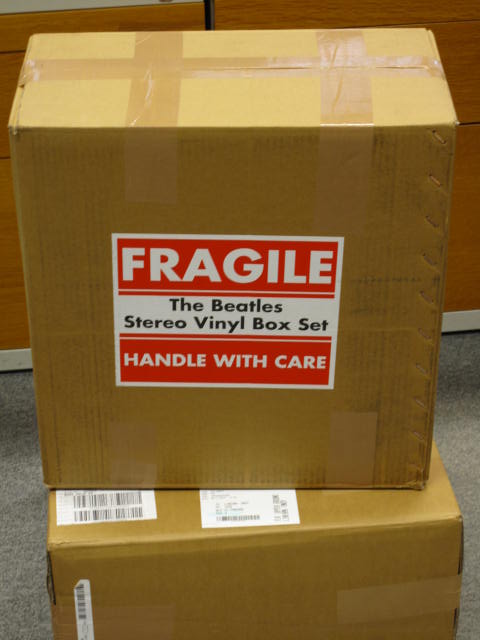 We are used to receiving boxed sets of records to add to our collections – in fact the revival in the fortunes of vinyl means we are seeing more and more such deluxe reissue packages – but custom-made stickers on the box proudly announcing the contents have not been done before as far as I can remember.
So the 'what's in the box?' anticipatory moment was denied but on opening we found a 16-LP set of Beatles albums on 180 gram audiophile-quality vinyl with a lavish 250-page book describing the albums and the remastering process.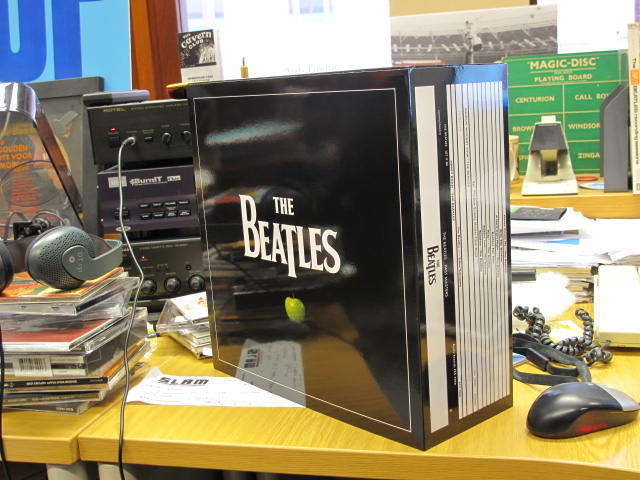 This is an extravagant set which many will covet and, given the likely price, few can obtain. Only 50,000 copies are to be available worldwide so we are lucky and appreciative that EMI have donated the set. Like many of our holdings it will probably become a collectors' item, so in a departure from normal practice we are likely to keep the delivery box with the one-off sticker in addition to the set for the benefit of future Beatles completists.
Oh, and the records sound pretty good too.