22 May 2013
Wagner goes online at 200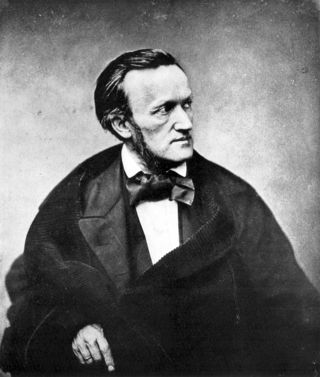 22 May 2013 is the 200th birthday of probably the most influential composer ever to have lived, Wilhelm Richard Wagner. The British Library is celebrating this anniversary with a study day on Wagner the Writer as well as a complete performance of the Ring cycle – without music! We have also taken the opportunity to publish those of Wagner's original manuscripts which happen to reside in the Library on our Digitised Manuscripts website. Since many of them are extremely fragile and cannot normally be issued in our Reading Rooms, we are delighted to make high-resolution digital images of them freely available on the internet. They include some pivotal works in the development of Wagner's career, and shed fascinating light on the working practices of the master of the music drama.
The British Library's collection of printed editions of Wagner's music is near comprehensive, with more than 2000 publications at the last count. Put together with a similar number of books about him, and perhaps 20,000 recordings, this makes the Library a major research resource for anyone with a serious interest in Wagner.
In this context, the Library holds only a minute amount of original material written in Wagner's own hand, and most of it comes from early in his career. Nevertheless, it sheds much light on the way in which Wagner composed, and the means by which he honed his genius as a writer and a composer. 
The earliest manuscript in the Library's collections is a draft piano score of an orchestral Overture in E minor, composed when Wagner was 18 years old.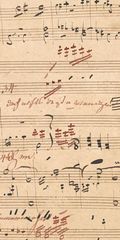 It is one of his very first surviving compositions: although it is number 24 in the chronological catalogue 'WWV', many of the earlier pieces (from the age of 13 onwards) are now lost. It was performed in the Hoftheater in Leipzig on 17 February 1832 as the overture to King Enzio, a play by Ernst Raupach.  
Other very early works include an Entr'acte tragique in D major (WWV 25 no.1), for which there is a draft in short score as well as a fragmentary full score. In November 1832, Wagner's first symphony was performed in Prague. His full score of the work is lost (though a copyist's score survives at Bayreuth, and the work was published after his death), but Wagner made a piano duet version of the first movement. Incidental music for a festival play to welcome in the new year of 1835 was performed in Magdeburg and provides further evidence of Wagner's early involvement with the stage.
Wagner's three early forays into the medium of opera show us the starting points of the process which was to develop into the masterworks of his maturity. Die Feen (The Fairies) is based on a play by Carlo Gozzi and fits very much into the German Romantic tradition of Weber and his contemporary Heinrich Marschner. Already we see the composer working on drafts of the text separately from the music. Das Liebesverbot (The Love-Ban) derives from Shakespeare's Measure for Measure, and is modelled much more closely on French and Italian opera, especially Auber and Bellini.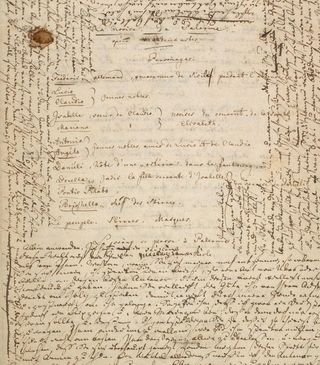 The opera was first performed in Magdeburg on 29 March 1836, and Wagner subsequently revised his German libretto in a densely-written French translation, in the hope of securing a production in Paris: this manuscript includes the draft of a letter to Meyerbeer (now lost) asking for his help in doing so. As well as the almost complete libretti in both languages, there is a draft score of the Overture and sketches for several later sections, some in pencil and others in ink, usually conceived on one or two staves. These initial ideas were later worked into a draft score, which in turn led to the complete full score. For his next stage work, Wagner turned more directly to Meyerbeer for inspiration: Rienzi is grand opera writ large. Although intended for the Paris stage, it eventually received its first performance in Dresden on 20 October 1842. The staging requirements were too onerous for the Hoftheater, and this detailed memorandum suggests means of coping with a smaller chorus. Unfortunately the full scores of all three of these operas are now lost: they were among the manuscripts acquired by Adolf Hitler on his 50th birthday.
Wagner's compositional journey towards the Gesamtkunstwerk was gradual, and these early operas were followed by other occasional pieces, including his Overture 'Polonia', written in 1836 as a reminiscence of his time as a student in Leipzig when he befriended Polish soldiers fleeing  from the fall of Warsaw to the Russians in September 1831, who passed through Leipzig to exile in France.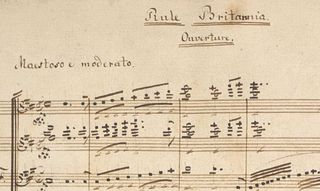 Another nationalist overture was written in 1837, this time for the Philharmonic Society in London, which declined to perform the work on grounds of its 'being written on a Theme which is here considered common place': Rule Britannia. Other curiosities include settings of poems by Victor Hugo, a chorus for a vaudeville and an instrumental arrangement of a popular number from an opera by Halévy.
The only work of Wagner's maturity for which manuscripts are kept in the British Library is The Flying Dutchman. One consequence of the revolutionary principle of organic unity which Wagner first displayed in this work was that the overture continues straight into the music of Act I, as the curtain rises. In order to make the overture performable as a separate concert piece, Wagner therefore wrote an alternative ending, which he attached to this copy score of the overture. He also planned French translations of some of the work.

Finally, there are various letters by Wagner in the Library's collections. Among these one stands out in particular: it is a letter written in January 1849 to Baron Ferdinand von Biedenfeld.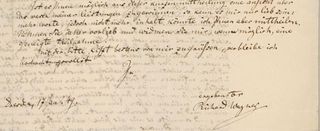 Wagner outlines his belief in the interdependence of poetry and music, the natural consequence of which is that music drama is the highest possible form of art. These ideas were to find more extended exposure in his famous treatise on The Artwork of the Future — and of course would be manifested in the great works of his final years.
Almost all of these manuscripts were apparently collected by Leopold, Graf von Thun und Hohenstein (1811–88), Austrian minister for culture and a keen musical amateur. In 1887 they were acquired by the collector Albert Cohn, and in 1937 were sold to the great Austrian writer Stefan Zweig. His magnificent collection of musical, literary and historical autographs was presented to the British Library by his heirs in 1986, and this is the first stage in a project supported by the Derek Butler Trust to make all of the manuscripts in this remarkable collection freely available online.
To see a full list of all the digitised Wagner manuscripts, search for "Wagner" on www.bl.uk/manuscripts. For more information on other bicentenary events, including the British Library Study Day and complete reading of the Ring cycle, visit www.wagner200.co.uk.