Benjamin Britten exhibition launched at the British Library
On Friday we launched a new exhibition on Benjamin Britten in the Folio Society Gallery at the British Library. This free exhibition runs until 15 September 2013 and is part of the international Britten 100 festivities marking the centenary of the composer's birth.
In the exhibition, Poetry in Sound: the music of Benjamin Britten, we explore the literary influences on Britten's music, from William Shakespeare and Ben Jonson to W.H. Auden and Christopher Isherwood, as well as some of the political and musical influences that shaped his work.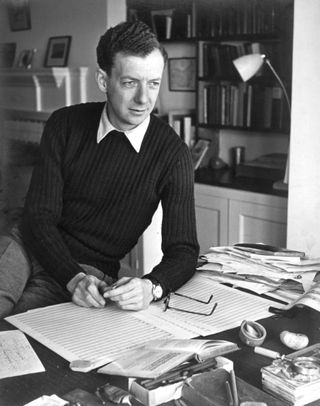 In addition to several of Britten's own draft manuscripts, including The Young Person's Guide to the Orchestra and War Requiem, we've included photographs, rare literary and historical printed material and unpublished sound recordings. Over the coming days, I shall be blogging about some of the key exhibits on display. 
To mark Britten's centenary, we have also digitised all 42 of the autograph manuscripts of Britten in the British Library's collection.  The manuscripts are now freely available for everyone to see and study on our Digitised Manuscripts website.  (You just need to type 'Britten' in the search box to find them.) We are very grateful to all the copyright holders for allowing us to make the manuscripts available online.
The Library is also staging a series of related Britten events and performances. For more details of the exhibition and events, please see www.bl.uk/britten.