Dramatised reading of Wagner's Ring cycle, Sunday 9 June
Rehearsals are continuing apace for the dramatised reading this Sunday of Richard Wagner's entire Ring cycle in the British Library Conference Centre.  The reading takes its cue from Wagner's own practice of reciting from the libretto in public or to guests after dinner, providing a rare opportunity to experience the richness and subtlety of Wagner's writing and to thrill to the drama of the text as poetry.
Directed by William Relton, the 'British Library Ring Cycle' will be more than a simple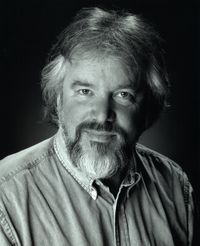 read-through. Judging from today's dress rehearsal, the audience can look forward to an enthralling and dramatic semi-staging with a cast of outstanding recent graduates of the Royal Central School of Speech and Drama.  Presiding throughout the performance as narrator will be the great operatic bass and linchpin of Wagner productions at the Bayreuth Festival, at Covent Garden and at opera houses around the world over the past two decades, Sir John Tomlinson. 
An integral part of the performance will the projection of early pictorial interpretations of scenes from the Ring on the big screen, adding visual expression to the dramatic experience.  The illustrations will be drawn from the work of artists including Arthur Rackham (1867-1939), Josef Hoffmann (1833-1904), and Igance Fantin-Latour (1836-1904).  We'll also be showcasing the work of contemporary artist Phil Redford, whose amazing hand printed linocut books of illustrations of the Ring and Tristan und Isolde produced between 1992 and 2005 are held at the Library.
The full cast details are as follows: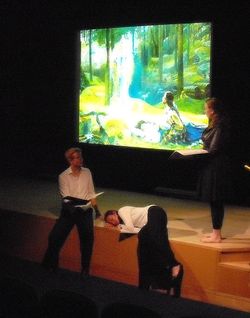 Sir John Tomlinson (Narrator)
Gethin Alderman (Wotan)
Rebecca Dickson-Black (Brünnhilde)
Mathew Foster (Siegfried/Donner)
Daryl Armstrong (Alberich)
Jason Broderick (Mime)
Kane Surry (Loge/Gunther)
Sara Hirsch (Fricka/Helwige/Gutrune)
Maryanna Hedges (Wellgunde/Sieglinde)
Matt Beveridge (Froh/Siegmund)
Simon Lyshon (Fasolt/Hagen)
Mischa Resnick (Fafner)
Emily Jane Kerr (Erda/Schwertleite)
Paula Carson (Waltraute)
Julia Jade-Duffy (Freia/Siegrune/Second Norn)
Pernille Haaland (Rossweise/Woodbird/Third Norn)
Melissa Ulloa (Woglinde/Grimgerde)
Lauren Osborn (Flosshilde/Gerhilde)
Lucy Bairstow (Ortlinde/ First Norn)
William Relton (Director)
Truly Lin (Assistant Director)
 Tickets are available via the BL website: http://www.bl.uk/whatson/events/event145303.html
Approximate timings:
11.00  The Rhinegold
12.10  Break
12.20  The Valkyrie
13.45  Lunch break
14.45  Siegfried
16.25  Break
16.35  Twilight of the Gods
18.00  End