03 April 2014
Keeping Tracks - a one day symposium on music and archives in the digital age
Since October 2013 the British Library has been engaged in a six-month project investigating ways in which we can work with the fast-moving digital music supply chain, improve its relationship with the music industry and to help develop a Library-wide transition to acquisition of digital materials as part of its long-term Content Strategy. As part of this work a one-day symposium took place.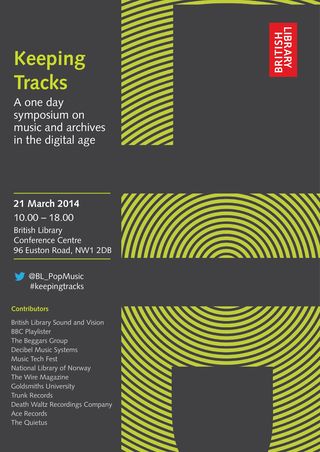 Keeping Tracks was devised as an opportunity for the British Library to talk about its collections and how we collect, preserve, conserve and give access to them, be they a 100-year-old wax cylinder or a newly minted digital file. It was also a great chance to gather different sectors of the industry – tech, labels, metadata, and archives – in one room to talk about an area that usually gets overlooked in traditional music industry conferences.
In the early spring sunshine of Friday 21 March delegates gathered from all corners of the globe and descended into the Conference Centre auditorium to be greeted by Curator of Popular Music, Andy Linehan. Andy set the scene and offered some historical context about where the British Library's archives of recorded material had come from and handed over to colleagues Adam Tovell and Alex Wilson to talk about where they are going.
AV scoping analyst Adam Tovell proceeded to discuss the study he has been engaged with for the last 12 months. Tovell and his team have been counting, quantifying and assessing the collections, analysing international standards and devising schedules to define best practice in the long-term audio-visual preservation of the Library's 1.5 million recordings – before it's too late.  The recording of his fascinating address can be found below
Adam Tovell - On shelves and clouds
Alex Wilson - Download into the BL
From the preservation of acetate and shellac, CDR and cassette to the collecting of digital sound and music Alex Wilson, Curator of Digital Music Recordings soon took to the lectern amidst a riot of noise and national anthems. This cacophonic audio clip was designed to illustrate the uphill challenge the British Library faces in 2014. Online sound and music is everywhere. It is the Library's job as guardians of the nation's audio memory to make sense of this. Wilson proceeded to show the first stages of a new collaboration that will improve the way we collect born-digital music and highlight other projects being investigated. The Q&A included some interesting questions surrounding Legal Deposit for recorded music and concerns of metadata ownership. Views from the floor regretted that this valuable material was without the benefits of statutory archiving and preservation that other material enjoyed.
Keeping Tracks then opened its doors to the working music industry during a perceptive Q&A with Lesley Bleakley of the Beggars Group and Rory Gibb of music magazine, The Quietus. With over twenty years of experience in the music industry and representing a record label that is regarded as a leading light in digital delivery and archiving, Lesley Bleakley was perfectly placed to offer a fascinating insight. Moreover, she touched on the burgeoning relationship between Beggars and British Library Sound and Vision itself; the last year for instance has witnessed a mutual sharing of advice and guidance and music culminating in the delivery of the entire Beggars digital back catalogue in early 2014.
Lesley Bleakley and Rory Gibb - Beggars Archive
Post-lunch the discussion became truly international in scope as we invited representatives from peer organisation the National Library of Norway to take the stage. Whilst Norway shares many of the same archiving principles with British Library Sound and Vision it is differentiated in one crucial respect. Norway's legalisation declares that all music recordings must be legally deposited at its National Library. Lars Gaustad and Trond Valberg discussed this and showed the auditorium their innovative new donation portal allowing users to deposit recordings online.
Trond Valberg and Lars Gaustad - Norway
Keeping Tracks then hosted a dynamic presentation from another peer institution. Creative Director at BBC Future Media, Sacha Sedriks shared his understanding of the guiding principles around music and metadata, the semantic web and the ecosystem that underlies their nascent BBC Playlister service. Through absorbing statistics and images Sedriks shone light on a pioneering new platform that only hints at how the truly immersive and interactive BBC Radio and Television offering of tomorrow will look like. 
Sacha Sedriks - BBC Playlister
Metadata underpins much of what we do here at British Library Sound and Vision and was a recurrent theme across the Keeping Tracks day. Hence it seemed only right to ask a leading music metadata supplier to the stand. Decibel Music Systems served up a talk in three parts: metadata from a market, data and technical perspective. Metadata is the glue that binds many systems together across the industry. As a result the Decibel presentation was followed by a lively and passionate Q&A which showed how important data is to making things (and people) click.
Decibel Music Systems - Dataphile
Whilst refreshments were guzzled, the auditorium was being tuned to a trans-Atlantic frequency. For the most ambitious strand of the Keeping Tracks we had invited UK based Music Tech Fest to share their keynote panel live via Skype from Microsoft Research Labs in Cambridge, MA, USA. The subject: developers, APIs and the music archive. Watched through the Skype-fuzz an energetic session ensued, moderated by Music Tech Fest head Andrew Dubber in the States and former Soundcloud man Dave Haynes here in the UK. Particular note should go to Microsoft researcher Jonathan Sterne who delivered an impassioned reflection on the nature of archiving and the internet which drew a round of applause in the London space.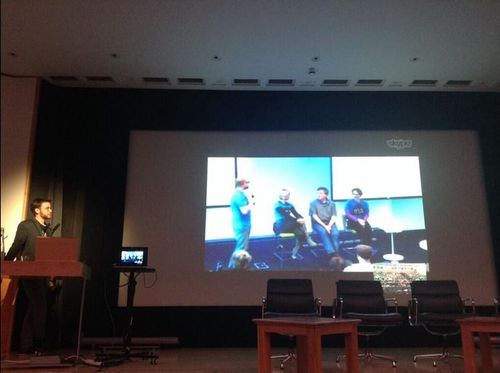 Music Tech Fest - Posterity Hacking
The end was nearly upon us. The final official session of Keeping Tracks was a panel chaired by Jennifer Lucy Allan of the WIRE magazine, stimulating discussion amongst a trio of label owners who specialise in lost music, records and reissues. Jonny Trunk (Trunk Records), Roger Armstrong (Ace Records) and Spencer Hickman (Death Waltz Recordings) proceeded to entertain the delegates with an informal, humorous, inspiring and sobering account in the wonderful art of releasing beautiful old music. Anecdotes, asides, controversies and reflections filled the hour and one suspects we could have talked well into the night.
Panel Discussion - Archives and music
Before the close of the day we invited respected author, journalist and Goldsmiths lecturer Mark Fisher to deliver his own personal take on what had gone before. Whilst it may have polarised some of the audience, Fisher's lucid account of the 2014 digital space, music, memory, innovation and consumption sounded a stark clarion call to ring us toward the close.
The British Library would like to thank all those who presented, spoke, attended and asked questions at this inaugural Keeping Tracks symposium. We have been delighted with the feedback so far and would welcome any further suggestions, recommendations and donations for the future. If nothing else Keeping Tracks felt like a genuinely unique event (up) lifting the lid on a usually ignored, diverse set of issues and investigations about music and archiving in the 21st century. Long may these discussions continue...
---
All full presentations streaming here

All presentation slides displayed here
A follow up interview by Digital Music Trends is here