06 May 2014
112-year-old recording of William Paull donated to the British Library
A recent call from Daphne Duthie alerted me to a small collection of LPs that she had purchased in Russia in the 1970s. There were a few of interest, but she then showed me another modest collection of 78 rpm gramophone discs that had belonged to her grandfather, Brigadier J.R.B. Knox. About 40 of the discs were recorded before the First World War and most of them were not held by the British Library. The repertoire is a mixture of classical and popular music, many with a Scottish flavour as it was from there that part of her family originated.
One single-sided disc by baritone William Paull in particular caught my attention. Born in Cornwall in the early 1870s, at the age of seven Paull was a chorister in London. He joined the Carl Rosa Opera Company and in 1897 sang the role of Marcello in the English premiere of Puccini's La Bohème in Manchester under the supervision of the composer. Paull then toured Australia where he sang the baritone and bass parts in Elijah and Messiah in Sydney. 
In New York he sang the part of Wolfram in Wagner's Tannhäuser in 1900 and the following year joined the Castle Square Opera Company. While in London at the turn of the century his popularity led the Gramophone Company to invite him to record around 68 sides for them during 1901 and 1902. While on tour in America he recorded one seven-inch disc for Victor of O du mein holder Abendstern from Tannhäuser on 16January 1903. Less than three weeks later on 5 February 1903 Paull was dead in a fall from the sixth-storey hotel window in St. Louis.
The recording, made 112 years ago in 1902, sounds remarkably clear for its age. Below are the label and a sound file.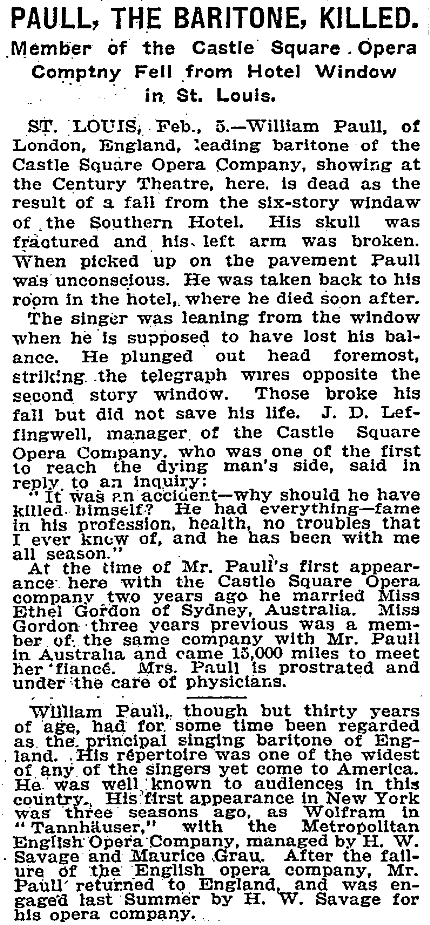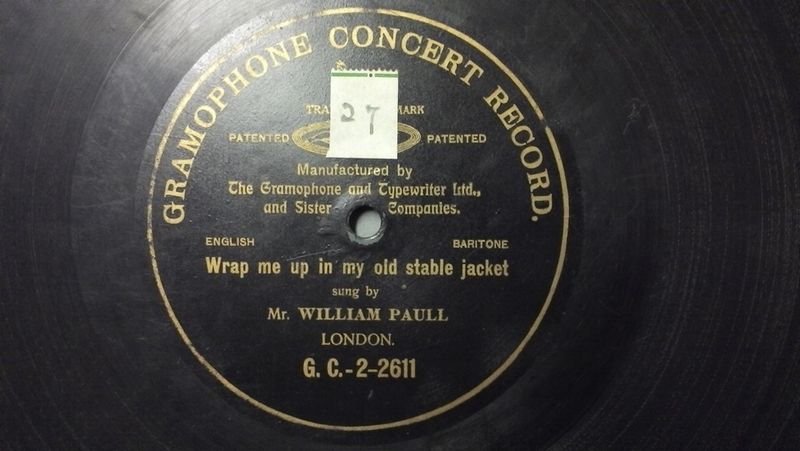 Here is the recording of William Paull, singing "Wrap me up in my old stable jacket", a traditional song about a dying soldier. It has various texts and is also known as "Wrap me up in my tarpaulin jacket".